Lunar New Year shooting: Suspected gunman found dead from self-inflicted wound
MONTEREY PARK, Calif. - Law enforcement officials swarmed and entered a white van Sunday afternoon that officials suspect was driven by a suspected gunman who opened fire on a Southern California ballroom dance studio, killing 10 people and wounding 10 more.
Police surrounded the van with tactical vehicles and bomb squad trucks for hours before going in. A person's body appeared to be slumped over the wheel, but authorities did not immediately identify the person in the van. FOX 11 reports that the body found had gunshot wounds. It's unclear if they were self-inflicted. 
Los Angeles County Sheriff Robert Luna later confirmed that the driver was the suspected gunman and identified him as 72-year old as Huu Can Tran, an Asian male. Luna said Tran died from a self-inflicted gunshot wound. 
Luna previously released photos of an Asian man who was believed to be the suspect, but he did not release the man's name.
The manhunt came after a gunman killed 10 people at a ballroom dance studio late Saturday amid Lunar New Years celebrations in the predominantly Asian American community of Monterey Park. He likely tried and failed to target a second dance hall, authorities said.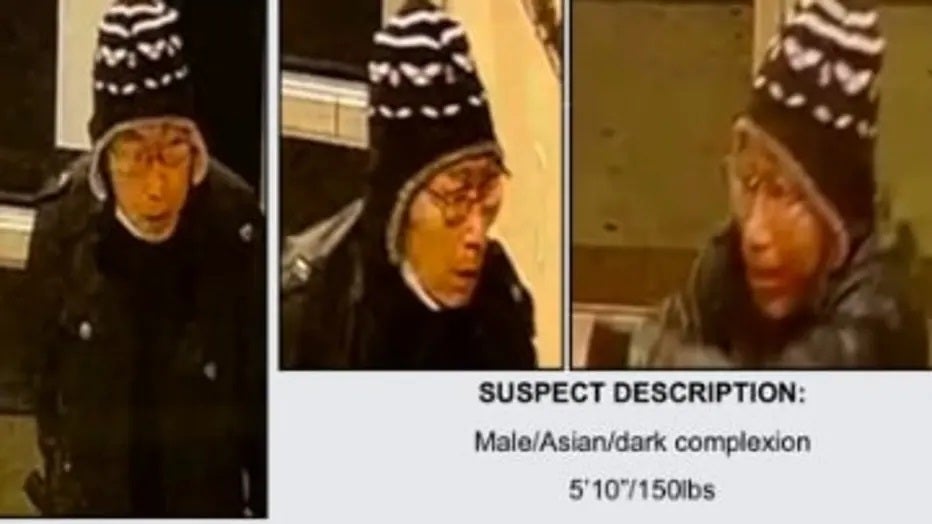 Image: Los Angeles County Sheriff Department
The van was found in Torrance, another majority Asian community, about 22 miles (34.5 kilometers) from that second location.
The shooting sent a wave of fear through Asian American communities in the Los Angeles area and cast a shadow over Lunar New Year festivities around the country. Other cities sent extra officers to watch over the celebrations.
Luna said the shooting at the Star Ballroom Dance Studio in Monterey Park left five women and five men dead and wounded another 10 people. Then 20 to 30 minutes later, a man with a gun entered the Lai Lai Ballroom in nearby Alhambra.
Authorities believe the two events are connected. They offered no details about a possible motive.
The suspect entered the Alhambra club with a gun, and people wrested the weapon away from him before he fled, Luna said.
Hours earlier, Luna said authorities were looking for a white van after witnesses reported seeing the suspect flee from Alhambra in such a vehicle.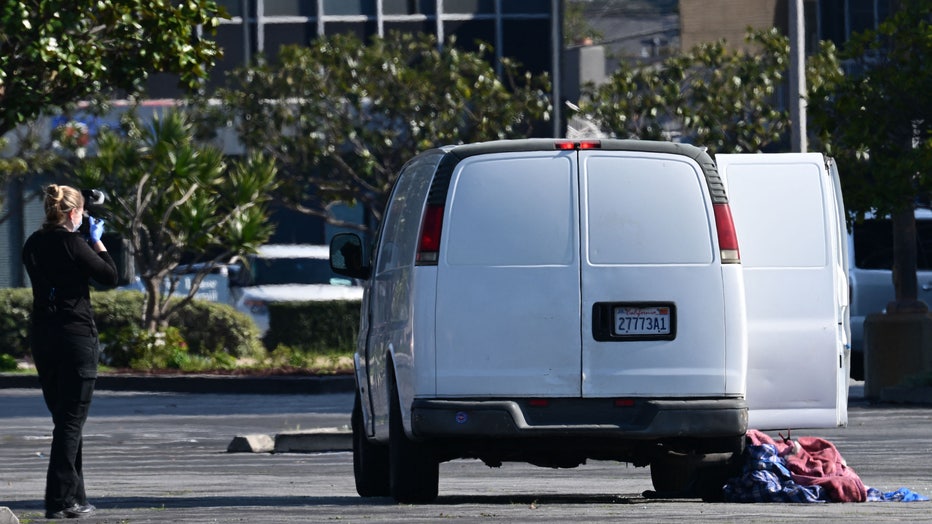 A forensics official takes pictures of a van containing what is believed to be a dead body, as seen in the rearview mirror, in Torrance, California, on January 22, 2023. (Photo by ROBYN BECK/AFP via Getty Images)
"We believe there is a person inside of that vehicle. We don't know their condition, but we're going to handle that in safest manner that we possibly can and try and identify that person. Could it be our suspect? Possibly," Luna said.
In response to a question, Luna said it was possible that the person barricaded in van was dead.
Members of a SWAT team entered the van a short time later and looked through its contents before walking away. It was unclear what they found.
Authorities said Sunday they know the suspect's name but declined to release it because it could complicate their ability to apprehend him. But they did release a photo showing an Asian man wearing glasses and a winter hat.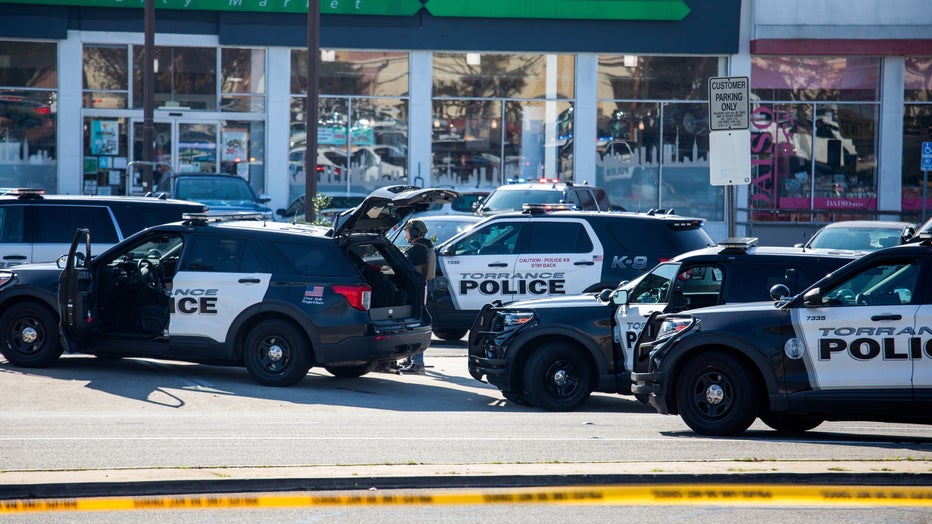 Torrence, CA - January 22: Emergency services personnel investigate a van where the driver is suspecting an a mass shooting on Sunday, Jan. 22, 2023 in Torrence, CA. (Jay L. Clendenin / Los Angeles Times via Getty Images)
The sheriff declined to say what type of gun was recovered in Alhambra. He said investigators believe the gun used in Monterey Park was not an assault rifle.
The massacre was the nation's fifth mass killing this month. It was also the deadliest attack since May 24, when 21 people were killed in an elementary school in Uvalde, Texas.
Monterey Park is a city of about 60,000 people on the eastern edge of Los Angeles and is composed mostly of Asian immigrants from China or first-generation Asian Americans. The shooting happened in the heart of its downtown where red lanterns decorated the streets for the Lunar New Year festivities. A police car was parked near a large banner that proclaimed "Happy Year of the Rabbit!"
The celebration in Monterey Park is one of California's largest. Two days of festivities, which have been attended by as many as 100,000 people in past years, were planned. But officials canceled Sunday's events following the shooting.
Tony Lai, 35, of Monterey Park was stunned when he came out for his early morning walk to learn that the noises he heard in the night were gunshots.
"I thought maybe it was fireworks. I thought maybe it had something to do with Lunar New Year," he said. "And we don't even get a lot of fireworks here. It's weird to see this. It's really safe here. We're right in the middle of the city, but it's really safe."
Wynn Liaw, 57, who lives about two blocks from the Monterey Park studio, said she was shocked that such a crime would happen, especially during New Year's celebrations.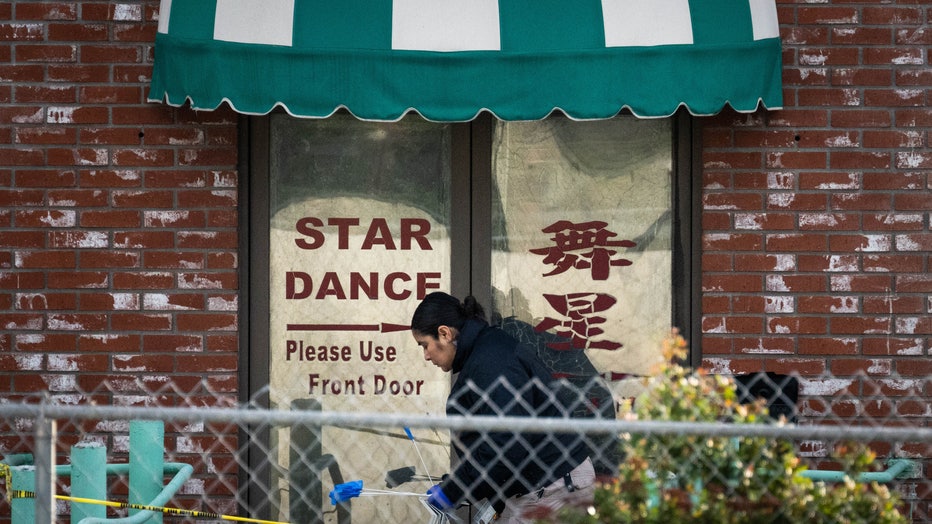 Monterey Park, CA - January 22: A detective places evidence markers on Sunday, January 22, 2023 after a mass shooting at Star Dance where ten people were killed Saturday night in Monterey Park where the community was celebrating the Lunar New Year. (
"Chinese people, they consider Chinese New Year very, very special" — a time when "you don't do anything that will bring bad luck the entire year," she said.
She took a picture of the activity outside the studio to send to relatives and friends in China "to let them know how crazy the U.S. is becoming with all these mass shootings, even in the New Year."
LA County Sheriff's Department homicide bureau captain Andrew Meyer briefs the media in Monterey Park, California, on January 22, 2023. - Ten people have died and at least 10 others been wounded in a mass shooting in a largely Asian city in southern California, law enforcement said January 22, with the suspect still at large hours later. (Photo by Frederic J. BROWN / AFP) (Photo by FREDERIC J. BROWN/AFP via Getty Images)
An Associated Press/USA Today database on mass killings in the U.S. shows that 2022 was one of the nation's worst years with 42 such attacks — the second-highest number since the creation of the tracker in 2006. The database defines a mass killing as four people killed, not including the perpetrator.
The latest violence comes two months after five people were killed at a Colorado Springs nightclub.
RELATED: Lunar New Year 2023: What to know about the Year of the Rabbit
President Joe Biden and Attorney General Merrick Garland were briefed on the situation, aides said.
The shooting occurred at Star Ballroom Dance Studio, a few blocks from city hall on Monterey Park's main thoroughfare of Garvey Avenue, which is dotted with strip malls of small businesses whose signs are in both English and Chinese. Cantonese and Mandarin are both widely spoken, Chinese holidays are celebrated and Chinese films are screened regularly in the city.
The business offered dance lessons from tango to rumba to the fox trot, and rented its space for events. On Saturday, its website said, it was hosting an event called "Star Night" from 8 p.m. to 11:30 p.m.