Alicia Navarro: Arizona girl found safe in Montana after disappearing in 2019, PD says
GLENDALE, Ariz. - An Arizona teenager who disappeared days before her 15th birthday nearly four years ago is safe after walking into a police station outside of Arizona this week, authorities announced Wednesday.
Alicia Navarro, now 18, showed up alone this week about 40 miles from the Canadian border and identified herself to authorities there as the missing teenager, according to police in Glendale, a Phoenix suburb.
This comes after the department received thousands of leads in this case.
Navarro, who was described as a high-functioning autistic teen, left her home in the middle of the night over three years ago on Sept. 15. She was 14 at the time of her disappearance.
MORE: FBI officially joins case of missing Glendale teen
Alicia found in Montana town
Initially, Glendale Police officials did not name the town where Alicia was found, merely stating that the town is located in Montana, 40 miles away from the U.S.-Canadian border.
On July 27, however, police in Havre, Mont. released a statement, stating that Alicia entered their police department on July 23, saying that she had been reported missing and wanted to clear her status.
"We are so glad for Alicia and her family so that they can be reunited, and the family can no longer have the anguish oh not knowing where their child is or whether or not she is OK," read a portion of Havre Police's statement.
Police say she seemed "fine and in good health."
Read More: Alicia Navarro: New details on where exactly she has been prior to being found safe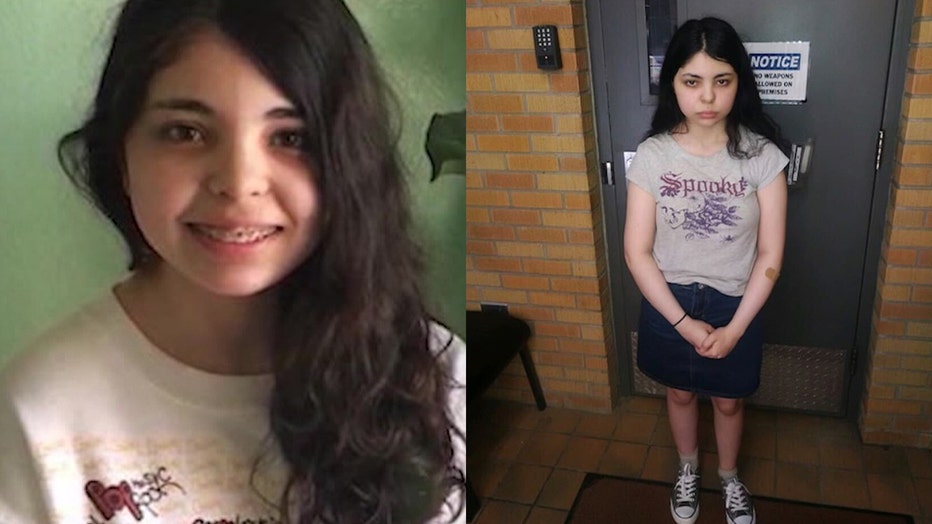 Loved ones say she's a high-functioning girl with autism who did something her mother calls out of her character. 
Her mother, Jessica Nunez, raised concerns that Navarro, who was diagnosed as high-functioning on the autism spectrum, may have been lured away by someone she met online.
She remained relentless in her search for her daughter as years came and went.
Navarro is now 18 years old, soon to be 19.
Glendale PD provided videos and a photo of Alicia when she came into the department.
In the videos, she said "No, no one hurt me," when she was asked by police if she was hurt in any way.  She also thanked the police for helping her.
"She showed up to a police department, she identified herself as Alicia Navarro, and she basically asked for help to clear her off of a missing juvenile list. She by all accounts went on her own free will, she is not in any kind of trouble, she's not facing any kind of charges she is not being held anywhere. She is coming and going at her own free will and she has been extremely cooperative not only with our folks but our federal partners as well," Santiago said.
They say she was "happy" and "healthy" and is ready to move on with her life.
Glendale Police and the FBI are in Montana investigating further.
She is not being held anywhere, she can come and go as she pleases as she's still in Montana, police said. Police said Alicia is asking for privacy at this time.
Police Lt. Scott Waite said they were investigating all the possible scenarios that could have led to Navarro's disappearance, including kidnapping.
"As much as we'd like to say this is the end," Waite said, "we know this is only the beginning of where this investigation will go."
Waite described Navarro's reunion this week with her mother as "emotionally overwhelming" and that Navarro said she was sorry for "what she has put her mother through."
Loved ones react
Alicia's mom Jessica Nunez posted an emotional video on Facebook about the news.
"I do feel that I owe this video to the community and to God. First of all, I want to give glory to God for answering prayers and for this miracle. For everyone who has missing loved ones, I want you to use this case as an example. Miracles do exist. Never lose hope and always fight. My daughter Alicia Navarro was missing since September 15, 2019. She has been found safe," she said.
She says she doesn't know the details about her disappearance, but confirms she's safe. 
"This is recent news for me. It was an hour before it was posted on social media and the news. I don't have details, but the important thing is that she is alive," Nunez said.
Police said in the news conference, however, that she had an emotional reunification with her daughter.
On July 27, members of Alicia's family issued a statement that reads:
"We want to start by saying how happy we are that Alicia has been found alive and safe. It is a blessing that after being missing for so long Alicia can come back home. Our thoughts and prayers go out to all the families of missing loved ones that have not yet returned home. If there is anything that Alicia's story has taught us is that you can never give up hope.
We would also like to thank the Glendale Police Department and specifically Detective Travis Darby for his hard work and dedication to bringing Alicia home. Thank you to the entire Anti-Predator Project team not only for their hard work and dedication to bringing Alicia home but also for their commitment to supporting our family through these hard times. The local and national media has been so important the last several years in keeping Alicia's story alive and our family cannot say thank you enough for that. Finally, we would like to say thank you for all the love and support we have received from everyone around the country. It has helped our family through some very dark times, and we cannot say thank you enough. At this time, we are asking for some privacy so our family can begin the healing process and reclaim some normalcy. You have all been a blessing in our life and we wish you all the very best."
Neighborhood residents react
Those who knew Alicia are also astonished with the latest development in her case.
"Just ecstatic," said Dale Leseh. "I never gave up hope. So grateful to God that she's been found safe."
Leseh said he didn't know Alicia too well because, in his words, she was "extremely shy." Leseh, however, did come to know Alicia's mother, and even helped her with efforts to find Alicia.
"I probably printed off 300 flyers for her," said Leseh.
Others in the neighborhood where Alicia lived before her disappearance said the case rattled them. One man even said since Alicia disappeared, he never let his little sister walk to school alone.
"There's not a lot of children around here, but those with children were just terrified that it might happen to their kids," said Leseh.
Full announcement
Background on the case
When we spoke to Jessica, her mother, before the two-year mark of her daughter's disappearance, she held onto hope that one day she would be reunited with her child.
That day has come.
Trent Steele is a private investigator who worked on Alicia's case. He's the president of the Anti-Predator Project, a non-profit agency helping families with cases centered around missing people and human trafficking.
Steele previously said Alicia's case was not cold at all. His team dedicated up to 50 hours a week to it and has received hundreds of tips.
"I mean, we've had tips come all the way from Los Angeles to New York with alleged sightings, even out here in Florida where I'm at," he said in 2022. "None of them have panned out."
Police didn't detail the circumstances of Alicia's disappearance.
A note signed by Alicia
Before her disappearance in 2019, the teen stayed home often, was into anime and played video games online. She's described as smart and introverted but had met people through social media.
She left, but not before leaving a note for her mother.
It read, "I ran away. I will be back, I swear. I'm sorry." Signed – Alicia.
Nunez noticed the back door was open. She then found a stack of chairs against the block wall in her yard.
"Seems like she jumped this part of the wall and shoe prints went straight over there," Nunez said in a previous interview with FOX 10.
When Navarro left home, she had her Macbook and cell phone on her. Since that day, there was no digital trace at all.