Girl Scout cookie shortage sparks black market-like prices
The Raspberry Rally flavor of Girl Scout cookies has become largely sold-out, leading to a resale market in which they sport some eye-popping prices. 
As of Friday, numerous people put up boxes of the recently released cookie on the online marketplace eBay, with some sellers setting the price of a single Raspberry Rally box in the $20 range. Other listings, meanwhile, aimed to charge prices like $115 for five boxes, $100 for two or $72 for three.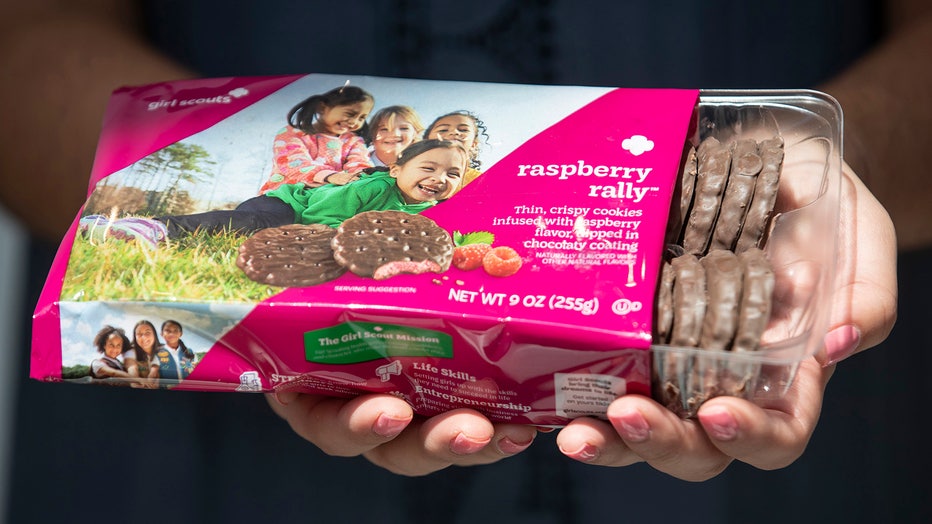 The first shoe to drop: Girl Scouts announced the new Raspberry Rally cookie in Orlando, Florida, on Aug. 16, 2022. (Willie J. Allen Jr./Orlando Sentinel/Tribune News Service via Getty Images)
NEW RASPBERRY RALLY GIRL SCOUT COOKIE TO JOIN 2023 NATIONWIDE LINEUP
The Girl Scouts of the USA announced it would be adding the Raspberry Rally flavor to the organization's 2023 offering of cookies back in August. The chocolate-coated raspberry-flavored cookie, only for-sale online starting Feb. 27, is a "sister" of the Thin Mints cookie, according to the organization.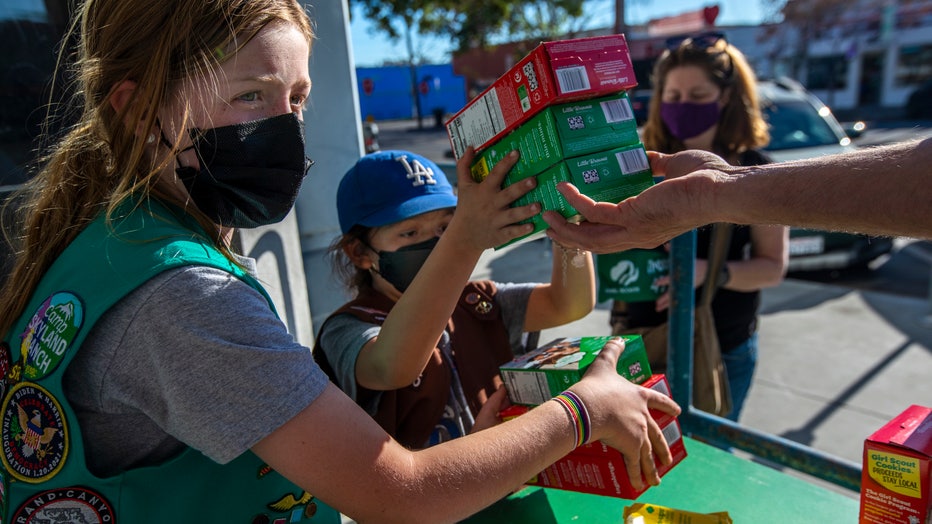 Madar Mee, 10, left, and Emma Diaz, 7, right, are selling Girl Scout Cookies in the Mar Vista neighborhood at on Friday, Feb. 11, 2022 in Los Angeles, CA. (Francine Orr / Los Angeles Times via Getty Images)
Girl Scouts of the USA was "disappointed to see unauthorized resales of Girl Scout Cookies online through online auction sites or community list sites," a spokesperson for the organization told FOX Business when asked about the Raspberry Rally resales. The spokesperson said the "only authorized points of sale" for the organization's cookie lineup are "in person or online" through a local troop.
GET FOX BUSINESS ON THE GO BY CLICKING HERE
Prices for Girl Scout cookies are set by each Girl Scout council based on the needs and knowledge they have about the local market, FOX Business previously reported. For one box of Girl Scout cookies, the price tag can reportedly range from $4 to $7 nationwide.  
"When cookies are purchased through a third-party seller, Girl Scout troops are deprived of proceeds that fund critical programming throughout the year," the Girl Scouts of the USA spokesperson continued. "Additionally, the Girl Scouts of the USA, your local Girl Scout council, and our licensed cookie bakers cannot guarantee the freshness or integrity of cookies bought through unauthorized sites. In many instances, these cookies are expired, or the sellers are using Girl Scouts' intellectual property without permission."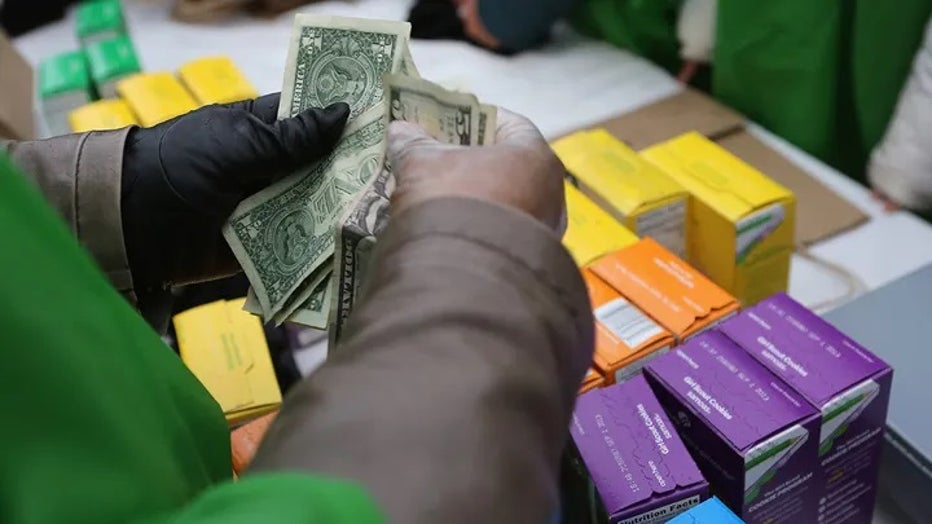 Money is collected as Girl Scouts sell cookies while a winter storm moves in on February 8, 2013 in New York City. (John Moore/Getty Images)
GIRL SCOUT COOKIES ARE BACK: WHAT TO KNOW ABOUT THE NEW COOKIE FLAVOR FOR 2023 AND HOW TO ORDER
The national Girl Scout cookie season kicked off in January, boasting 13 different flavors.
Thin Mints, Caramel deLites, Peanut Butter Patties, Adventurefuls and Do-si-dos are the five best-selling Girl Scout flavors, according to the Girl Scouts of the USA website.
Cortney Moore contributed to this report.
LINK: Get updates and more on this story at foxbusiness.com.