Some Gerber infant formulas recalled over bacteria concerns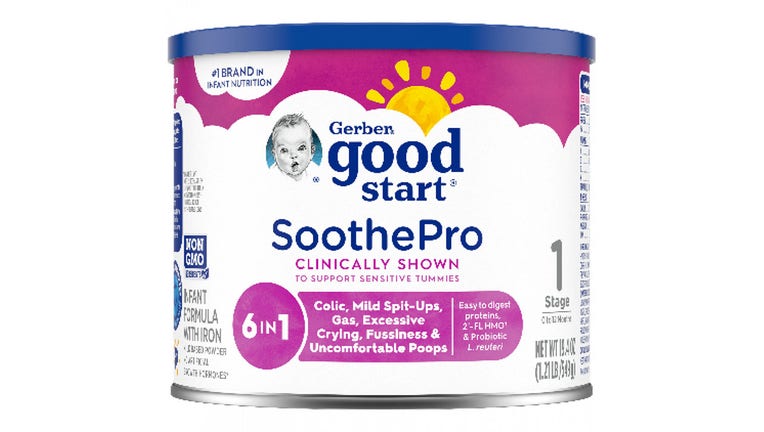 article
Some powdered infant formula has been recalled over bacteria concerns. 
Certain containers of Gerber SoothePro that were manufactured at a Perrigo facility in Wisconsin at the beginning of January and sold at stores across the country are included in the recall.
The formula is being recalled out of an abundance of caution due to the potential presence of Cronobacter sakazakii, a common bacteria. 
In most people, it causes no symptoms but in some, particularly premature infants, infants under two months of age or infants with weakened immune systems, fever, poor feeding, excessive crying or low energy as well as other serious symptoms can occur, according to the U.S. Food and Drug Administration. 
No distributed product has tested positive for the bacteria, and no adverse effects have been reported. No other products manufactured at the facility or any other Perrigo facility are affected by this recall. 
Containers purchased after March 5, 2023, with the following lot codes and "use by" dates, which can be found on the bottom of the package, are included in the recall: 
Gerber® Good Start® SootheProTM 12.4 oz:
300357651Z – USE BY 04JUL2024
300457651Z – USE BY 05JUL2024
300557651Z – USE BY 06JUL2024
300557652Z – USE BY 06JUL2024
300757651Z – USE BY 08JUL2024
300857651Z – USE BY 09JUL2024
301057651Z – USE BY 11JUL2024
301057652Z – USE BY 11JUL2024
301157651Z – USE BY 12JUL2024
Gerber® Good Start® SootheProTM 30.6 oz:
301357652Z – USE BY 14JUL2024
301457652Z – USE BY 15JUL2024
301557651Z – USE BY 16JUL2024
Gerber Good® Start® SootheProTM 19.4 oz:
301557652Z – USE BY 16JUL2024I
Refunds are being offered. Contact the Gerber Parent Resource Center on behalf of Perrigo at 1-800-777-7690.
This story was reported from Detroit.