George Floyd one year later: Scenes of celebration across Minneapolis
MINNEAPOLIS (FOX 9) - Tuesday marked one year since George Floyd was killed while being arrested by Minneapolis police officers. 
Floyd died on May 25, 2020. Now-fired officer Derek Chauvin was convicted of his murder earlier this spring. The three other former officers charged in Floyd's death will stand trial together next year. All four ex-officers are also facing federal charges for allegedly violating Floyd's civil rights during the deadly arrest.  
In the year since Floyd's death, the intersection where he was killed—38th and Chicago—has become an international memorial to Floyd and a gathering place for the community. The intersection, now known as George Floyd Square, remains closed to traffic.  
People all over Minnesota and across the country remembered Floyd, whose death sparked a movement for racial justice  A number of events took place throughout Minneapolis on Tuesday, including a moment of silence. 
Charles McMillan, who testified in the trial against Chauvin last month, was spotted at 38th and Chicago Tuesday afternoon. He told FOX 9 it was a "good day of celebration." 
Despite the largely positive tone of the day, shots were fired near the intersection of 38th Street and Chicago Avenue South just after 10 a.m. Tuesday. Officers learned a suspect vehicle was seen speeding away from the area. A short time later, a victim showed up at Abbott Northwestern Hospital suffering from a gunshot wound. The victim was transported to Hennepin County Medical Center, where they are in critical condition, but expected to survive, according to a police spokesperson. 
Celebration of life and remembrance at The Commons
The George Floyd Memorial Foundation hosted a day-long celebration at The Commons in Minneapolis featuring special guests and musical performances as well as locally-owned business by hosting a food truck alley and vendor expo. The goal, organizers said, was to "celebrate life through Black culture, art and history."
Rise & Remember event at George Floyd Square
The George Floyd Global Memorial hosted its own one-year anniversary celebration at George Floyd Square in Minneapolis.  
The day-long event will included community art and children's activities, along with an open mic session and concerts featuring Grammy Award-winning Sounds of Blackness and notable local DJ Sophia Eris at 6 p.m., ending with a candlelit vigil honoring Floyd at 8 p.m.
Moment of silence 
Gov. Tim Walz asked Minnesotans to take a moment of silence at 1 p.m. Tuesday for 9 minutes and 29 seconds—the length of time Chauvin kneeled on Floyd's neck and back during the deadly arrest.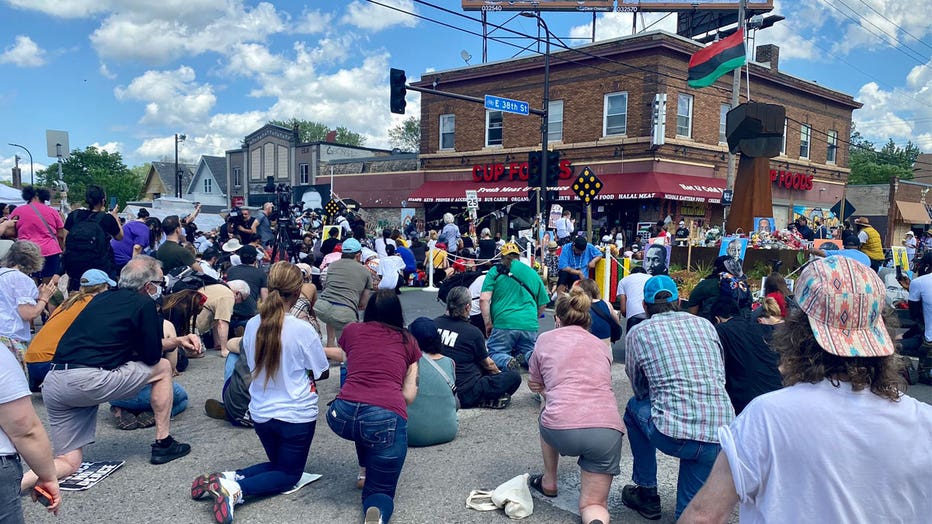 A moment of silence at 38th and Chicago on the 1-year anniversary of George Floyd's death.
Several of Floyd's family members, including his sister Bridgett Floyd, participated in the moment of silence at the celebration at The Commons in Minneapolis. They were joined by Minneapolis Mayor Jacob Frey, who gave brief remarks, telling the crowd police brutality cannot continue and "we all have to make the change.  
Bridgett Floyd said she did not join her family members in Washington, D.C. today because the George Floyd Justice in Policing Act has not been passed.  
"We need that bill passed," she said. "We don't want no watered down bill."