From collapse to comeback: How Lebron James's son and Buffalo Bills safety beat the odds after cardiac arrest
NEW YORK - After Lebron James's son, Bronny, and Buffalo Bills safety Damar Hamlin both suffered cardiac arrest, many are asking how two seemingly healthy athletes could collapse. A sports cardiologist says cardiac arrest is more common than you think, especially among young African American athletes.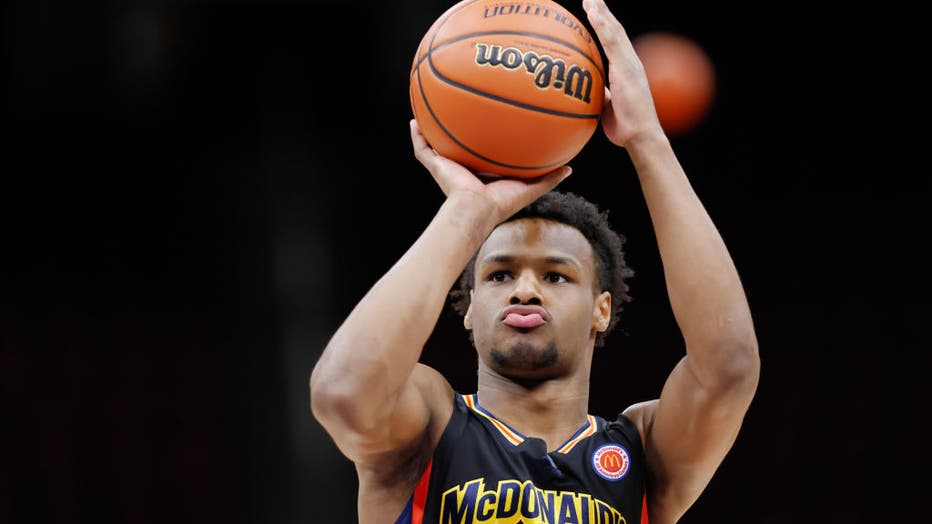 HOUSTON, TX - MARCH 28: Bronny James #6 of McDonald's All American Boys West is seen before the McDonalds All American Basketball Games at Toyota Center on March 28, 2023 in Houston, Texas. (Photo by Michael Hickey/Getty Images)
What should you do if someone collapses in front of you and needs assistance? 
American Heart Association volunteer Melinda Murray-Nyack founded the Dominic A. Murray 21 Memorial Foundation in 2010 following the tragic death of her son Dominic Murray after he had a cardiac arrest during basketball practice. Murray-Nyack says to remember the phrase, "Call push shock." 
Murray-Nyack knows firsthand how vital lifesaving help is. "Immediate CPR and access to an AED could have potentially saved Dominic's life on October 5, 2009. Because he did not have that immediately, it drastically decreased his chances of survival for every minute that passes."
"A cardiac arrest is when your heart suddenly stops delivering the blood that the rest of the body needs, especially the brain. When the brain does not receive blood, even just for a couple of minutes, permanent damage can be suffered," explained Dr. Christopher Tanayan, a sports cardiologist at Lenox Health Greenwich Village.
The shocking truth, doctors are unsure why young African American athletes are impacted, according to Tanayan.
"We don't know why it happens in black athletes, particularly young black athletes who play basketball. That's a demographic that's been found to have a higher incidence of sudden cardiac arrest."
And it can happen to anyone, says Murray-Nyack.
"It seems shocking when it happens to a young person, but every hour a young person dies from sudden cardiac arrest," she continued. "More than 356,000 people have a cardiac arrest yearly; 23,000 of those of that number are young people under the age of 18."
Dom's mom turned her grief into purpose, training over 27,000 people in CPR and lifesaving skills. After a 10-year battle, the Dominic Murray law was passed and went into effect in 2022. It requires New York schools to provide information on cardiac arrest risks, signs, and symptoms. Any student displaying signs must be removed from athletic activities until cleared by a doctor. 
How to perform CPR
CPR is hands only. You no longer need to breathe in their mouth. Melinda Murray-Nyack says to press hard and deep. "You're pumping the heart for the person," essentially saving their life. Do this until an Automated External Defibrillator known as AED arrives. The AED resets the heart to its normal rhythm so that blood will flow back to the brain and the person regains consciousness, says Dr. Tanayan.
Experts say thanks to the quick action of those around James and Hamlin, both men survived.
A large-scale cardiovascular registry, called the Outcomes Registry for Cardiac Conditions in Athletes, has been created to understand the risk factors and hopefully prevent future episodes.