Bret Baier's House Speaker interviews called off after candidates drop out
A televised "joint interview" between the three possible candidates for U.S. House Speaker has been called off after they pulled out of the Fox News event. 
Fox News Channel announced Friday that host Bret Baier would interview the three candidates in an exclusive to air Monday night, but the news release announcing the interview was removed from FNC's website later the same day. Multiple reports say House Republicans were infuriated that the three members of Congress would debate publicly before closed-door GOP meetings start next week.  
After the reported backlash, Rep. Kevin Hern of Oklahoma, who is considering a run for Speaker but hasn't formally announced, said on X (formerly Twitter) that he would not participate. A spokesperson for Rep. Jim Jordan, who's also running for Speaker, said Jordan wanted to postpone the televised event until after meeting with the Republican conference. 
"Mr. Jordan is always happy to share his plan for the country, but he believes it is crucial to meet with the GOP conference before the event," a spokesperson told The Hill. 
After Rep. Steve Scalise, the House majority leader, also pulled out, the candidate forum was called off, The Hill reports. 
Republicans plan to kick off the replacement process Tuesday, in private, at an evening forum where candidates can address their colleagues. Republicans would vote on an endorsement, with only a majority tally needed. But a decision could be delayed.
The real contest could come as soon as Wednesday when the House next convenes. But that attempt to elect a speaker could easily be delayed if there is no consensus choice by then.
Democrats will also vote, but Republicans have a slim majority and hold the power to choose the next speaker.
Former House Speaker Kevin McCarthy was ousted from his leadership role on Tuesday – a first in U.S. history. A contingent of hard-right conservatives joined Democrats in the historic vote that threw the House and its Republican leadership into chaos. McCarthy has said he won't run for Speaker again.
Here's a look at the three congressmen being floated for the speakership:
Rep. Steve Scalise of Louisiana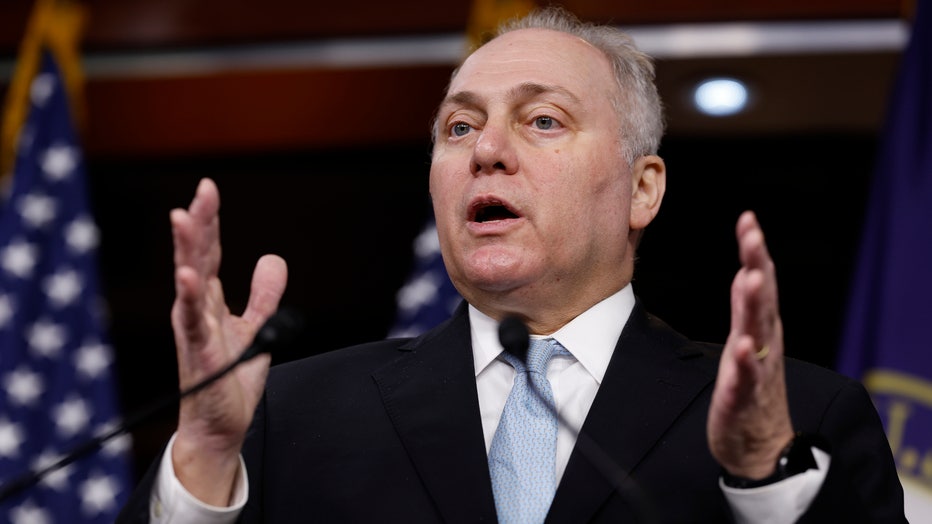 U.S. House Majority Leader Steve Scalise (R-LA) speaks during a news conference after a House Republican caucus meeting at the U.S. Capitol on September 27, 2023 in Washington, DC. (Photo by Anna Moneymaker/Getty Images)
Scalise, now the top-ranking Republican in the House, is seen as an ardent conservative. He would be a logical pick for many Republicans. He brings years of experience in leadership. Scalise was majority whip from 2014-2018 and minority whip from 2019-2022.
He is dealing with multiple myeloma, a form of blood cancer, and undergoing chemotherapy treatment. The toll of the treatments has been obvious as he makes his way around the Capitol. That is raising questions for some about whether Scalise can take on the demanding role of speaker, which usually entails a nearly nonstop schedule of fundraisers and campaign events.
But Scalise has a reputation as a fighter and has told reporters he feels great. He was shot and suffered an injury to his hip in 2017 when an attacker fired on lawmakers on a baseball field in Alexandria, Virginia. Scalise endured lengthy hospitalizations, multiple surgeries and a painful rehabilitation.
"I firmly believe this Conference is a family. When I was shot in 2017, it was Members of this Conference who saved my life on that field," he wrote in a letter announcing his bid for speaker.
Both moderate Republicans, such as Texas Rep. Tony Gonzales, and far-right lawmakers, including Florida Rep. Matt Gaetz, have spoken favorably about the potential of Scalise leading the House, creating the possibility that his candidacy could unite the party's feuding factions.
Rep. Jim Jordan of Ohio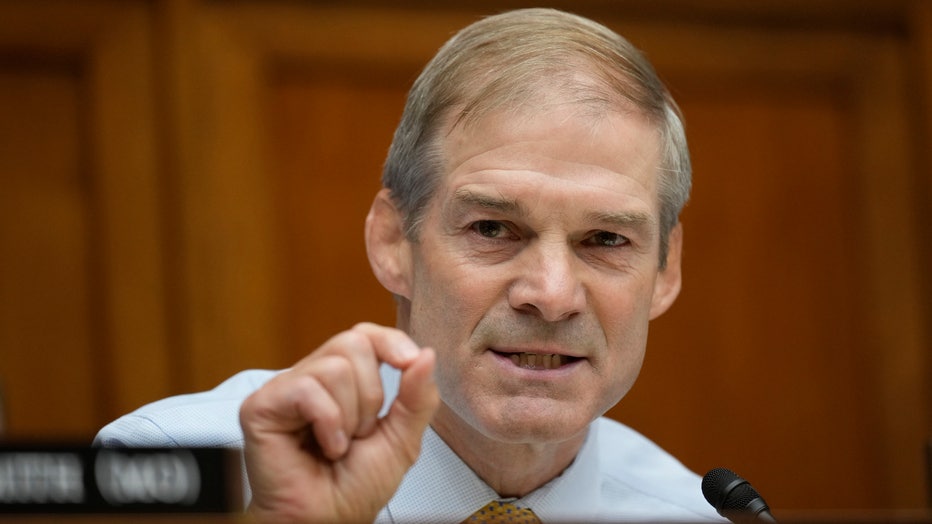 U.S. Rep Jim Jordan (R-OH) delivers remarks during a House Oversight Committee hearing titled "The Basis for an Impeachment Inquiry of President Joseph R. Biden, Jr." on Capitol Hill September 28, 2023 in Washington, DC. (Photo by Drew Angerer/Getty
Jordan, a founder of the House Freedom Caucus, is likely to be the favored choice of the hard-line conservatives now driving the Republican Conference. The Judiciary Committee's leader has played a key role in Republicans' impeachment inquiry of Biden, and former President Donald Trump has endorsed him for House Speaker.
The Ohio Republican, first elected in 2007, had tried to help McCarthy's ultimately doomed effort to hold Republicans together. Jordan had been a key McCarthy advocate since Republicans regained the majority.
Jordan, 59, was also one of Trump's closest allies when Trump was president. Trump even awarded Jordan the Presidential Medal of Freedom five days after the Jan. 6, 2021, attack on the Capitol.
"I feel like I can unite the conservative voters across the country and reach out to the moderates in our conference as well," Jordan told reporters Wednesday.
He is leading the push against the "weaponization" of the Justice Department, which has brought several cases against Trump. Jordan was one of Trump's chief defenders on the Judiciary Committee during Trump's two impeachments.
Perhaps most significantly, Jordan worked closely with Trump and White House aides in the weeks and days before the Capitol riot, strategizing about how Congress could help Trump overturn his loss to Biden. Jordan also refused to comply with subpoena from the House committee investigating the Jan. 6 attack as lawmakers tried to gather more information about his role.
Jordan once coached wrestling at Ohio State, and former wrestlers said in 2018 that he turned a blind eye to complaints that a now-dead team doctor was sexually abusing the athletes. Jordan has denied those allegations.
Rep. Kevin Hern of Oklahoma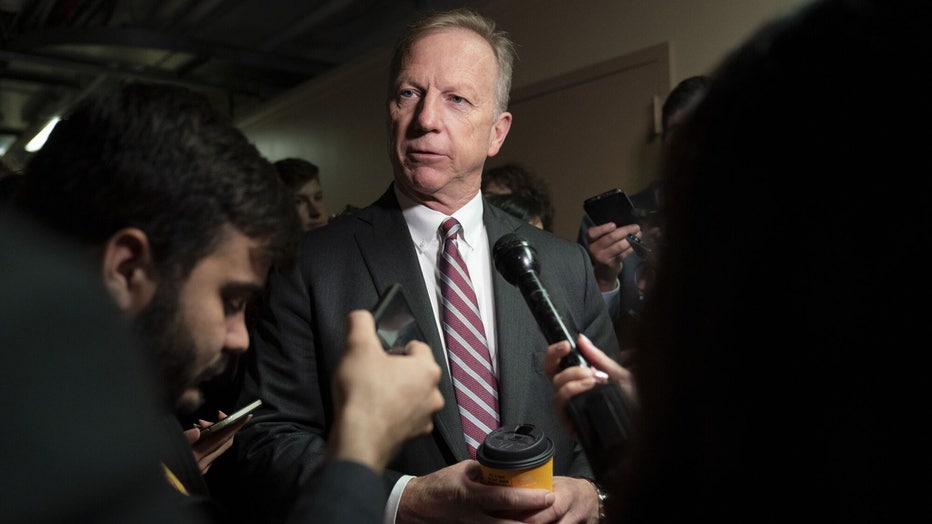 Representative Kevin Hern, a Republican from Oklahoma, speaks to members of the media at the US Capitol in Washington, DC, US, on Wednesday, Oct. 4, 2023. Photographer: Sarah Silbiger/Bloomberg via Getty Images
Hern leads the Republican Study Committee, the largest conservative group in the House, and has a reputation as a policy-focused lawmaker.
Compared with Scalise and Jordan, Hern, 61, has not been in the House for long, elected in 2018. But he points to his experience in the business world — he made millions as a McDonald's franchisee and was part of its national leadership team — as an asset.
"I think you have to have a different set of skill sets," Hern told reporters this week. He added: "Strife is something that's common when you have people working together and finding common solutions for it takes experience."
During the January speaker contest, Hern was one of the alternatives nominated by holdout conservatives as an alternative to McCarthy.
Hern was one of the 147 Republicans to vote against certifying the 2020 election.
Who will the Democrats choose?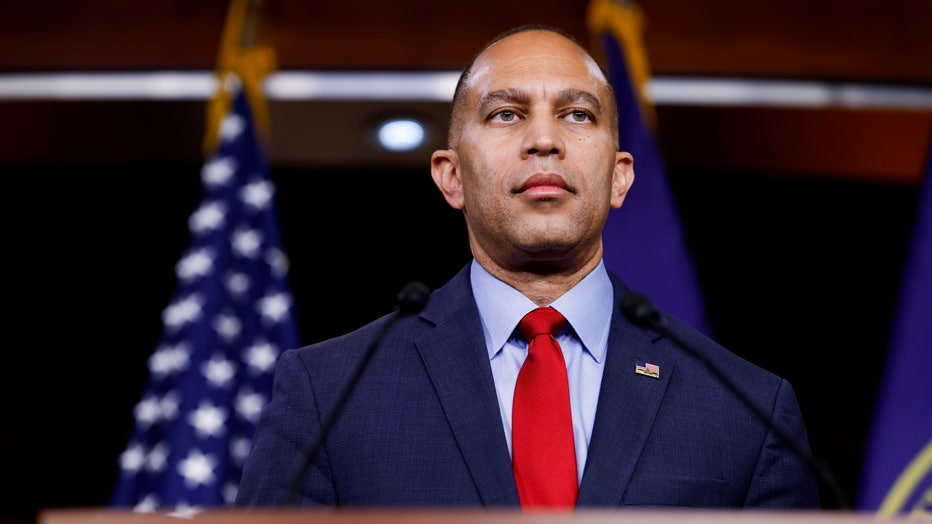 House Minority Leader Hakeem Jeffries (D-NY) speaks to reporters at a press conference on government funding in the U.S. Capitol on September 29, 2023 in Washington, DC. (Photo by Anna Moneymaker/Getty Images)
Republicans are digging in for a long contest to choose a speaker. Democrats are uniting around Minority Leader Hakeem Jeffries of New York as their choice for speaker, just as they did in January.
Several far-right Republicans have pointed out that the speaker does not have to be a House member and suggested naming Trump or one of his close allies to the job. Such a move would be without precedent, and Trump has made it clear he's focused on winning the presidency.
The Associated Press contributed to this report.