Ford CEO says UAW 'holding the deal hostage' with automaker over battery plants
DETROIT (FOX 2) - Ford's top executive said the united auto workers union was holding up a deal with the automaker because of future incoming battery plants.
"I believe we can reach a compromise on pay and benefits, but so far the UAW is holding the deal hostage over battery plants," said CEO Jim Farley. 
The battery plants haven't been built yet, Farley said, calling them mostly joint ventures with no workers yet because no deal has been worked out with the UAW. 
"I need to be clear about one thing, because the UAW is scaring our workers by repeating something that is factually not true, none of our workers today are going to lose their jobs due to our battery plants during this contract period or even beyond this contract.
"In fact, for the foreseeable future, we will have to hire more workers as some workers retire in order to keep up with the demand of our incredible new vehicles."
Farley's comments came hours after the UAW president called on thousands of additional workers at Ford and General Motors to walk off the line in Chicago and Lansing. The Ford executive was adamant the company had offered "would make UAW members some of the best paid in the world."
Later Friday, Fain responded to the comments, saying it wasn't true the union was holding up a deal and Farley's statement was for show.
"We want to get agreements. We have been there every day 24/7 since the middle of July, we have been there every day," he said outside the GM plant near Lansing. "It's ironic that some of these CEOs make these statements and literally the CEO of Ford has been in probably three meetings over the course of these nine or 10 weeks."
During the Friday afternoon call, Farley was joined by a team of executives that emphasized they were close to deal, but declined to go into specifics. 
Kumar Galhotra, who runs Ford Blue which is the company's gas-powered vehicle arm, said having the plants that make the Bronco and Explorer down was very impactful. Liz Door, Ford's supply chain officer, said they could see up to 500,000 employees laid off if the strike continues.
That includes 125,000 jobs from suppliers that feed the Michigan Assembly plant in Wayne, all of which, Farley said "are at risk" without a deal.
"We still have time to reach a deal and avoid a serious and lasting blow to our region and this industry," Farley said. "The supply base is on a knife's edge already."
While battery plants are only a component of the auto industry, they are an increasingly important piece of the electric vehicle pivot that Ford, GM, Stellantis, and foreign automakers are undergoing right now.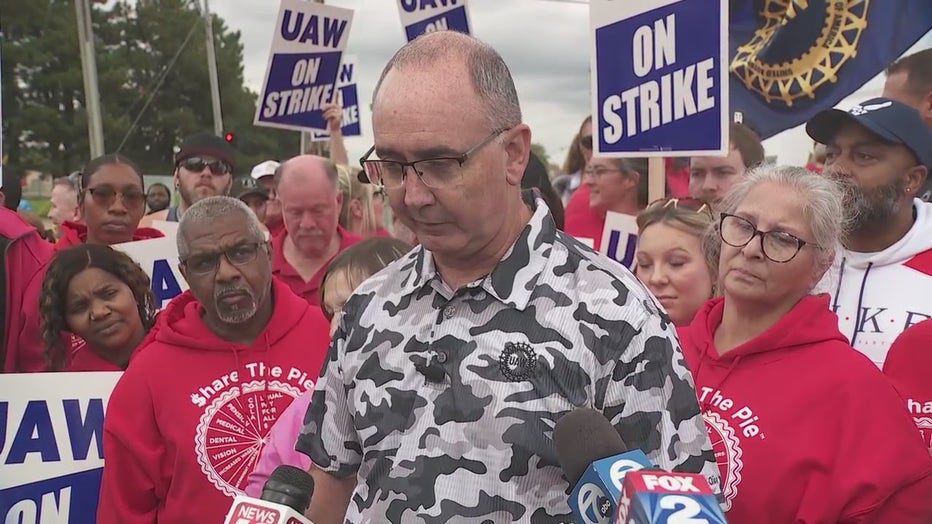 UAW President Shawn Fain, speaking outside GM's factory near Lansing, pushed back on comments made by Ford's CEO that the union was holding up negotiations. 
EVs have fewer parts that go into them, so it requires fewer workers to make. The uncertainty hovers over the current negotiations. It's also a common refrain from some detractors that EVs are a poor investment for customers and manufacturers.
That includes Donald Trump, who railed against them during a rally at a non-union factory this week. Farley called it a shame that battery-powered vehicles have become a political football.
He added that Ford's profit margins were "thin and not at record levels," contradicting statements made by Fain who said the success that automakers have seen recently should be matched in new contracts with UAW workers.
While the UAW spared Ford last week when it announced new strikes, it ordered workers at Chicago Assembly to walk off the line. 
"Sadly, despite our willingness to bargain, Ford and GM have refused to make meaningful progress at the table," Fain said.
Before Friday's additions, only one Ford plant, Michigan Assembly in Wayne, was participating in the strike. Last week, Fain called on all GM and Stellantis parts distribution facilities to join the strike but did not add more Ford plants to the strike because there had been sufficient progress in negotiations. 
After avoiding more plants being added last week, Ford said it had "significant gaps to close on the key economic issues."
As of last week, Ford had come to an agreement with the union on job security and reinstated cost of living adjustments (COLA) that were suspended in 2009. 
The union initially was asking for a 46% pay raise, a 32-hour work week with 40 hours of pay, the tier system removed, and restoration of traditional pensions for new hires, among other demands. However, the union said it is now willing to accept a pay raise percentage in the mid-30s.
On Friday, Fain did not provide details about the automakers' most recent offers to the union, only saying that negotiations are ongoing. 
"To be clear, negotiations haven't broken down, we're still talking with all three companies, and I'm still very hopeful that we can reach a deal that reflects the incredible sacrifices and contributions our members have made over the last decade," Fain said.