Tracy Chapman's 'Fast Car' wins CMA Song of the Year decades after its release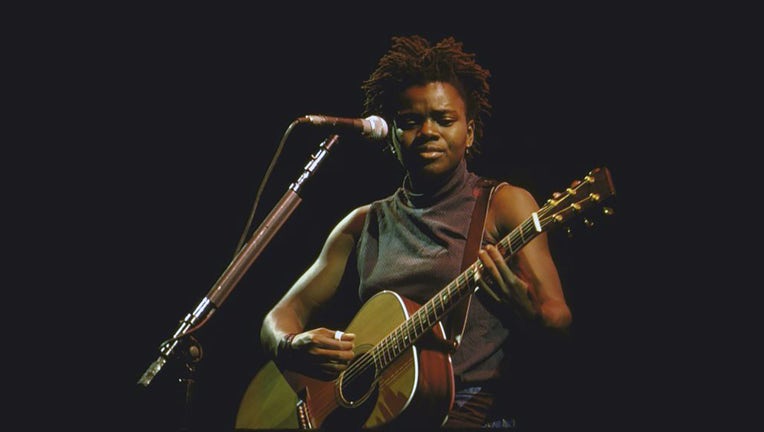 article
NASHVILLE, Tenn. - More than three decades after its release, "Fast Car" by Tracy Chapman became the unlikely winner of song of the year Wednesday night at the Country Music Association Awards.
Chapman, 59, wrote the folk-rock ballad in 1988, but the song topped the country music charts this year thanks to a cover by singer Luke Combs. 
Chapman became the first Black songwriter to win the CMA song of the year award, according to Rolling Stone. She was not at the ceremony, held at Nashville's Bridgestone Arena, but said in a statement that it's "truly an honor for my song to be newly recognized 35 years after its debut."
"Thank you to the CMAs and a special thanks to Luke and all of the fans of 'Fast Car,'" the statement added, which was read on stage by presenter Sarah Evans.
Combs, winner of entertainer of the year the previous two years, also took home single of the year Wednesday night for his "Fast Car" cover.
"I want to thank Tracy Chapman for writing one of the greatest songs of all time," the 33-year-old North Carolina singer said as he accepted the award. "It's the first favorite song I ever had."
The original version of "Fast Car," solely written by Chapman, hit No. 6 on the Billboard Hot 100 in 1988. It earned three Grammy Award nominations in 1989, including song of the year. She won for best female pop vocal performance for the song.
In total, Chapman has won four Grammy Awards over the course of her career.
Combs' hit cover version, released on his 2023 album "Gettin' Old," reached No. 2 on the Hot 100 and topped the Hot Country Songs chart for four weeks, according to Billboard.
Within a few months of Combs' cover being released, Chapman earned around $500,000 in publishing royalties from the song, the music outlet reported.
RELATED: With Hollywood strikes over, here's when you could see your favorite shows return
This story was reported from Cincinnati. The Associated Press contributed.