FAA investigates after Alaska Airlines flight steers into SkyWest plane's path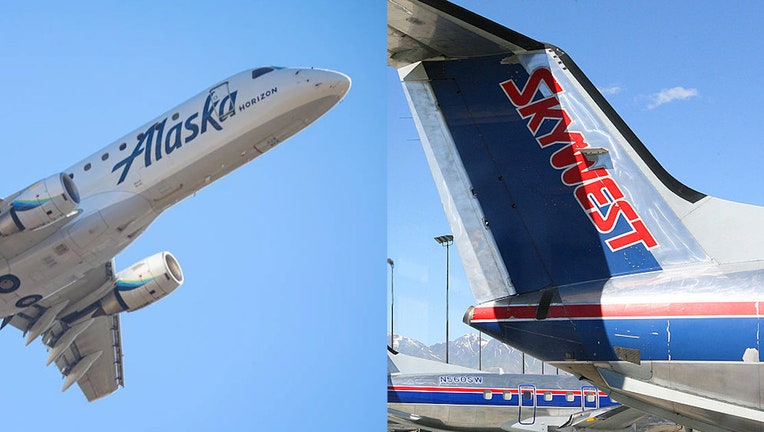 article
An investigation is underway after an incoming Alaska Airlines flight steered into the path of a SkyWest passenger jet that was taking off from Portland International Airport last week, federal officials said.
The incident happened around 4:15 p.m. on Oct. 16 when, the pilot of Alaska Airlines Flight 1299 "initiated a go-around due to wind" and turned into the path of SkyWest Airlines Flight 3978, which was just departing the Oregon airport, the Federal Aviation Administration (FAA) said in a statement.
The FAA said an air traffic controller radioed the Alaska Airlines pilot to turn away from the other aircraft. 
Using publicly available flight data, the Oregonian estimated that the planes came within about 1,800 feet horizontally and 250 feet vertically of each other.
SPIRIT AIRLINES CANCELS DOZENS OF FLIGHTS OVER 'NECESSARY' INSPECTIONS, EXPECTS TO LAST FOR DAYS
While the FAA said it is working to determine how close the two aircraft came to each other, it defines a near midair collision as an incident that occurs when a plane comes within less than 500 feet of another aircraft, or a report is received from a pilot or crew member that a collision hazard existed between two or more aircraft.
Alaska Airlines told Fox News Digital in a statement that inclement weather caused the pilot to conduct a "routine go-around" in its initial approach to landing at Portland International Airport.
"There was another aircraft departing on the parallel runway to the north which created a potential traffic conflict," the statement said.
The crew reacted immediately to divert from the path of the other aircraft, according to the airline, and "maintained a safe amount of lateral separation throughout the entire event."
The aircraft went on to land safely at its intended destination in Portland, Alaska Airlines said.
'UNUSUAL ODOR' IN CABIN MIDFLIGHT SENDS SOUTHWEST PLANE BACK TO LAS VEGAS FOR EMERGENCY LANDING
"The safety of our guests and employees is always our top priority, and consistent with that value, Alaska Airlines is internally reviewing this event," the airline said.
SkyWest told Fox News Digital in a statement that the safety of its flight was never compromised at any point.
"The flight departed normally with pilots following Air Traffic Control instructions and landed routinely at Seattle," the statement said. "At no point was the safety of the flight compromised."
Earlier this year, the FAA announced extra steps air traffic controllers should take to ensure the U.S. aviation system remains safe after "too many close calls.
Read more of this story from FOX Business.