Emma Heming celebrates Bruce Willis' birthday with emotional tribute following his dementia diagnosis
article
Emma Heming Willis shared an emotional update with fans Sunday as she celebrated Bruce Willis' birthday.
The "Die Hard" actor received a frontotemporal dementia diagnosis last month after previously battling aphasia.
Heming told her Instagram followers that she deals with "sadness" and "grief" every day, but was especially overcome with emotions on Bruce's 68th birthday.
"So today is my husband's birthday," Emma said. "I have started the morning by crying, as you can see by my swollen eyes and snotty nose."
BRUCE WILLIS DIAGNOSED WITH FRONTOTEMPORAL DEMENTIA FOLLOWING APHASIA BATTLE, FAMILY SAYS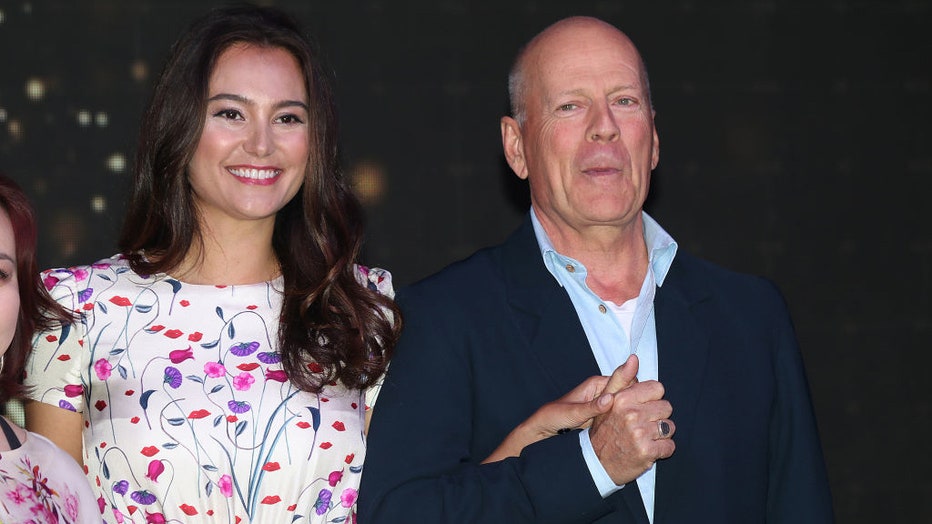 FILE-American actor Bruce Willis and his wife American model Emma Heming attend CocoBaba and Ushopal activity on November 4, 2019 in Shanghai, China. (VCG/VCG via Getty Images)
"I just think it's important that you see all sides of this. I always get this message, or people always tell me, 'Oh you're so strong. I don't know how you do it.' I'm not given a choice. I wish I was, but im also raising two kids in this."
BRUCE WILLIS' DEMENTIA BATTLE: ICONIC STAR'S JOURNEY FROM ACTION HERO TO FAMILY MAN
Bruce and Emma have two children together, daughters Mabel and Evelyn.
He has three daughters with ex-wife Demi Moore: Rumer, Scout and Tallulah.
"So sometimes in our lives we have to put our big girl panties on and get to it, and that's what im doing," Emma said. "But I do have times of sadness every day, grief every day … and I'm really feeling it today on his birthday."
"So I worked on this reel that I'm posting for my husband's birthday. I don't know why I do that to myself because the videos are like a knife in my heart."
BRUCE WILLIS' WIFE EMMA IS ADDING TO HER 'DEMENTIA CARE TOOLBOX' AMID ACTOR'S DIAGNOSIS
She added, "As much as I do it for myself, I do it for you, because I know how much you love my husband and – don't cry Emma – but it means so much to me, so thank you."
Willis' family announced in February that his condition progressed to frontotemporal dementia (FTD).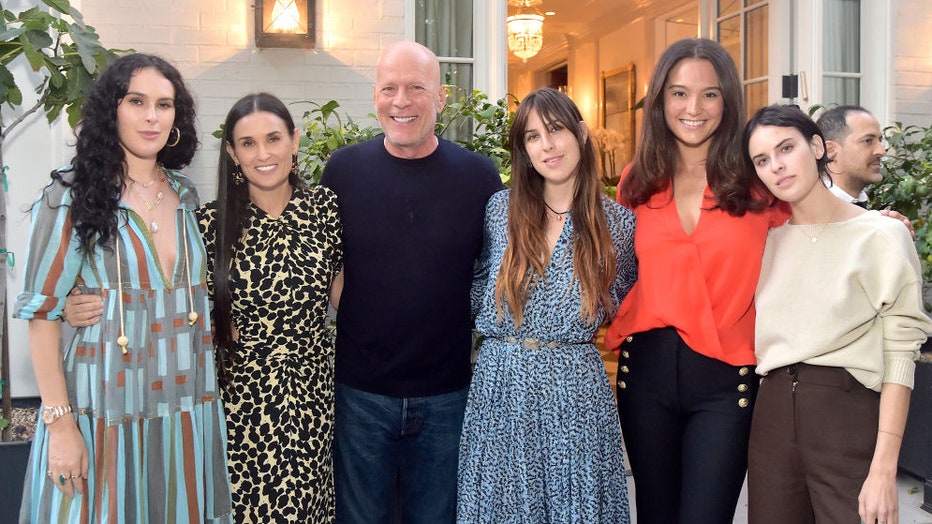 (L-R) Rumer Willis, Demi Moore, Bruce Willis, Scout Willis, Emma Heming Willis and Tallulah Willis attend Demi Moore's 'Inside Out' Book Party in 2019 in Los Angeles, California. (Stefanie Keenan/Getty Images for goop)
FTD is "the result of damage to neurons in the frontal and temporal lobes of the brain," according to the National Institute on Aging. "Many possible symptoms can result, including unusual behaviors, emotional problems, trouble communicating, difficulty with work, or difficulty with walking."
The family shared more about the "cruel disease" in a statement posted on the Association for Frontotemporal Degeneration (AFTD) website.
"For people under 60, FTD is the most common form of dementia, and because getting the diagnosis can take years, FTD is likely much more prevalent than we know. Today there are no treatments for the disease, a reality that we hope can change in the years ahead," the release said.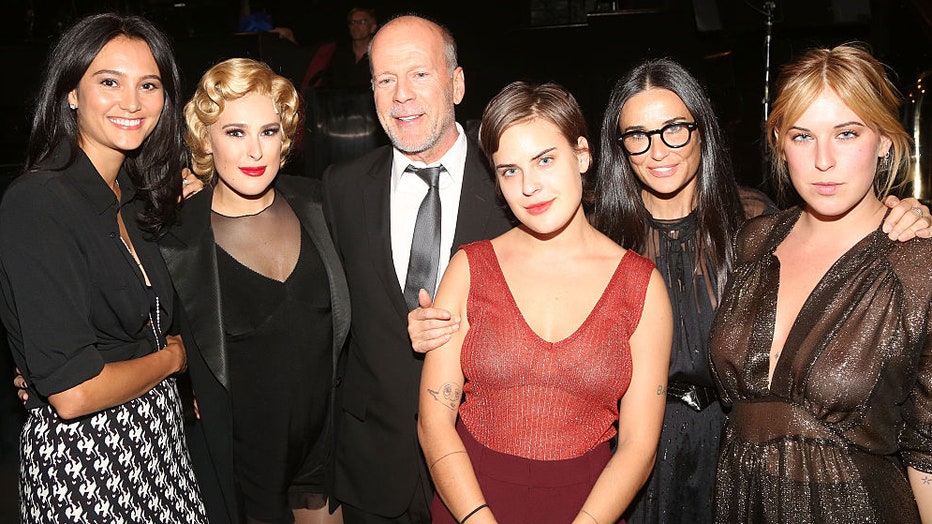 (L-R) Emma Heming, Rumer Willis, father Bruce Willis, sister Tallulah Belle Willis, mother Demi Moore and sister Scout LaRue Willis pose backstage at event. (Bruce Glikas/FilmMagic)
"Bruce always believed in using his voice in the world to help others, and to raise awareness about important issues both publicly and privately. We know in our hearts that — if he could today — he would want to respond by bringing global attention and a connectedness with those who are also dealing with this debilitating disease and how it impacts so many individuals and their families."  
In March 2022, the family announced Willis would be retiring from acting after receiving an aphasia diagnosis. The disorder affects communication, including the ability to understand verbal cues and written words.
According to the National Aphasia Association, the disorder affects 2 million Americans, with nearly 180,000 diagnosed with the disorder annually.
Willis is set to become a grandfather soon. In December, his oldest daughter, Rumer, announced she's pregnant with her first child.