Elderly woman pistol-whipped after million-dollar jewelry store heist in Queens
NEW YORK - The NYPD is on the hunt for the suspects involved in a million-dollar jewelry store heist in Queens that ended with an elderly woman getting pistol-whipped and beaten. 
According to authorities, a suspect dressed in an Amazon jacket dropped off a package at Diamonds by Direct in Flushing. As the store owner's 79-year-old mother opened the door to take the package, the suspect and another thief rushed in.
The jewelry thieves knocked the woman to the floor, pistol-whipping and kicking her before dragging her to the back of the store and trying to get her to open its safe.
RELATED: 2 more suspects wanted in violent NYC $500K jewelry robbery
The owner of the store did not want her name used but told FOX 5 NY that the armed robbers ransacked the store and got away with over $1M in high-end diamond investment jewelry.
"I'm very, very angry. Like, we are all frustrated we have to go through this," the owner told FOX 5 NY.
The NYPD believes the robbery was carried out by a four-person crew, consisting of the two suspects who got into the store and stole the gems, and two others outside with their Mercedes getaway car. 
The NYPD says there has been a rise in deception robberies similar to this one, with criminals trying to hide their identity behind a mask or pretending to be someone that they are not. Police are warning store owners to be aware.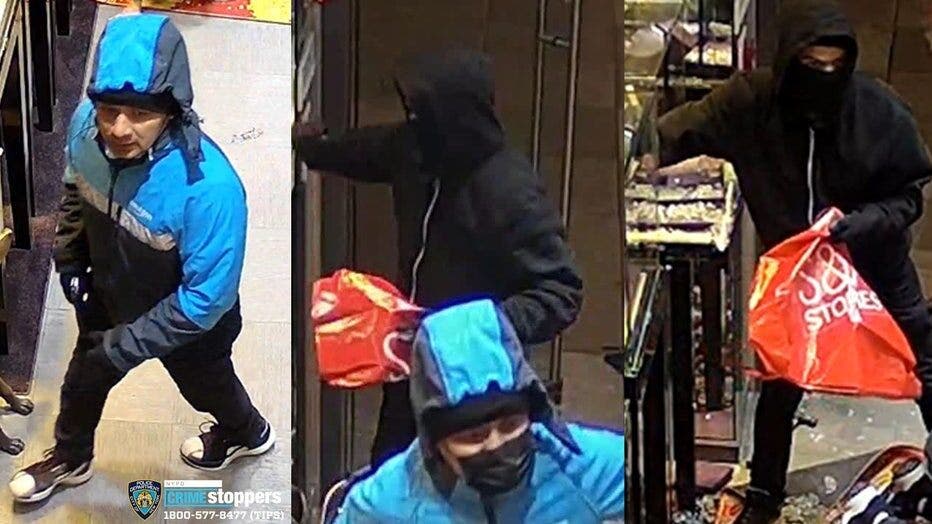 Police are searching for two men they said stole around $500,000 in jewelry from a Queens location. (Credit: NYPD)
"We're asking businesses to make this a condition of entry, that people when they come in, that they should show their face," said Jeffrey Maddrey, the NYPD's chief of Department.
The store owner told FOX 5 NY that while she has started to get her business back on track, she isn't sure yet if she'll stay in that location.
"I am totally terrified," the store owner said. "This building is absolutely insecure. I am still thinking whether to close this business or move to another place."
Police say the suspect did not work for Amazon but used the jacket as a ruse. 
Anyone with information in regard to this incident is asked to call the NYPD's Crime Stoppers Hotline at 1-800-577-TIPS (8477) or for Spanish, 1-888-57-PISTA (74782). The public can also submit their tips by logging onto the CrimeStoppers website at https://crimestoppers.nypdonline.org/ or on Twitter @NYPDTips.
Police say all calls are strictly confidential.