El Sobrante store clerk set on fire by alleged shoplifter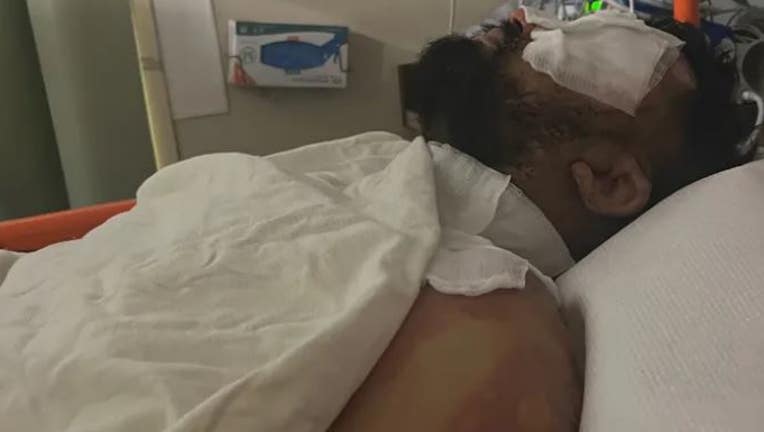 article
EL SOBRANTE, Calif. - A store clerk suffered severe burns after an alleged shoplifter poured kerosene on him in an El Sobrante shop and set him on fire, according to the Contra Costa County Sheriff and the man's wife. 
In am email, the sheriff's office said that deputies were dispatched to Appian Food and Liquor, a convenience store in the 4200 block of Appian Way, on Sept. 22 about 9 p.m. after a call about a shoplifter, who was identified as 38-year-old Kendall Burton.
Burton got into a confrontation with the store clerk, identified by his wife as Suraj.
Burton ended up pouring lighter fluid on Suraj, setting him on fire, according to the wife and the sheriff. 
Suraj is now getting treatment at Saint Francis Memorial Hospital in San Francisco, his wife wrote on a GoFundMe. 
"As wounds by the burn takes time to heal and recover and we are overwhelmed by the mental trauma and the pressure of medical procedures," she wrote.
She also shared a photo of her husband, wrapped in bandages at the hospital.
The sherif's office said they arrested Burton, who was booked into the Martinez Detention Facility on charges that include assault with a deadly weapon, battery, arson causing bodily injury, robbery, and mayhem. 
Burton, who had outstanding arrest warrants, is being held without bail.
His next court date is scheduled for Oct. 9. His is being represented by deputy public defender Cynthia Scofield.
Confrontations between suspects and store clerks are occurring more frequently recently. 
In August, two 7-Eleven employees in Stockton began whacking an attempted shoplifter inside the store with a stick after they caught him trying to steal dozens of boxes of cigarettes. 
Prosecutors in San Joaquin County said they would not pursue charges against the employees. 
IF YOU'RE INTERESTED in helping, click here.