Egg prices rise more than 64% in some states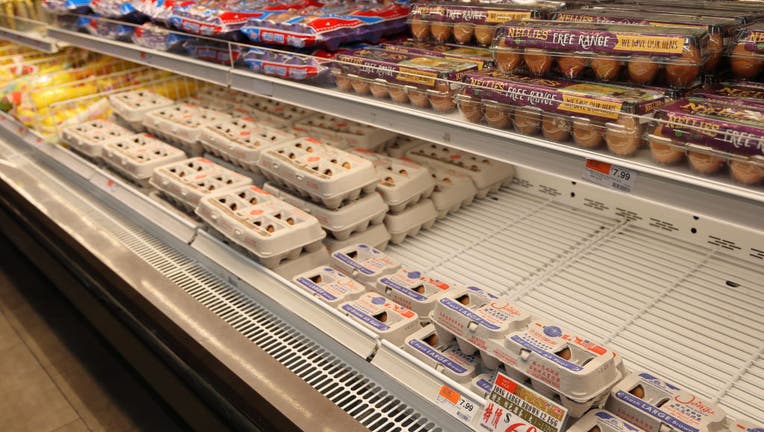 article
Egg prices continue to skyrocket, adding even more pressure on consumer wallets. 
In December, egg prices climbed the most in Arizona, Nevada and New Mexico, according to retail data firm Datasembly, which collects real-time data from over 200 retailers across North America including Walmart, Kroger and Target. 
A carton of 12 eggs increased over 64% in all the aforementioned states, according to the retail data firm. That compares to the 18% increase seen in states such as Oregon, California and Washington, according to the data. 
ARE HIGHER FOOD COSTS CHANGING OUR EATING HABITS?
In November, grocery prices increased 12% compared to a year ago, according to the Consumer Price Index. Egg prices, however, outpaced the overall index and showed the highest annual jump all food categories, increasing 49.1% compared to a year ago. 
CPI figures for December, which will be announced on Thursday, will offer greater insight into the elevated cost of eggs. 
Still, the average cost for a dozen grade A eggs in November was $3.59, according to the Bureau of Labor Statistics. A year ago, the average cost for the same carton was $1.72, labor department data shows.  
The uptick in costs are being blamed on soaring labor, fuel and feed costs combined with reoccurring outbreaks of bird flu that have disrupted production.   
WALMART CEO DOUG MCMILLON WEIGHS IN ON INFLATION IMPACT ON FOOD PRICES
Bird flu
Egg farmers were hit the hardest by bird flu, which impacted 58 million birds over the past year. More than 43 million of those birds, all of which were killed to control the virus, were egg-laying chickens.
"Reoccurring HPAI [Highly Pathogenic Avian Influenza] outbreaks continued to disrupt normal production and marketing patterns into November, negatively impacting export business," the U.S. Department of Agriculture (USDA) said in a report last week. 
In its report, the USDA said that record high egg prices have begun to soften, although "it will take some before this is reflected at the dairy case,"
MARKETS MAY BE UNDERESTIMATING THE THREAT OF HIGH INFLATION, BLACKROCK WARNS
Cal-Maine Foods, the largest U.S. producer and distributor of fresh shell eggs, said last month that it was closely monitoring the current outbreak of HPAI that was first detected in commercial flocks in the U.S. in February 2022.
"The current HPAI epidemic has surpassed the prior 2014-2015 outbreak in terms of the number of affected hens in the U.S., and HPAI continues to circulate throughout the wild bird population in the U.S. and abroad," the company said in a press release.
Cal-Maine noted there have been no positive HPAI tests at any of its owned or contracted production facilities as of Dec. 28, 2022. 
"The company believes the HPAI outbreak will continue to exert downward pressure on the overall supply of eggs, and the duration of these effects will depend in part on the timing of replenishment of the U.S. layer hen flock," Cal-Maine said.
The company reported record quarterly sales, up 110% to $801.7 million for the fiscal second quarter ending Nov. 26, 2022.
Net income was a record $198.6 million.
GET FOX BUSINESS ON THE GO BY CLICKING HERE
For now, "eggs remain a competitively priced protein to other animal proteins." the USDA said. 
This comes at a time when demand for the product remains elevated. 
"As the new year gets underway, more than a few consumers are looking to modify their dietary choices to support freshly-minted healthier lifestyle resolutions and eggs remain a popular go-to option," the agency added. 
The Associated Press contributed to this report. Read more of this story from FOX Business.