Eagles and Chiefs fans ready for Super Bowl match up – but which fans will outnumber the others?
GLENDALE, Ariz. - State Farm Stadium on Super Bowl Sunday is expected to be filled with more Philadelphia Eagles fans than Kansas City Chiefs fans by about two to one, a 62% to 38% edge, according to Vivid Seats.
The team with more fans has typically won the Super Bowl in recent years – and Eagles fans are known to travel with the team.
We went out and talked to fans steps away from the stadium and asked, if they could sum up how they're feeling about Super Bowl LVII in one word, what word would they choose?
"Goosebumps."
"Confident."
"Very confident."
"Cautiously optimistic. How about that? That's two words."
Eagles fans and Chiefs fans might be enemies on Sunday, but they're still friends, for now.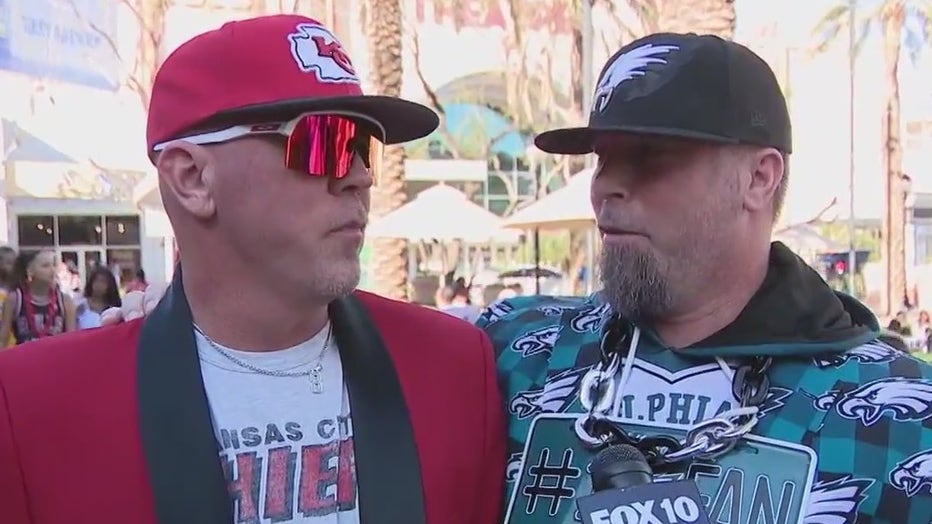 "We're friends until tomorrow. I'm probably going to be walking home, huh? Are you going to leave me here? No, because we're going to win," a couple of friends joked.
They traveled far and wide to get to Arizona.
"I'm born and bred Philadelphia, but I live in northern California," a fan said.
"Came from Wright City, Missouri and we're going to the Super Bowl," another said.
Some, from different countries.
"I came in from the Bahamas."
Each fan has a story to tell, hoping their team takes the win this weekend in Glendale.
"I was just a little kid, and so I said I like the red one. The next kid said whatever the purple one. I think Minnesota and Kansas City were playing," the visitor from Bahamas said.
This weekend won't be a cheap one by any means, especially for those going into State Farm Stadium.
"It's like $3,500 dollars to get into the building, at a minimum," a fan said.
Another totaled the cost it took to get to the big game.
"Counting the tickets, the airfare, the room were in, and food and everything – probably $13,000."
But, fans say it'll be worth it.
Over at Margaret T. Hance Park in Phoenix, fans, of course, were just as excited about the big game, but not the price tag.
"I think they're about $12,500 each. Twelve thousand five hundred, yeah," said Eagles fan Brad Whitehead.
Chiefs fans Todd and Jill Klindt said they paid about the same.
"Ours were more in the neighborhood of $12,000 grand … but then after we bought them, like three days later, they're like a thousand dollars cheaper. I quit looking. I couldn't do it."
But, it's worth it to the fans who flew across the country and even across the world, to see the Chiefs take on the Eagles. Those who flew in for the Super Bowl in 2015 say it's even better than it was last time.
More reports: