Dwayne Johnson apologizes over Maui wildfire fund donation request
Dwayne "The Rock" Johnson is responding to backlash he received after asking his social media followers to donate to his Maui wildfire fund this summer.
Johnson, along with Oprah Winfrey, started the People's Fund of Maui, pledging a combined $10 million to help with the devastation from the fires. Both the stars implored people to contribute, prompting immediate criticism, to which the actor is now responding.
"When we first launched the fund there was some backlash," Johnson admitted in a video shared to Instagram.
HAWAIIAN ACTOR JASON MOMOA IMPLORES PUBLIC TO NOT VISIT MAUI AS WILDFIRE DEVASTATION RAGES ON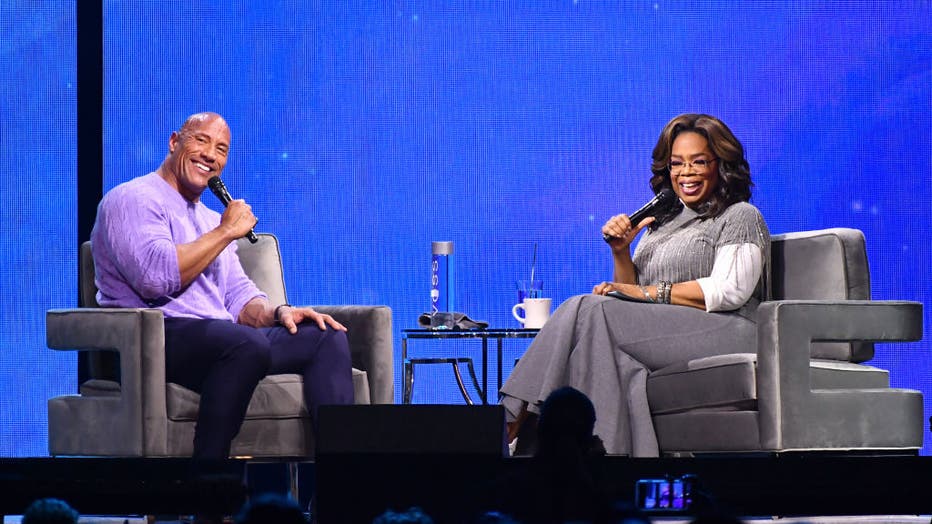 ATLANTA, GEORGIA - JANUARY 25: (EXCLUSIVE COVERAGE) Dwayne Johnson and Oprah Winfrey onstage during Oprah's 2020 Vision: Your Life in Focus Tour presented by WW (Weight Watchers Reimagined) at State Farm Arena on January 25, 2020 in Atlanta, Georgia.
LIKE WHAT YOU'RE READING? CLICK HERE FOR MORE ENTERTAINMENT NEWS
"I get it and I completely understand. And I could have been better. And next time I will be better. And I understand, you know, money ain't fallin' out of the sky, and it's not growing on trees. And there's a lot of people out there living paycheck to paycheck, and I get it, and I know what that's like. I've lived paycheck to paycheck," he said.
CLICK HERE TO SIGN UP FOR THE ENTERTAINMENT NEWSLETTER
"When you are living paycheck to paycheck, I don't want to speak for everybody, I'll speak for myself, but I feel it's connected. When you're living paycheck to paycheck, I was easily p----- off and I was frustrated. And the last thing you want to hear when you are living from paycheck to paycheck is someone asking you for money, especially when the person asking you for money already has a lot of money," he shared. 
"So I get it, I understand. I'd never launched a fund before, but I'm a quick study and lesson learned."
APP USERS CLICK HERE TO VIEW INSTAGRAM
Johnson leveled with his fans, telling them that their opinions of him matter.
"If I do something and you guys love it, you let me know… If I do something and you hate it, you let me know," he added.
CLICK HERE TO GET THE FOX NEWS APP
According to Johnson, the first round of funds has been given to survivors of the Hawaiian fires.
Read more of this story from FOX News.