Dramatic video shows carnival worker clinging to ride to protect child after mishap
GROVES, Texas - A day at the fair turned into a nightmare for one Texas family after a mechanical issue left a child stuck on a ride and a carnival worker dangling in the air trying to protect her.
According to KBMT, a ride operator at the Pecan Festival in Groves, Texas, near Beaumont was helping to secure a 12-year-old girl inside The Bullet ride last weekend when the wind picked up and sent the ride into the air with the child inside – and the ride worker hanging onto the side.
MORE: Watch: Amusement park ride spins out of control for 10-plus minutes
Video from Eric McCauley shows the carnival worker clinging to the ride at 30 feet in the air and using his foot to close the door and keep the child safe. Both make it safely to the ground after a few scary minutes. Fortunately, no one was hurt.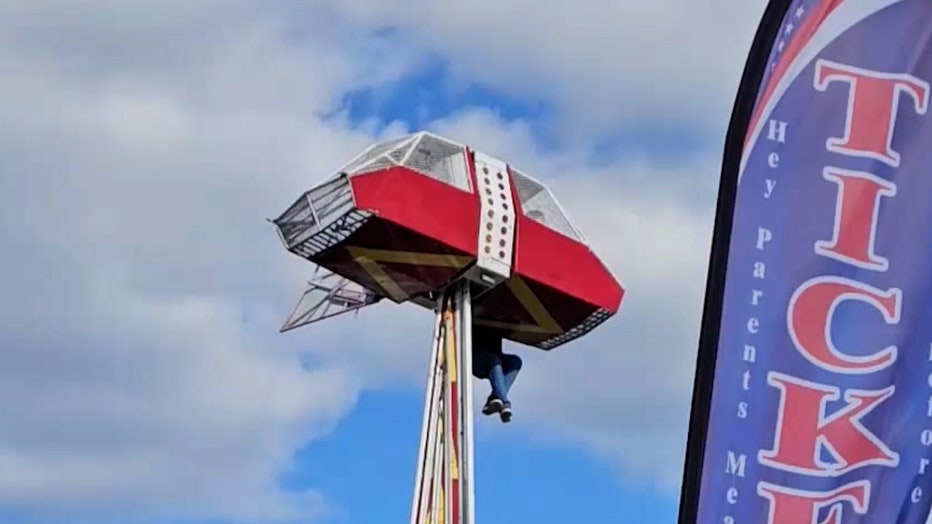 (Eric McCauley via Storyful)
 "We just wanted to have a little fun, you know, a family day. We went and got the wristbands. That was the first ride she wanted to do," Caress Muraira, the child's mother, told KBMT.
"It started going slow at first and he was trying to stop it. Her door wasn't closed. So I started freaking out; as he went to close the door he just kind of flew up with it. My daughter was up there and talking to him saying please hang on, don't fall," said Muraira.
MORE: Roller coaster riders stuck upside down for hours at Wisconsin festival after 'mechanical failure'
Muraira called the carnival worker a hero.
"She kept telling me, 'Mommy I'm OK, I just want to let you know I'm OK," Muraira said.
The ride was closed for the rest of the day.