Dozens of children found working dangerous overnight jobs at meat plants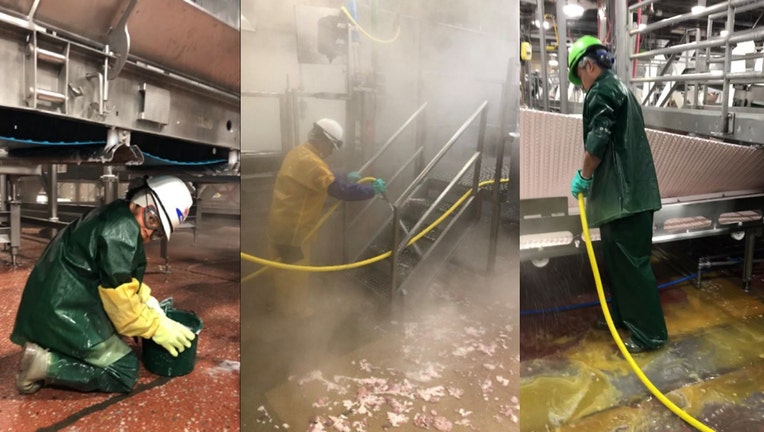 article
NEW YORK - A shocking U.S. Department of Labor investigation uncovered dozens of children as young as 13 years old working dangerous overnight shifts at meat plants.
The agency asked a federal court in Nebraska to issue a nationwide temporary restraining order and injunction against Packers Sanitation Services Inc (PSSI).  It is one of the nation's leading providers of food safety sanitation at slaughtering and meat-packing factories.
The government claims it is illegally employing dozens of minor-aged boys and girls, some working for years while they were still in school.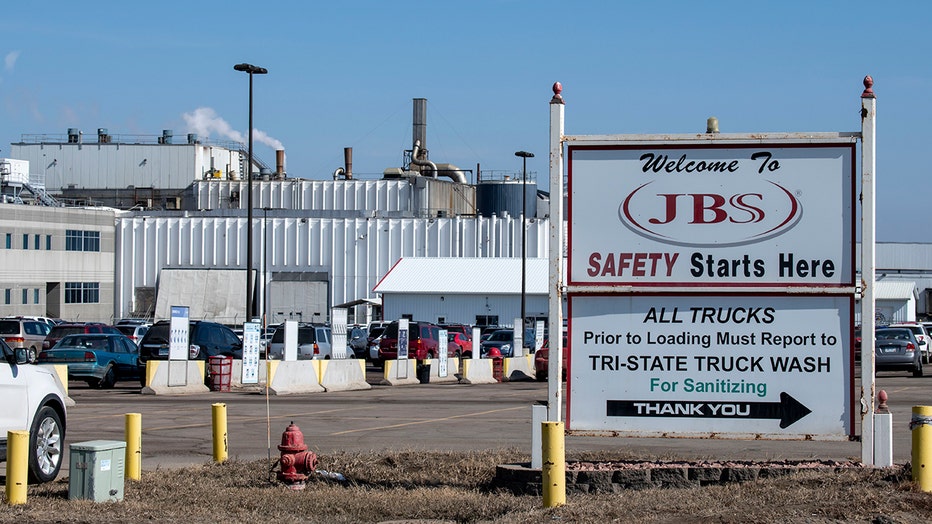 A JBS pork plant in Worthington, Minnesota is seen in this file photo. (Photo by: Michael Siluk/UCG/Universal Images Group via Getty Images)
The Labor Department says an investigation found the company had employed at least 31 children – from 13 to 17 years of age – in hazardous occupations. The jobs performed by children included cleaning dangerous powered equipment on so-called "killing floors" during overnight shifts at JBS USA plants in Grand Island, Nebraska and Worthington, Minnesota, and at Turkey Valley Farms in Marshall, Minnesota.
The conditions noted in the filing were grim.
In the complaint, investigators stated: "Scrap meats, fats, and oils covered handrails and the floor, making surfaces slippery."
It also stated: "The running of machines made the area extremely noisy, with steam from hot water limiting visibility."
Oppressive child labor
In one plant the children were tasked with cleaning power-driven machines, including meat and bone-cutting saws.
Investigators say that several minors employed by PSSI, including one 13-years-old, suffered caustic chemical burns and other injuries.
One 14-year-old child interviewed during the search said that they worked from 11 p.m. until 5 a.m. or 7 a.m. cleaning machines with chemicals that gave them a burn injury.  They had been working overnight at the plant since they were 13 years old.
Another 14-year-old worker said they worked 11 p.m. until 5 a.m. five to six days a week from Dec. 2021 to April 2022 cleaning machines "used to cut meat" while attending middle school during the day.
A follow-up with the school noted that the student had been falling asleep in class and missed class due to suffering chemical burns.
The department alleges the food sanitation contractor interfered with an investigation by intimidating minor workers to stop them from cooperating with investigators.
"The Department of Labor will use every available legal resource to protect workers – regardless of their age – and hold to account those employers who mistakenly believe they can violate the Fair Labor Standards Act, obstruct federal investigations, and retaliate against workers who assert their rights," said Regional Solicitor of Labor Christine Heri.
The investigation began in August and investigators executed warrants at the three plants, its local offices and at PSSI's Keiler, Wisconsin, corporate office. 
"Federal laws were established decades ago to prevent employers from profiting by putting children in harm's way," said Wage and Hour Regional Administrator Michael Lazzeri in Chicago. "Taking advantage of children, exposing them to workplace dangers – and interfering with a federal investigation – demonstrates Packers Sanitation Services Inc.'s flagrant disregard for the law and for the well-being of young workers."
PSSI's website says that it has 17,000 employees across more than 700 locations.
The company issued a statement to FOX 5 News stating: "PSSI has an absolute company-wide prohibition against the employment of anyone under the age of 18 and zero tolerance for any violation of that policy -- period."
It went on to state: "We are also surprised the DOL has taken this action given PSSI's Corporate office has been cooperating with their inquiry, producing extensive documents and responses. PSSI also worked with the DOL recently and successfully completed multiple audits with the agency that found no issues. PSSI will continue to cooperate with the DOL and will continue to enforce its absolute prohibition against employing anyone under the age of 18."