DiGiorno Thanksgiving Pizza unveiled: Here's what's on it
Thanksgiving is right around the corner, and DiGiorno is introducing a new way to enjoy the flavors of the holiday on a pizza.
The frozen pizza company revealed its DiGiorno Thanksgiving Pizza featuring many of the holiday's traditional sides – with no long hours in the kitchen required.
The creation features classic turkey, a gravy sauce, diced sweet potatoes, green beans, cranberries, mozzarella and cheddar cheeses, a crispy onion topping, and a Detroit-style crust.
"From Friendsgiving parties to Turkey Day tables, we're thrilled to provide a bold new way to appreciate the traditional Thanksgiving spread," said Kimberly Holowiak, the senior brand manager for DiGiorno. "Our passion is pizza, and we are always looking for unique ways to infuse the fresh-baked taste of DiGiorno into moments of celebration – even the most traditional holiday dinners."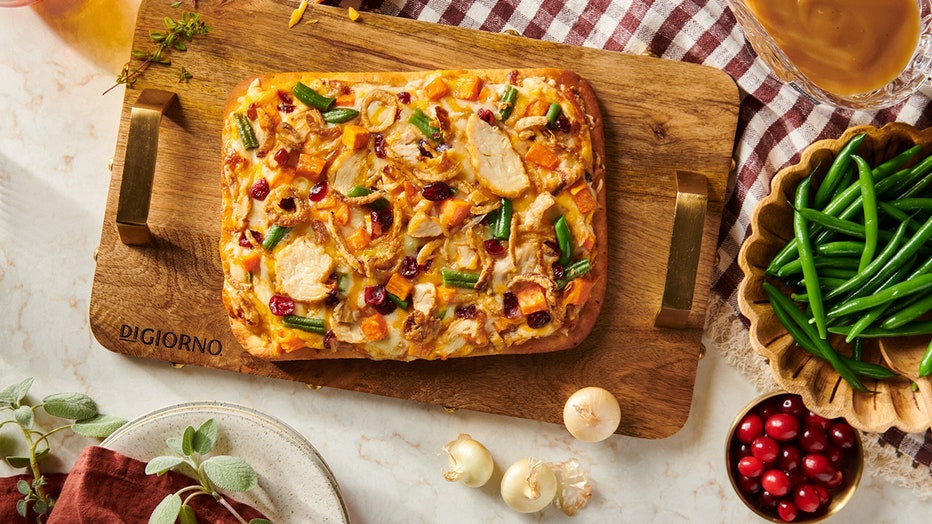 DiGiorno Thanksgiving Pizza (Credit: DiGiorno via PR Newswire)
DiGiorno will release a limited number of Thanksgiving Pizzas exclusively online starting November 1 through November 22.
According to an Instacart study, 68% of Americans secretly dislike a classic Thanksgiving dish but eat it anyway out of tradition.
RELATED: Pineapples and pickles? DiGiorno dishes out new pizza
The top offenders are canned cranberry sauce (29%), green bean casserole (24%), sweet potatoes / sweet potato casserole (22%), pumpkin pie (21%) and turkey (19%).
If anything, maybe these Thanksgiving food offenders taste better on a pizza! 
This story was reported from Los Angeles.