Condolences pour in for Devin Willock, Chandler LeCroy after fatal car crash
ATHENS, Ga. - Georgia Bulldogs offensive lineman Devin Willock and team staff member Chandler LeCroy died overnight in a car crash, according to police. 
The crash injured two others, but officials said they are in stable condition. Their names haven't been released.
Georgia football staff members as well as Willock and LeCroy's teammates and colleagues expressed their grief on social media when news broke.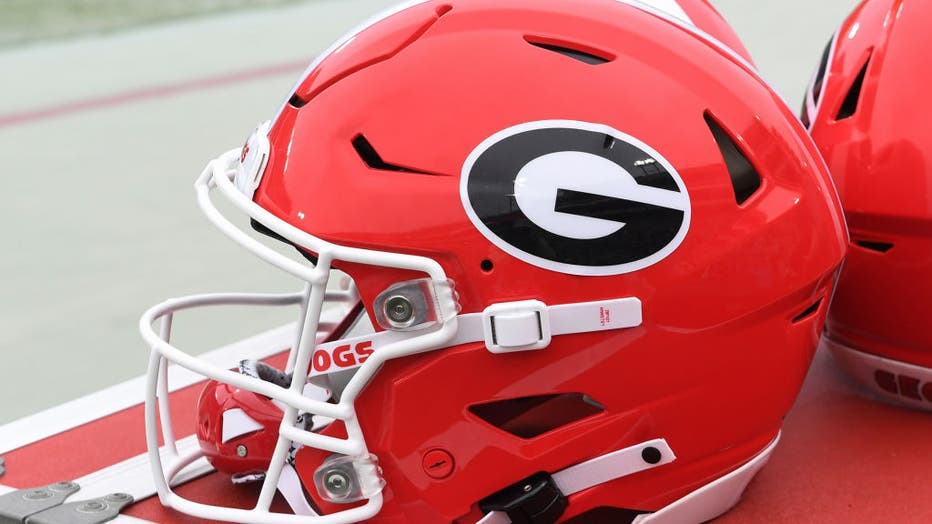 ATHENS, GA - APRIL 16: Georgia Bulldogs football helmet sits on the sidelines during the Georgia Bulldogs G-Day intra-squad spring game on April 16, 2022, at Sanford Stadium in Athens, GA.(Photo by Jeffrey Vest/Icon Sportswire via Getty Images)
The University of Georgia Athletics Department confirmed that both injured people were also members of the football program.
"The entire Georgia family is devastated by the tragic loss of football student-athlete Devin Willock and football staff member Chandler LeCroy. Two other members of the football program were injured in the accident. They are both in stable condition, and we will continue to monitor their status with medical personnel.
"Devin and Chandler were two special people who meant so much to the University of Georgia, our football program and our athletic department. We ask that everyone keep their families in your prayers during this very difficult time.
"The UGA Athletic Association will work with our medical team as well as our mental health and performance personnel to make sure we are providing the best support possible for our staff and student-athletes who are processing this grief. We can provide no further comment at this time but ask that everyone continue to keep those involved in your prayers."
Head football coach Kirby Smart expressed the football program's grief in a statement.
Athletics Director Josh Brooks shared his thoughts on Willock and LeCroy in a statement:
"We are covering the families of Devin Willock and Chandler LeCroy in prayer this morning. We are deeply saddened on the tragic loss of Devin and Chandler, and we will continue to honor their memory in the years to come. 
 
"These two special people meant the world to our football program and athletic department. We are working with our medical staff and mental health and performance team to ensure our staff and student-athletes have all the support they need during this extremely difficult time."
University of Georgia President Jere Morehead also shared condolences:
"On behalf of the University of Georgia, our entire campus grieves for the loss of two young members of our campus community—student-athlete Devin Willock and football staff member Chandler LeCroy. Our thoughts and prayers are with their families and friends. We also pray for the full recovery of those injured in this tragic accident."
Players reacted to the news on Sunday.
Jordan Davis, an integral member of the 2021 championship team, was one of the former players to react to the news.
The news moved people outside the Georgia football programs.
The football team celebrated its National Championship victory on Saturday with a parade and ceremony inside Sanford Stadium. Gov. Brian Kemp was one of the speakers at that ceremony on Saturday.
Willock was a redshirt sophomore offensive lineman from New Milford, N.J. He played in every regular season game, the Southeastern Conference Championship and both College Football Playoff games for the Bulldogs. 
LeCroy's Instagram profile shows that she was a member of the Georgia football recruiting staff. Her linked in profile said she received bachelor's and master's degrees from the University of Georgia.