'State-sanctioned swatting' allowed cop to assault teens in 'personal vendetta' for doorbell prank: lawyer
A Delaware state trooper's "heinous attack" on two teenagers in response to a doorbell-ditch prank was "unspeakably violent," one of the teen's lawyers, Sam Davis, said. 
Trooper Dempsey Walters, 29, was indicted on several criminal charges after he allegedly beat a 17-year-old and held him at gunpoint during an arrest. 
Then he allegedly punched a handcuffed 15-year-old "with such force" that it broke his orbital socket and gave him a concussion with complications causing "severe brain trauma," Davis said.
"Their whole notion of safety was destroyed," Davis told Fox News Digital. "It was such a gross overreaction to a kid's prank. … They both thought they were going to be killed in that takedown."
DOORBELL PRANK SPIRALS INTO VICIOUS ASSAULT INVOLVING STATE TROOPER: VIDEO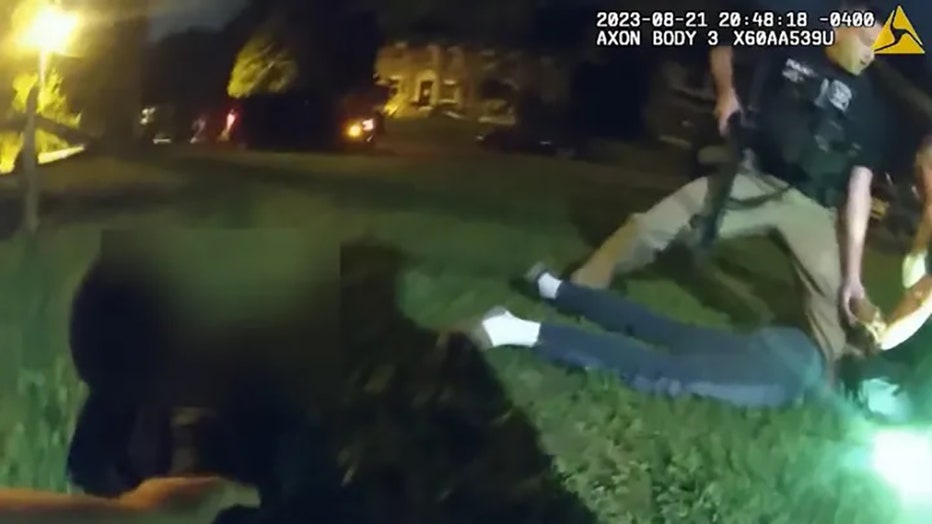 Police in Delaware are seen in bodycam footage dragging teenagers out of their home at gunpoint, including an officer who stood over a suspect with a rifle, after the teenagers played a doorbell prank, according to the Delaware Attorney Generals Offi
The 15-year-old, who was identified by his first name, Jadyn, along with a couple friends, played "ding-dong ditch" Aug. 21 and banged on Walters' door while his girlfriend was home, according to court documents. 
She called Walters, who was on duty at the time, and Walters allegedly reported the incident as a home invasion, which prompted a multi-agency law enforcement response that included a state police chopper and K-9 units.
WILD BODYCAM FOOTAGE OF FUGITIVE DARING COPS TO SHOOT HIM BEFORE HIGH-SPEED CHASE 
"The local teenagers were simply at the wrong place at the wrong time and were attacked by the trooper, who was their local neighbor," Davis said.
WATCH BODYCAM FOOTAGE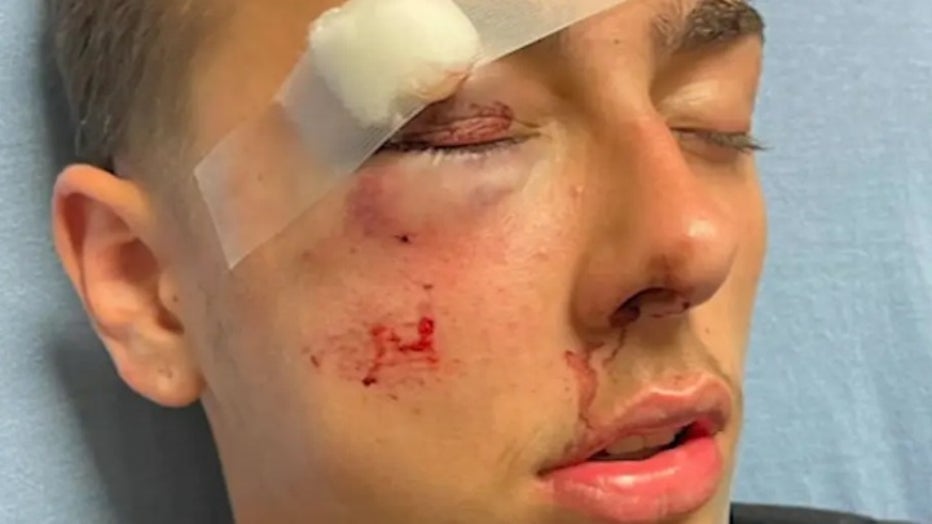 Jaydn, 15, suffered several injuries, including a concussion and broken orbital socket, his lawyer, Sam Davis, told Fox News Digital. (Attorney Sam Davis)
That's why Davis called this an example of "state-sanctioned swatting." 
"We know that swatting is calling in a false report that activates a SWAT team," Davis said. "Here, it was a police officer who called in a knowingly false misstatement of what he had to know happened, which is a kick on his door.
"That activated a small army of law enforcement from Delaware, which included a helicopter, a K-9 unit, long rifles and between 15 and 25 law enforcement officers."
'SWATTING' GETS A TERRIFYING NEW UPDATE AS CRIMINALS NOW WREAKING 'EMOTIONAL HAVOC' AS A PAID SERVICE
The other alleged victim, identified as 17-year-old Al, had nothing to do with the prank and didn't know Jadyn, Davis said. 
Four days earlier — on Aug. 17 — Al argued with Walters, who lives in the same neighborhood, while he was off duty, according to court documents. 
The next day, Walters used the police database to look up Al's information.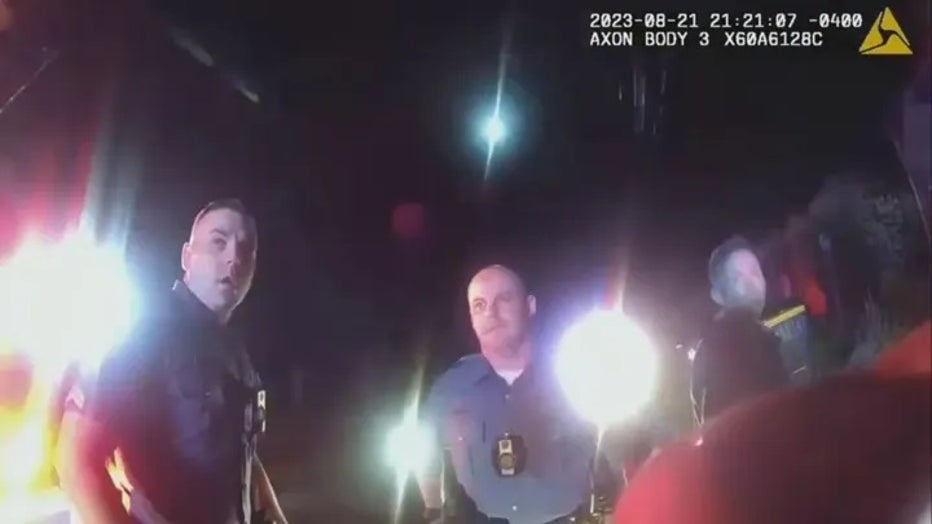 Delaware State Trooper Dempsey R. Walters, left, was charged with felony assault, two counts of misdemeanor assault and two counts of official misconduct following an incident Aug. 21. (Delaware Department of Justice)
Arrest of teen who was not playing 'ding-dong ditch'
Walters was one of several law enforcement officers who forced two teenagers, including 17-year-old Al, from their homes at gunpoint. 
The officers knocked them to the ground, barked commands "to stop resisting" and cuffed them while they screamed, according to bodycam footage released by the Delaware AG's Office. 
The teens responded, "I'm not resisting," or "I'm not moving."
FBI ARREST KENTUCKY MAN IN CRYSTAL RODGERS' 2015 DISAPPEARANCE
The bodycam footage from the local Newport Police officer shows an officer in a bulletproof vest standing over one of the teenagers with a rifle pointed at his back.
During that time, Al was on a phone call with his mom, who heard the entire incident, Davis said, which traumatized both of them. Al left his home to live with his aunt to get out of the neighborhood, where Walters lives too, he said.
Neither Al nor the other teenager in the bodycam footage were involved in the "ding-dong ditch" prank, officials said. 
Police originally said it was a case of mistaken identity, but "they didn't really explain" to Al's mom why he was pulled from his home, according to Davis.
Walters allegedly left this scene and joined up with other officers, who had Jaydn in custody, according to a warrant reviewed by Fox News Digital.
Alleged assault of a cuffed 15-year-old
When Walters arrived, Jaydn was face down on the ground and cuffed by a different state trooper. 
"Almost immediately upon arriving, Walters dropped his knee onto the back," Delaware Attorney General Kathy Jenning said in a press release announcing the indictment.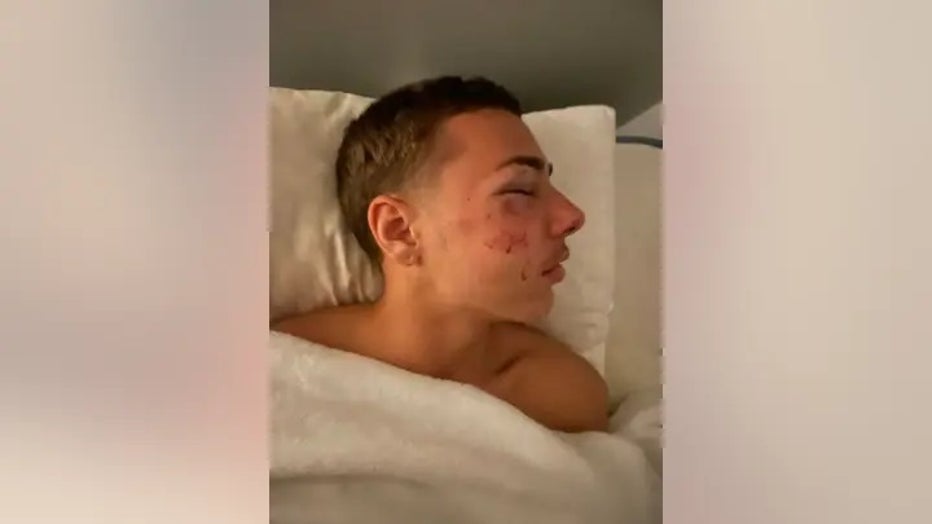 The 15-year-old victim of Trooper Dempsey R. Walters' alleged assault had a broken orbital socket and "severe brain trauma," the teen's lawyer, Sam Davis, said. (Attorney Sam Davis)
He was escorted into the back of a state police SUV, where Walters punched him after learning he was the one who banged on his door, the indictment alleges. 
Walters allegedly tried to shut off his bodycam before the attack, but the audio continued to play while he hit the detained teenager in the face, according to the indictment.
Davis called the trooper's actions "illegal and unconscionable."
"Punching a handcuffed, defenseless, 15-year-old in the face is an act of brutality and vengeance," Davis said. "Dropping a knee on the neck of a child is illegal and unconscionable, especially when a child begs for his mommy and none of the officers intervene."
Walters could not be reached for comment, and it was not immediately clear if he had an attorney representing him.
What did Delaware State Police say?
Neither the Delaware State Police nor the troopers union responded to Fox News Digital's requests for comment.
But Delaware State Police Col. Melissa Zebley addressed the media during a press conference Tuesday. 
She said Walters, a seven-year veteran of the force, was suspended without pay and benefits "with the intent to dismiss."
SEABOUND BANDITS TERRORIZE SAN FRANCISCO BAY; SOME RESIDENTS BLAME SURGE OF NEARBY HOMELESS CAMPS
"It's disheartening when a law enforcement leader has to share news regarding the betrayal of both the public's and the agency's trust," she said. "But today I'm here to do exactly that."
She said the department shares the "same concern and outrage" as the community after seeing the footage and apologized to the teens and their families.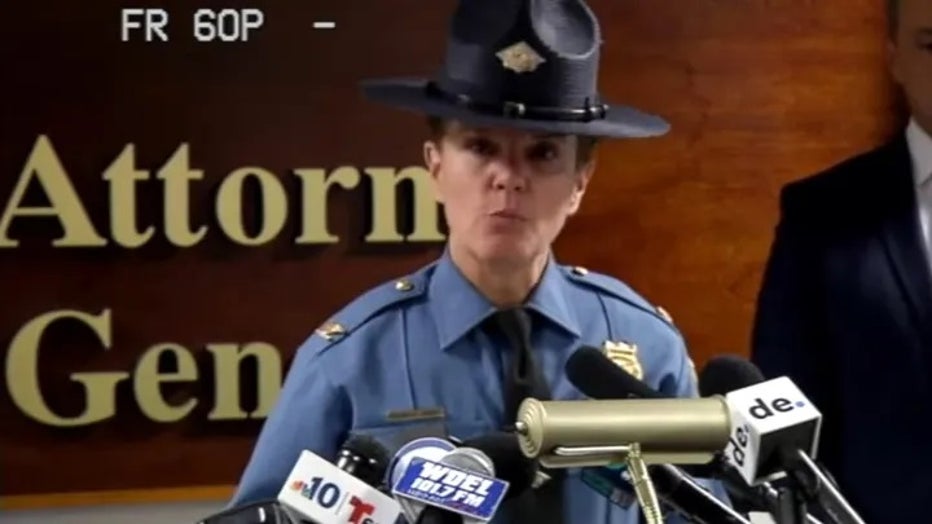 Delaware State Police Col. Melissa Zebley apologized to the teens' families during a press conference Sept. 28, 2023. (Delaware State Police/X)
"I can assure you all and the community we serve that he'll never work for one more minute as a Delaware state trooper following his actions that evening," Zebley said. "Actions that he took despite the direction by his supervisors to report to his residence and allow responding law enforcement officers to investigate."
She said there were "no instances" where other responding troopers or officers failed to intervene after reviewing bodycam footage.
Davis disagrees with this statement, calling the alleged assaults on the teenagers a "collaborative" effort between Walters and other law enforcement officers.
"The attorney general had a good start with the indictment of this one trooper, but she can't be done yet," Davis said. "The investigation and charges must extend to the other law enforcement officials who participated, assaulted, failed to intervene and wrongfully detained these young men."
What's next?
None of the teenagers were charged with any crimes. 
Davis' broken orbital socket was "more complicated than originally thought," Davis said, and it took surgeons eight hours to rebuild his eye socket, which included two plates, 11 screws and a piece of mesh to take the pressure off his facial nerve. 
CLICK HERE FOR MORE TRUE CRIME FROM FOX NEWS 
He's also suffering from post-concussion syndrome, including severe, frequent headaches, and spends a lot of time in the nurse's office when he's at school, Davis said.
"His recovery isn't going to happen overnight," Davis said.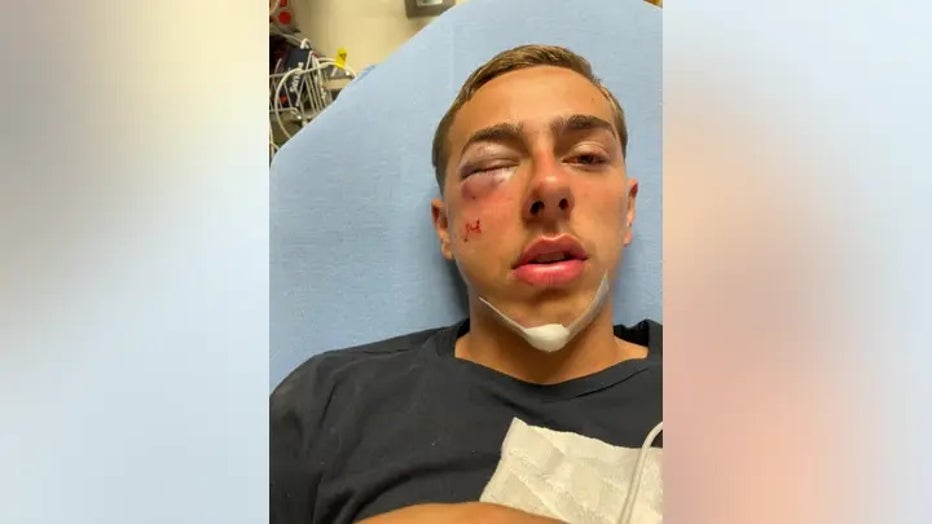 A 15-year-old from Delaware was allegedly assaulted by a state trooper for playing "ding-dong-ditch," according to an indictment against Tpr. Dempsey R. Walters. (Attorney Sam Davis)
Davis said he and his team are still wrapping up their investigation to get more videos and files, which he believes he'll have to get by legally forcing the state police's hand. 
A lawsuit will likely follow.
Meanwhile, Walters was charged with two felonies (second-degree assault and deprivation of civil rights) and four misdemeanors (two counts of third-degree assault and two counts of official misconduct).
State Attorney General Kathy Jennings said in a statement Tuesday that Walters "chose to extract his own form of personal justice" by "embarking on a violent rampage."
"As a mother and grandmother, the footage in this case is hard to watch," Jennings said in a press release announcing the indictment. "As a prosecutor, the constitutional violations are stunning."