NY attorney general to probe claims against Cuomo; 3rd accuser emerges
NEW YORK - New York Attorney General Letitia James on Monday said she is moving forward with an investigation into sexual harassment allegations against Gov. Andrew Cuomo after she received a referral letter from his office authorizing her to do so.
"Today, the executive chamber transmitted a referral letter to our office, providing us the authority to move forward with an independent investigation into allegations of sexual harassment claims made against Governor Cuomo," James said in a statement. "This is not a responsibility we take lightly as allegations of sexual harassment should always be taken seriously."
The letter (see full text below) gives James the authority to deputize an outside law firm to conduct the inquiry with full subpoena power. When the investigation is finished, the findings will be disclosed in a public report, the letter said.
Two women who have worked for Cuomo's administration have come forward to accuse him of sexual harassment during close interactions they had with him during their respective tenures. A third woman has come forward to make allegations against the governor, according to a report. She does not work for him.
RELATED: Ex-Cuomo aide says governor kissed her, suggested strip poker
The governor, a Democrat, hasn't been seen in public since last Wednesday. On Sunday, he issued a measured apology statement acknowledging for the first time that some of his behavior with women "may have been insensitive or too personal," and said he would cooperate with the attorney general's investigation. He maintained he had never inappropriately touched or propositioned anyone. But he said he had teased people about their personal lives in an attempt to be "playful."
"I now understand that my interactions may have been insensitive or too personal and that some of my comments, given my position, made others feel in ways I never intended," Cuomo said in the statement. "I acknowledge some of the things I have said have been misinterpreted as an unwanted flirtation. To the extent anyone felt that way, I am truly sorry about that."
Charlotte Bennett, 25, has said Cuomo quizzed her about her sex life and asked whether she would be open to a relationship with an older man. In a statement on Monday, she said the governor has "refused to acknowledge or take responsibility for his predatory behavior."
"As we know, abusers — particularly those with tremendous amounts of power — are often repeat offenders who engage in manipulative tactics to diminish allegations, blame victims, deny wrongdoing and escape consequences," Bennett said in the statement. "It took (Cuomo) 24 hours and significant backlash to allow for a truly independent investigation. These are not the actions of someone who simply feels misunderstood; they are the actions of an individual who wields his power to avoid justice."
The New York Times reported that a third woman has now come forward. The woman, now 33, said she met Cuomo at a wedding reception in New York City in 2019. She said the governor put his hand on her lower back in a crowded room but she removed it. She said he then placed his hands on her cheeks and asked if he could kiss her. She said she turned her head away. 
The referral letter, written by Beth Garvey, the special counsel to the governor, states that state employees have been told to "cooperate fully" with the investigation. 
Over the weekend, Cuomo and James's respective offices appeared to be wrangling over who should investigate the governor's behavior.
Initially, Cuomo tried to control who would investigate him by recommending a federal judge with close ties to his advisors. But after sharp criticism from lawmakers in both parties, his office suggested the attorney general and the chief judge of the state jointly appoint outside counsel. 
But in a statement on Sunday, James said that appointing an independent investigator is her job alone and that state law requires the governor to formally send her a referral letter asking for the review. Cuomo's office then sent the letter on Monday. James will appoint an outside law firm that will be able to subpoena witnesses, including the governor.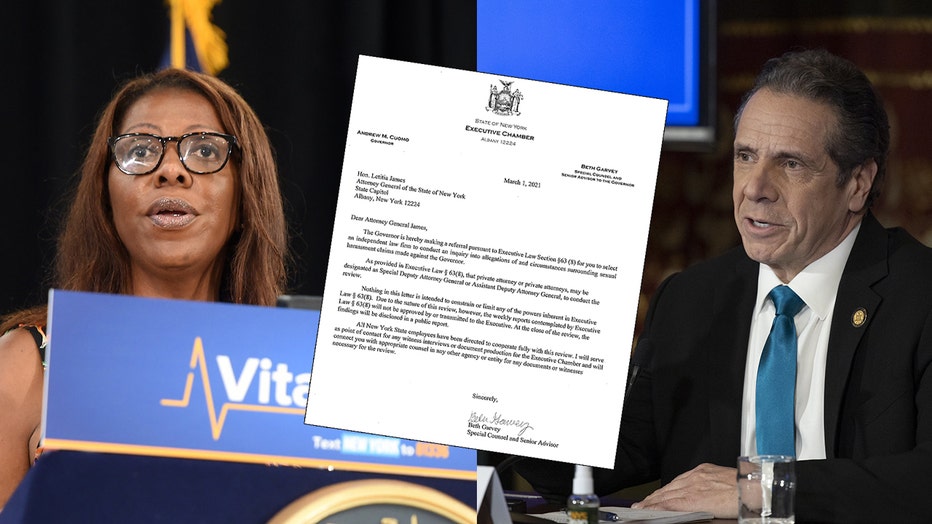 Attorney General Letitia James, left, and Gov. Andrew Cuomo. (FOX 5 NY/Governor's Press Office)
Several elected officials, including some fellow Democrats, have called for Cuomo to resign. Others have said they support an independent inquiry.
A fellow Democrat, Mayor Bill de Blasio and Cuomo have clashed for years. The mayor on Monday said if Cuomo did indeed sexually harass his former aides, he should resign.
"If someone purposely tried to use their power to force a woman to have sex with them of course that's someone who should no longer be in public service," de Blasio said. 
The mayor said Cuomo's statement is "not an apology."
"He seemed to be saying, 'Oh, I was just kidding around.' You know, sexual harassment is not funny. It's serious," de Blasio said. "It has to be taken seriously and he just clearly was letting himself off the hook."
Rep. Nicole Malliotakis, a Republican who represents Staten Island and part of Brooklyn, said the "governor now is trying to deflect."
Rep. Claudia Tenney, also a New York Republican, said the governor should step down.
"This is just one more straw on the camel's back. He should resign," Tenney said. "I think he should save us the angst and the agony."
House Speaker Nancy Pelosi, a Democrat, said she supports an independent investigation.  
"The women who have come forward with serious and credible charges against Governor Cuomo deserve to be heard," she said.
The two U.S. senators from New York — Chuck Schumer and Kirsten Gillibrand — are also on a growing list of elected officials who back the investigation. 
Even the White House weighed in.
"The president's view has been consistent and clear that every woman coming forward should be treated with dignity and respect," Press Secretary Jen Psaki said. 
With Linda Schmidt and The Associated Press
RELATED: Gov. Murphy: Allegations against Gov. Cuomo 'deeply troubling'
Text of the Referral Letter from the Executive Chamber
Dear Attorney General James,
The Governor is hereby making a referral pursuant to Executive Law Section §63 (8) for you to select an independent law firm to conduct an inquiry into allegations of and circumstances surrounding sexual harassment claims made against the Governor.
As provided in Executive Law §63 (8), that private attorney or private attorneys, may be designated as Special Deputy Attorney General or Assistant Deputy Attorney General, to conduct the review.
Nothing in this letter is intended to constrain or limit any of the powers inherent in Executive Law §63 (8). Due to the nature of this review, however, the weekly reports contemplated by Executive Law §63 (8) will not be approved by or transmitted to the Executive. At the close of the review, the findings will be disclosed in a public report.
All New York State employees have been directed to cooperate fully with this review. I will serve as point of contact for any witness interviews or document production for the Executive Chamber and will connect you with appropriate counsel in any other agency or entity for any documents or witnesses necessary for the review.
Sincerely,
Beth Garvey
Special Counsel and Senior Advisor
— — —