Train carrying hazardous materials derails in northern Minnesota
LANCASTER, Minn. (FOX 9) - State crews are responding to a derailment of a train carrying hazardous materials Wednesday night in far northwestern Minnesota, just south of the Canadian border.
Canadian Pacific reports they responded around 4:30 p.m. for a reported derailment just south of Lancaster, Minnesota in an unpopulated area. Lancaster is about ten miles south of the Canadian border and 16 miles east of the North Dakota border. Highway 59 is closed for the cleanup, which the Minnesota Department of Transportation says could take two to three days.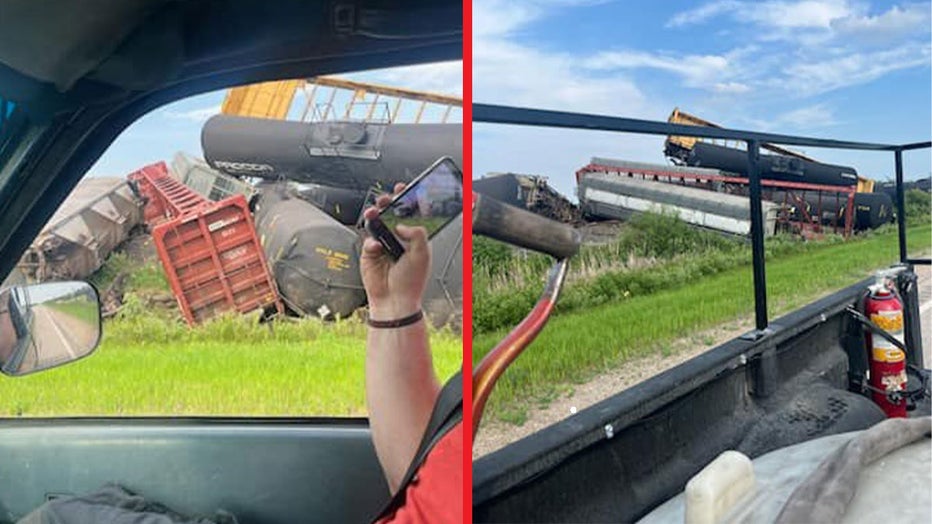 Photos shared by the Lancaster, Minnesota Fire Department show the derailment just south of the Canadian border. (Lancaster Fire Department)
The crash happened four miles south of Lancaster. So far, officials say 24 freight train cars have derailed, with some carrying hazardous materials. Firefighters identified the materials as "liquid NOS" which stands for "not otherwise specified."
In an update on Thursday, Canadian Pacific said five cars contained asphalt, six contained naphtha, and two cars had decene. Both of the later two products are flammable liquids.
Canadian Pacific and firefighters said, so far, officials say there are no leaks from the rail cars, no fires, and no reported injuries. Officials also say the derailment isn't near any waterways.
"The safety of crews, first responders and the public remains our highest priority," writes a Canadian Pacific spokesperson. "Our hazardous materials experts are continuing a full response to the incident in coordination with local first responders."
In a tweet, Governor Walz says the site is contained. "Experts are on the way to survey the site and make sure the community has everything they need," he adds.
The cause of the derailment has not yet been determined. Thursday afternoon, the rail corridor was reopened after track repairs and safety inspections.