Comedian Chris Rock, DJ Diplo leave Burning Man; diehards stay behind
RENO, Nev. - Comedian Chris Rock and DJ Diplo were seen on video riding on a truck heading out of the Nevada desert over the weekend as thousands of Burning Man die-hards stay behind. 
Diplo said he had to leave on Sunday because he had a show in D.C. and didn't want to have to cancel. On Instagram, he gave a nod to the driver of the pickup who was able to leave the mud-soaked festival. 
Rock didn't say why he was leaving other than he just wanted a "f--ing cold brew." He was seen in a blue New York jacket, the wind whipping in his hair. 
Storms swept through the area beginning on Friday night, leaving the desert sand feeling almost like quicksand with thousands of Burning Man attendees trudging through the muck either barefoot or with plastic bags on their feet.
The Pershing County Sheriff's Office said a death happened during the event but offered few details as the investigation continued, including the identity of the deceased person or the suspected cause of death.
Guests were asked to shelter in place and conserve food as most of the roads were closed on Sunday. Some walked several miles to town to catch a ride out of the counterculture music festival held in the Black Rock Desert about 110 miles north of Reno.
John Gaines, who used to live in San Rafael and now lives in Brooklyn, was able to make it out 90 minutes before the gates closed. The rest of his group was stuck behind. 
"I was the only person in my group who made it out," he said. "There's 60 people still out there but they are veterans. They have food and water. They're not panicking."
Those who remained Sunday described a resilient community making the most of the muddy conditions that have made it difficult to walk or even bike around Burning Man. Many posted selfies of themselves covered in mud, dancing or splashing in the makeshift lakes.
Captain Fantastic and his daughter, T-Rex, both of San Geronimo in Marin County, said everything was amazing.
"There's dust in the blood," the captain said. "This year it's mud in the blood."
He said that at any moment, life can change and you just need to adapt. 
Ilene Lelchuk Snyder of San Rafael said some of the reports of danger and chaos are overblown. She was camping out with a group called "Church of the Open Mind" and they were happy enough to be literally stuck in the mud. 
Sure, Porta Potties were filling up since Friday night. But she said that they were getting cleaned and pumped on Sunday. She had plenty of food and in classic Burning Man culture, "everyone was helping everyone else," she said. 
"Most people are still just chilling,' as you can see," she said. "People are embraced and not worried about getting out of here. We know its going to dry up."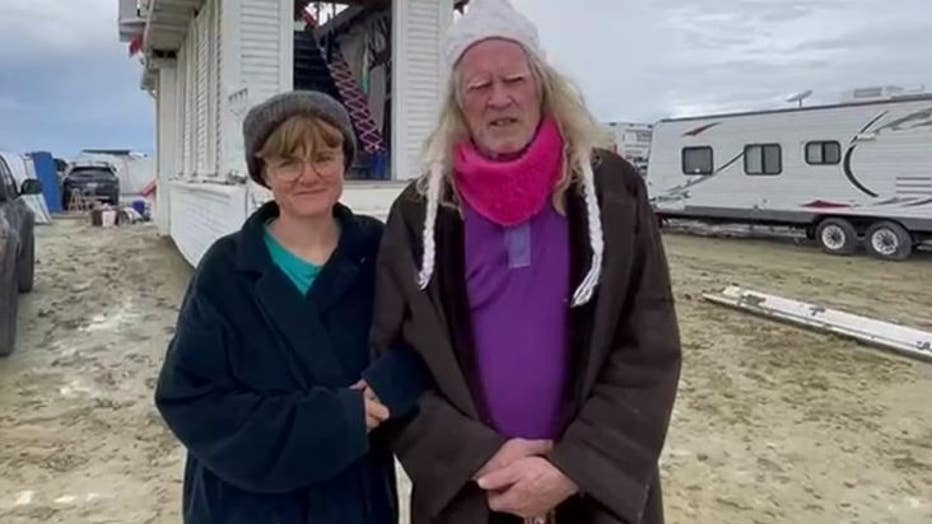 T-Rex (left) and father, Captain Fantastic at Burning Man. Sept. 3, 2023 Photo: Ilene Lelchuk Snyder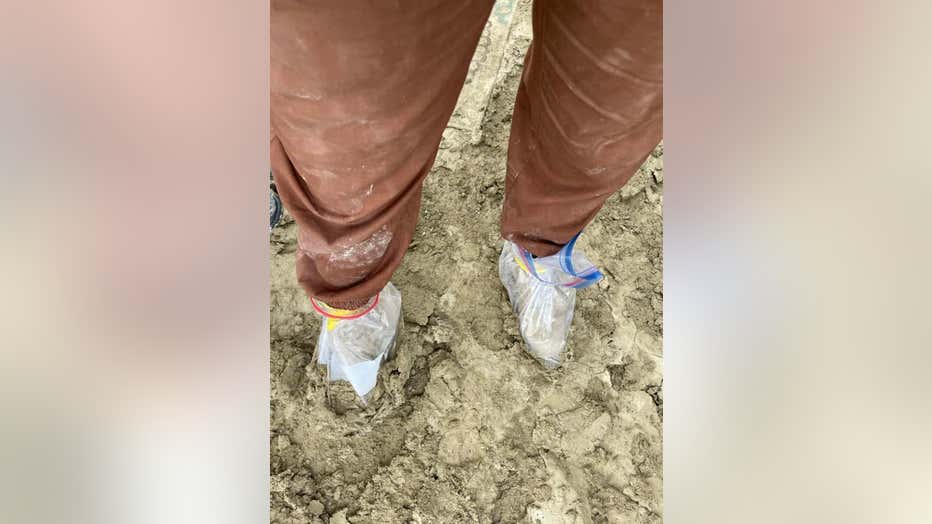 The desert turned muddy at Burning Man. Sept. 2, 2023. Photo: Ilene Lelchuk Snyder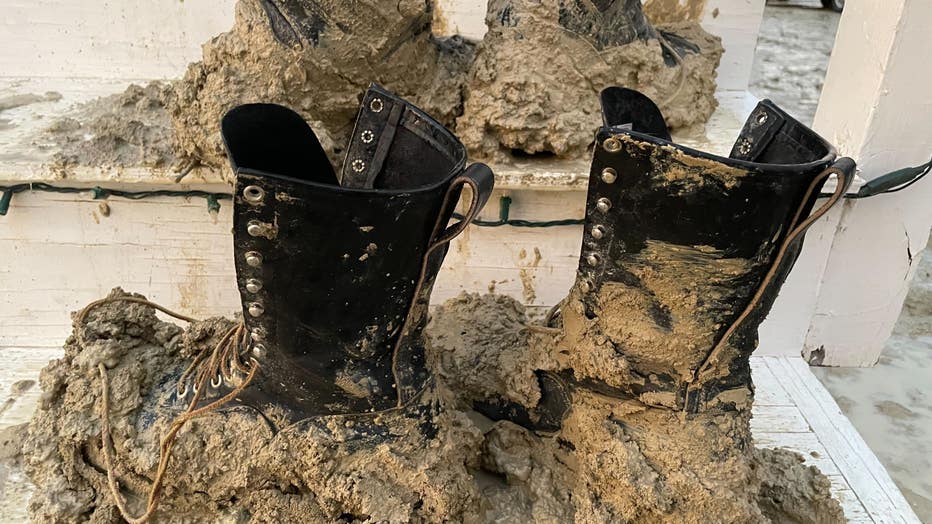 Mud-caked boots at Burning Man. Sept. 2, 2023 Photo: Ilene Lelchuk Snyder