College football games face challenges from Saturday's annular solar eclipse
An annular solar eclipse that will partially obstruct the sun across the entire Lower 48 Saturday will occur when thousands of college football fans are gathered in venues watching their favorite teams on the field. 
Signs of the eclipse will begin at 11:04 a.m. EDT and end around 3:13 p.m. EDT, but during the height of the event, from around noon to just after 1 p.m., games will be in full swing from Texas to the Midwest.
None of the football games that are scheduled to take place Saturday will be under the point of maximum obstruction, but that won't prevent some stadiums from seeing 35% - 86% of the Moon in front of the Sun.
The 11 a.m. CDT match between North Texas and the Temple Owls near Dallas will be the game that is the closest to the path of annularity.
The DATCU Stadium in Denton, Texas, is expected to see between 85-90% of totality on Saturday, with the partial phase beginning around 10:22 CDT and lasting through 1:28 p.m. local time.
The maximum extent of what the eclipse has to offer this region of North Texas will peak just after 11:50 a.m. CDT.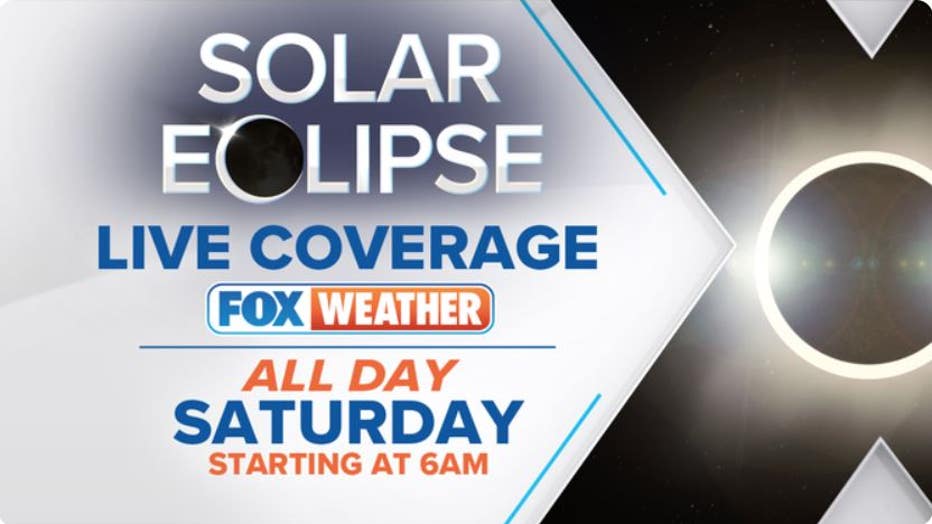 Solar eclipse coverage (FOX Weather)
SOLAR ECLIPSE FORECAST: SOUTHWEST LIKELY TO HAVE BEST VIEWING CONDITIONS FOR OCTOBER' RING OF FIRE'
Other major games that will see partial obstruction include Georgia versus Vanderbilt in Nashville, Indiana versus Michigan in Ann Arbor, Michigan, Ohio State versus Purdue in West Lafayette, Indiana, Syracuse versus Florida State in Tallahassee, Florida, Michigan State versus Rutgers in New Jersey, Iowa State Versus Cincinnati in the Queen City, and Arkansas versus Alabama in Tuscaloosa, Alabama.
Alabama Head Football Coach Nick Saban was recently asked about the event and the possibility of impacting players and fans at Saturday's game.
"This is a new one on me. I didn't know that, so, and I've never had to deal with that honestly in my entire coaching career," Saban stated.
None of the universities that have games slated for Saturday morning or early afternoon have released special instructions for sports fans or players to abide by as the Moon passes in front of the sun.
WHERE TO SEE THE 'RING OF FIRE' IN CALIFORNIA DURING THE ANNULAR SOLAR ECLIPSE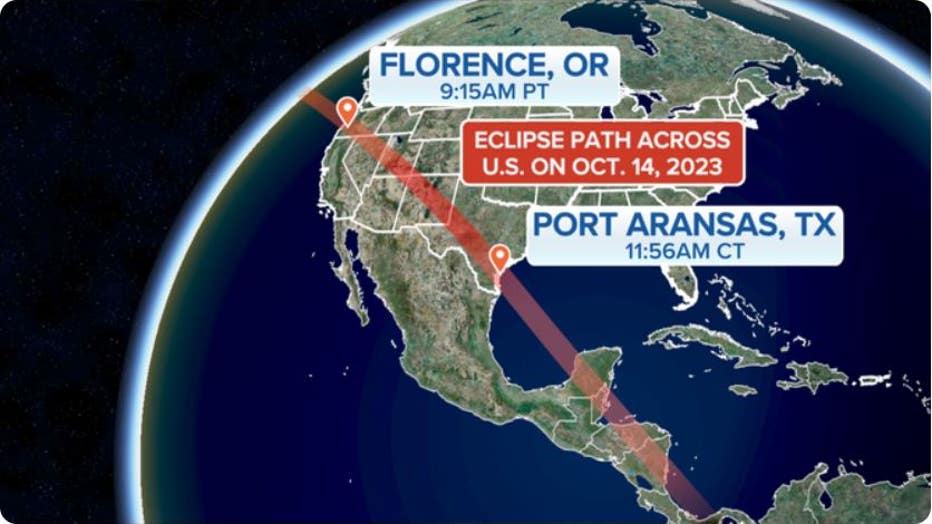 The path of the annular eclipse on Oct. 14, 2023. (FOX Weather)
Many agencies, including NASA, have released advice and warnings to everyone on whether to attend an outdoor function or not on Saturday.
Since the sun will not be completely blocked by the Moon, the space agency says it is not safe to look directly at the giant star without specialized eye protection.
Severe eye injury can even occur without specialized solar filters on camera lenses, telescopes and binoculars.
The last annular solar eclipse was on June 10, 2021, and was visible in Canada, the U.S., Greenland and Russia.
Astronomers say an annular solar eclipse is not rare, and at least one can be seen from Earth every two years.