City Hall holds secret meeting to discuss potential 3-lane superhighway to expand BQE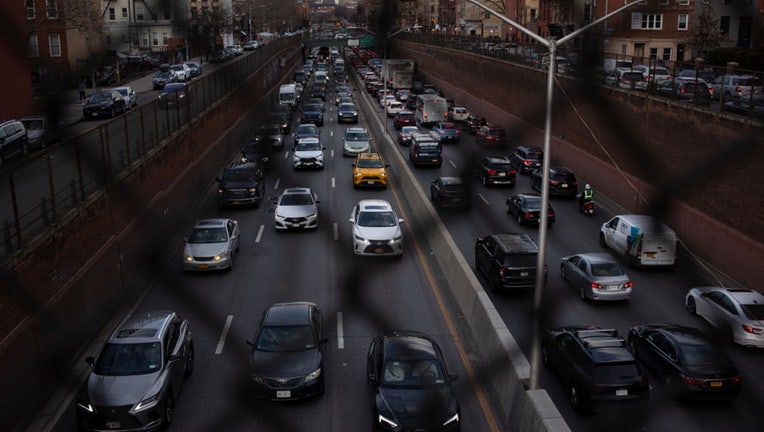 article
Despite designs announced on Tuesday outlining plans aimed at enhancing the Brooklyn-Queens Expressway Central, a secret meeting allegedly held at city hall Friday morning could potentially derail those plans. 
Instead of building upon and improving what the BQE already has, attendants of the secret meeting heard suggestions to rebuild a three-lane superhighway. 
"I cannot understand how we can achieve our climate goals if we are expanding highway infrastructure, adding more cars and more trucks, adding a third lane of traffic to the BQE would represent six million more vehicles traveling through our community every single year. It's unconscionable" said New York Councilman Lincoln Restler. 
FOX 5 New York asked New York Department of Transportation commissioner Ydanis Rodriguez if secret meetings such as the one allegedly held on Friday were indeed taking place, to which Ydanis replied, "This is an important project from the city of New York." 
Would scrapping plans to just enhance the BQE and instead build out a bigger highway be more beneficial? According to traffic experts like "Gridlock" Sam Schwartz – not really. 
"My recommendation is they prefabricate the pieces elsewhere and then slide them into place. That's been done around the world. It's tricky in such a way, but it can be done," Schwartz, former NYC traffic commissioner, told FOX 5. 
The mayor's office did not respond to FOX 5's requests for comment, but told the Brooklyn Eagle that they always hold "regular briefings with officials and that the mayor is committed to prioritizing climate goals as well as building as narrow roadway as possible within federal safety guidelines." 
On Tuesday, the DOT unveiled new designs to repair a crumbling BQE. 
The design concepts would be implemented between Atlantic Ave. and Sands St. which is also known as BQE Central. 
The concept aims to "enhance open space, connectivity, and accessibility; reduce the physical presence of the highway by covering the BQE; respect the historic nature of the promenade; and mitigate pollution, noise, and traffic," according to a DOT news release. 
"Today brings us one step closer to building a BQE that serves all New Yorkers," New York City Mayor Eric Adams said in a statement. "This administration is taking a bold approach, repairing a crumbling eyesore and delivering transformational open space to residents and visitors alike. While much work remains, these refined concepts mark another milestone to create a reimagined BQE Central. We look forward to continue working with all of our community partners to deliver on an ambitious vision that will serve New Yorkers for generations to come."