Chicago woman, who recently attempted to break skydiving world record, dies at 104
CHICAGO - A 104-year-old Chicago woman who set an unofficial world record for skydiving last week has passed away.
Dorothy Hoffner became the oldest person ever to tandem skydive out of an airplane when she did it on Oct. 1 at Skydive Chicago in Ottawa, about 85 miles southwest of the Windy City.
A spokesperson says the skydiving experience was the perfect cap to Hoffner's exciting life.
"Age is just a number," Dorothy Hoffner told a cheering crowd moments after touching the ground at Skydive Chicago.
It was her second time falling from the sky, following her first jump when she was 100 and had to be pushed out of the aircraft. But last week, Hoffner insisted on leading the jump from 13,500 feet while tethered to a U.S. Parachute Association-certified instructor.
The dive lasted seven minutes, including her parachute's slow descent to the ground, The Associated Press reported. Coming in to land with the wind pushing Hoffner's white hair back, she clung to the harness over her narrow shoulders, picked up her legs and plopped softly onto the grassy landing area.
Friends rushed Hoffner to wish her congratulations, while someone brought over her walker.
"The whole thing was delightful, wonderful, couldn't have been better," Hoffner, who would have turned 105 in December, said. She had planned a hot air balloon ride as her next daring feat.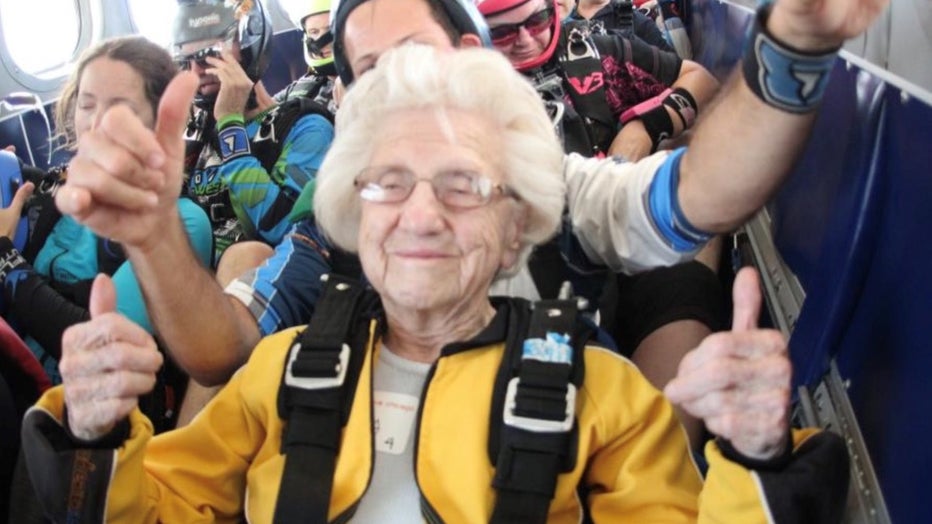 Dorothy Hoffner | Provided
Hoffner's close friend, Joe Conant, said she was found dead Monday morning by staff at the Brookdale Lake View senior living community. Conant said Hoffner apparently died in her sleep on Sunday night.
Conant, who is a nurse, said he met Hoffner — whom he called Grandma at her request — several years ago while he was working as a caregiver for another resident at the senior living center. He said she had amazing energy and remained mentally sharp.
"She was indefatigable. She just kept going," he said Tuesday. "She was not someone who would take naps in the afternoon, or not show up for any function, dinner or anything else. She was always there, fully present. She kept going, always."
Conant said Hoffner didn't skydive to break a record. He said she had so thoroughly enjoyed her first jump that she just wanted to do it again.
"She had no intention of breaking the record. And she had no interest in any publicity or anything. She wasn't doing it for any other reason than she wanted to go skydiving," he said.
Skydive Chicago and the United States Parachute Association celebrated Hoffner in a joint statement Tuesday.
"We are deeply saddened by Dorothy's passing and feel honored to have been a part of making her world-record skydive a reality.
"Skydiving is an activity that many of us safely tuck away in our bucket lists. But Dorothy reminds us that it's never too late to take the thrill of a lifetime. We are forever grateful that skydiving was a part of her exciting, well-lived life," they said.
Conant said Hoffner worked for more than four decades as a telephone operator with Illinois Bell, which later became AT&T, and retired 43 years ago. The lifelong Chicago resident never married, and Conant said she had no immediate family members.
A memorial service for Hoffner will be held in early November.
"She was a dear friend who was an inspiration," Conant said.
Organizers are working to have Guinness World Records certify Hoffner's jump. The current Guinness World Record for oldest skydiver was set in May 2022 by 103-year-old Linnéa Ingegärd Larsson from Sweden.
Associated Press contributed to this report.