Yusef Salaam takes lead in New York City Council primary
Bob Caina Calvan - Yusef Salaam, who as a child was part of a group of teenagers wrongly accused, convicted and imprisoned for the rape of a woman jogging in Central Park, took a commanding lead Tuesday in a Democratic primary for a City Council seat in New York.
Salaam faces two veteran politicians, New York Assembly members Al Taylor, 65, and Inez Dickens, 73, in the race for a seat representing part of Harlem. The incumbent, democratic socialist Kristin Richard Jordan, dropped out of the race in May but remained on the ballot.
The contest was taking place more than two decades after Salaam and four other men — known as the "Central Park Five" — were exonerated by DNA evidence in one of the city's most notorious and racially fraught crimes.
The Associated Press has not declared a winner in the race and the election's outcome might not be certain for days because of New York's ranked choice voting rules. That system kicks in if no candidate claims more than 50% of the total vote.
It was unclear early Wednesday whether Salaam would stay above that threshold. With about 95% of votes counted, Salaam had a little less than 51% of the vote, with Dickens trailing substantially in second place.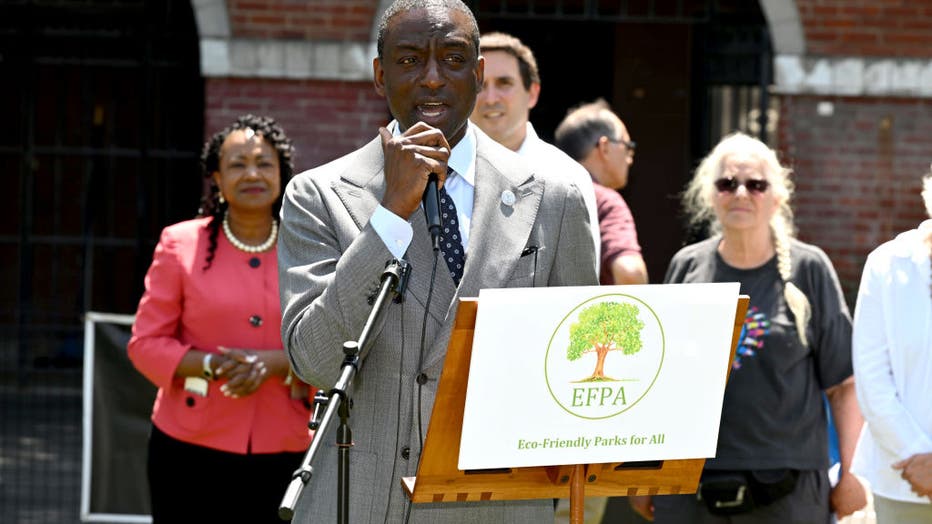 NEW YORK, NEW YORK - JUNE 01: Yusef Salaam speaks as Stonyfield Organic Announces the Transition of Eight NYC Parks to Organic Maintenance by 2025 as Part of the StonyFIELDS Initiative on June 01, 2023 in New York City. (Photo by Dave Kotinsky/Getty
Salaam nonetheless declared victory in a speech to supporters late Tuesday.
"What has happened in this campaign has restored my faith in knowing that I was born for this," he said.
Salaam likened his youthful imprisonment to being "kidnapped," but he also called his nearly seven years in prison a gift that allowed him to see a racially unjust criminal justice system from the "belly of the beast."
"I am here because, Harlem, you believed in me," he said.
Dickens conceded late Tuesday, but promised to "continue to fight for what my community needs."
If Salaam were to prevail in the primary it would virtually assure him a general election victory in a district unlikely to elect a Republican. It is his first time seeking public office.
While all three candidates focused on promoting affordable housing, controlling gentrification and easing poverty in Harlem, Salaam capitalized on his celebrity in neighborhoods that consider the Central Park Five — also called the Exonerated Five — living symbols of the injustices faced by the Black and Latino residents who make up about three-fourth's of the district's population.
Salaam was 15 when he was arrested in 1989 and accused, along with four other Black and brown teenagers — Antron McCray, Kevin Richardson, Raymond Santana and Korey Wise — of beating and raping a woman in Central Park.
Members of the group served between five and 12 years in prison before prosecutors agreed to reexamine the case. DNA evidence and a confession ultimately linked a serial rapist and murderer to the attack. The convictions were vacated in 2002 and the city ultimately agreed in a legal settlement to pay the exonerated men $41 million.
"When people look at me and they they know my story, they resonate with it," Salaam told The Associated Press in an interview before the election. "But now here we are 34 years later, and I'm able to use that platform that I have and repurpose the pain, help people as we climb out of despair."
New York City's ranked choice voting rules allows voters to rank the candidates by order of preference. Because of the complexity of the system, it has become tricky to forecast a winner.
If one candidate is the first choice of a majority of voters — more than 50% — that person wins the race outright, just like in a traditional election. But if that threshold isn't met, the eventual winner will be determined by ranked choice voting. That means the vote count is conducted in rounds. The candidate with the lowest number of first-choice votes is eliminated, and that person's votes are redistributed to those voters' second choices.
That analysis can't be performed until all absentee ballots have been received, a process expected to take around a week.
The Associated Press contributed to this report.