Car crashes into Queens KFC after shoplifting, carjacking incident
NEW YORK - The NYPD is investigating after a car crashed into a KFC/Pizza Hut restaurant in Queens on Monday afternoon after a shoplifter tried to carjack a driver.
Police say the incident happened at around 2 p.m. in Hillcrest, when what began as a shoplifting incident at a nearby Rite Aid store.  The man had taken items in a shopping cart from the store.
He then allegedly attempted to carjack a Nissan Altima with the driver still inside. He opened the driver side door and attempted to wrestle the man out of his car.
The attacker allegedly grabbed the wheel and the victim tried pushing him out and hit the gas.  That sent the car careening into the restaurant on Union Turnpike.
RELATED: Woman dies after Queens hit-and-run: NYPD
Neither the suspect nor the victim suffered any serious injuries.
The suspect was taken to NY Presbyterian-Queens Hospital.  The driver was taken to Jamaica Hospital.
Inspectors did not find any danger of the building collapsing from the crash.  The property owner was ordered to properly board up the damaged section of the building until it could be repaired.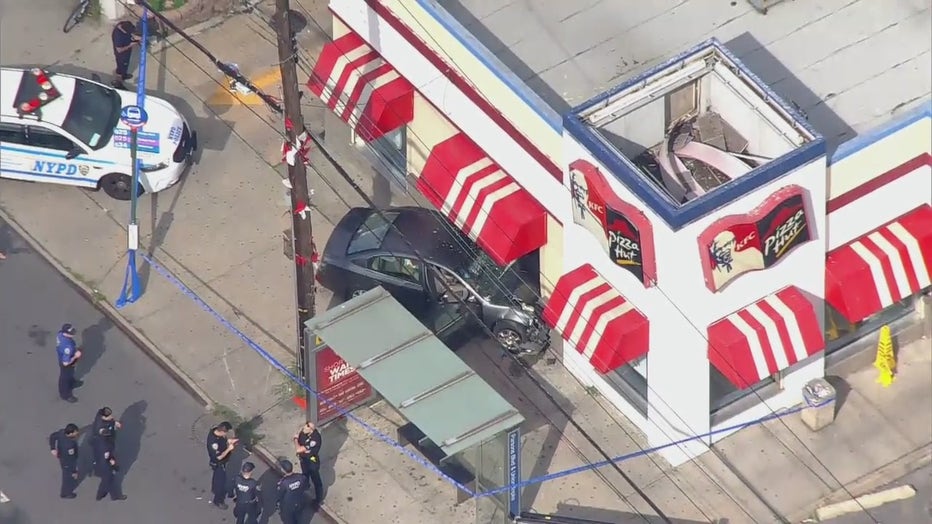 A car crashed into a KFC in Queens on Monday afternoon.