Canada under fire for applauding 'literal Nazi' in parliament during Zelenskyy visit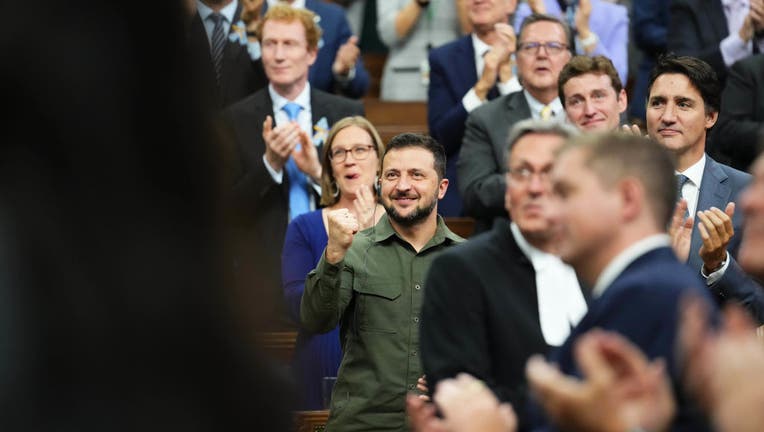 article
Canadian Jewish organizations and social media critics are slamming the Canadian Parliament for giving a man who fought for the Nazis a standing ovation during an event featuring Ukrainian President Volodymyr Zelenskyy's visit to the country. 
"FSWC is appalled that Canada's Parliament gave a standing ovation to a Ukrainian veteran who served in a Nazi military unit during the Second World War implicated in the mass murder of Jews and others. An apology and explanation is owed," the Friends of Simon Wiesenthal Center, a Canadian nonprofit dedicated to educating people on the Holocaust, wrote on X, previously known as Twitter. 
Video and photos show the Canadian Parliament erupted into cheers on Friday during Zelenskyy's visit to the country's capital of Ottawa, when Canadian lawmakers also honored Yaroslav Hunka, a 98-year-old Ukrainian immigrant who fought for the First Ukrainian Division, according to the Toronto Star. That division was also known as the Waffen-SS Galicia Division, which fought for the Nazis as its paramilitary arm under the Schutzstaffel organization, according to the outlet. 
"The fact that a veteran who served in a Nazi military unit was invited to and given a standing ovation in Parliament is shocking. At a time of rising antisemitism and Holocaust distortion, it is incredibly disturbing to see Canada's Parliament rise to applaud an individual who was a member of a unit in the Waffen-SS, a Nazi military branch responsible for the murder of Jews and others and that was declared a criminal organization during the Nuremberg Trials," the Friends of Simon Wiesenthal Center continued in their statement. 
Social media commenters have joined the Friends of Simon Wiesenthal Center in condemning the Canadian House for celebrating Hunka, who some called a "literal Nazi" and "monster."
Canadian columnist Joe Warmington called for a "full apology" "for celebrating a Second World War Nazi in the House of Commons," in an op-ed published Sunday in the Toronto Sun. 
Local Canadian outlets said the Associated Press identified the 98-year-old in a photo caption as a veteran of the "First Ukrainian Division in World War II," and noted  other outlets described the man as a Ukrainian immigrant to Canada who fought for Ukrainian independence against the Russians. 
The Soviet Union played a pivotal role in defeating Nazi Germany, including during the Battle of Stalingrad, which marked a turning point in the war. The U.S. Department of State outlines on its website that "without the remarkable efforts of the Soviet Union on the Eastern Front, the United States and Great Britain would have been hard pressed to score a decisive military victory over Nazi Germany."
Prime Minister Justin Trudeau's office said in a statement to Fox News Digital on Sunday that the "Speaker of the House has apologized and accepted full responsibility for issuing the invitation and for the recognition in Parliament."
"This was the right thing to do," the office continued. "No advance notice was provided to the Prime Minister's Office, nor the Ukrainian delegation, about the invitation or the recognition."
"Canada will continue to stand for a free Ukraine, and we were proud to host President Zelenskyy and reaffirm our support."
Hunka was reportedly invited by House of Commons Speaker Anthony Rota, a member of the Liberal Party of Canada, who introduced him as a war hero, according to the Edmonton City News. 
Rota's office also provided Fox News Digital with a statement, outlining that the speaker regrets inviting Hunka. 
"I have subsequently become aware of more information which causes me to regret my decision to [invite Hunka]," Rota said in a statement. "I wish to make clear that no one, including fellow parliamentarians and the Ukraine delegation, was aware of my intention or of my remarks before I delivered them."
The honor and standing ovation came amid Zelenskyy's first visit to Canada since Russia invaded Ukraine in February of last year. 
"I have a lot of warm words and thanks from Ukraine to you," Zelenskyy said to Trudeau in the Canadian prime minister's office. "You have helped us on the battlefield, financially and with humanitarian aid. ... Stay with us to our victory."
Trudeau, who was also in attendance Friday in the House of Commons, said Canada has provided Ukraine roughly $6.7 billion USD in military and humanitarian support since the war began. 
"Moscow must lose once and for all. And it will lose," Zelenskyy said during his address in parliament.
GET UPDATES ON THIS STORY AT FOXNEWS.COM