California man drives to Utah to kill brother, set house on fire, officials say
LOS ANGELES - A Long Beach man allegedly drove from California to North Ogden, Utah to kill his brother then set his house on fire, according to the Weber County Attorney's Office.
Officials say on April 27, Jeffrey Roberts, 66, arrived at his brother's home around 7:11 p.m., parked his van in the driveway, approached the front door and rang the doorbell. His brother, Scott Roberts and his wife were home alone eating when Jeffrey arrived. 
The two brothers began talking on the front porch and within a few minutes, Jeffrey Roberts pulled out a gun from his jacket and began firing. 
Parts of the incident were caught on a Ring doorbell camera which the attorney's office has since shared with the public. 
Both Scott Roberts and his wife were struck by gunfire. 
Neighbors then called 911 after hearing multiple gunshots. 
Following the shooting, video shows the suspect exist the house then return shortly with a bag and shotgun in hand. About five minutes later he exists the house again, this time while on the phone.
According to the attorney's house, once officers arrived on scene Jeffrey began firing at them. Three officers then returned fire, engaging in a shootout with the suspect. Jeffrey was ultimately struck and died at the scene. Parts of the shootout was recorded on an officer's body camera. According to the attorney's office, only one officer was able to immediately activate his body camera. 
Following the shootout, video shows heavy smoke from inside the house. Officials say the suspect used road flares to spark the fire. Aerial video shows extensive fire damage to the roof.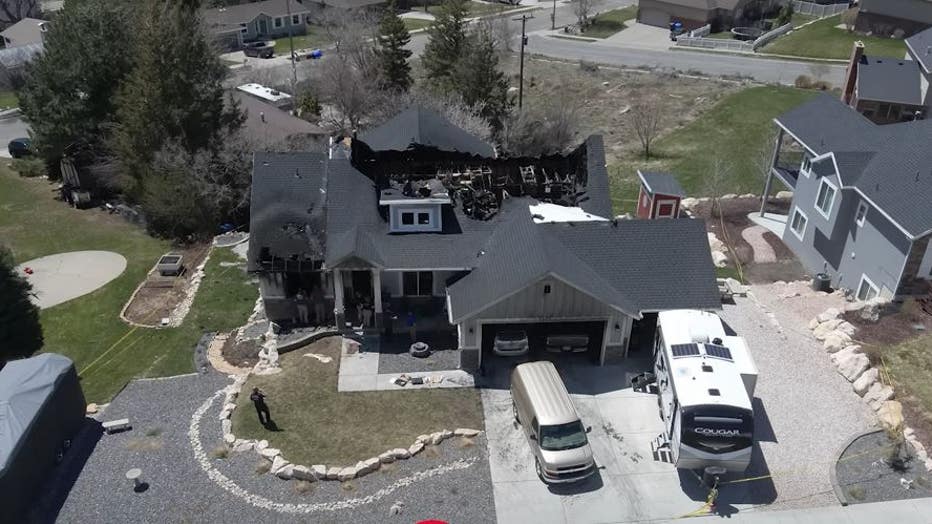 The victim's wife was still inside the house while the fire was spreading. She was rescued and taken to the hospital; Scott Roberts died as a result of gunshot wounds. 
Police say Jeffrey was armed with a 9mm handgun, 12-gauge shotgun, over 150 shotgun shells and was carrying a total of 23 fully loaded handgun magazines.
A motive for the shooting is unknown. The incident is being investigated by the Weber County Attorney's Office.