California bill could lead to a ban on Skittles and other popular candies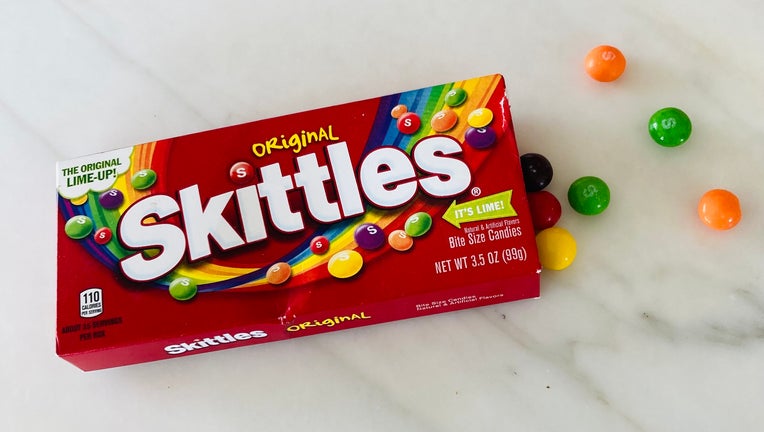 article
SACRAMENTO, Calif. - A first-of-its-kind bill in California could lead to the ban of popular candies like Skittles, Nerds, and Hot Tamales due to certain additives considered dangerous and toxic.  
Assembly Bill (AB) 418 would prohibit the manufacture, sale, or distribution of any food containing Red Dye no. 3, titanium dioxide, potassium bromate, brominated vegetable oil, or propyl paraben.
The bill was introduced by State Assemblymembers Buffy Wicks (D-Oakland) and Jesse Gabriel (D-Woodland Hills), who said the chemicals are harmful and readily found in grocery store aisles. 
"Californians shouldn't have to worry that the food they buy in their neighborhood grocery store might be full of dangerous additives or toxic chemicals," said Gabriel, who chairs the Assembly Committee on Privacy and Consumer Protection.
Wicks has said that the harmful effects of the chemicals came to be a concern for her as a mother and that the ingredients can be easily avoided in the use of products. 
SEE ALSO: Deadly fungal infection C. auris spreading at 'alarming rate,' CDC says
The five additives named in the bill are often used to extend foods' shelf life and enhance flavor. They've been banned by the European Union (EU) based on studies that have shown they're linked to health dangers including increased risk of cancer, harm to the reproductive system, and behavioral issues among children, according to the bill's sponsors. 
They also said the ingredients have ended up in our foods through a loophole in federal law under the FDA's "Generally Recognized as Safe," or GRAS designation, which the bill's sponsors said was intended to apply to common household ingredients like vinegar.
"Shockingly, most of these chemicals have never been independently evaluated by the Food and Drug Administration (FDA) or were last reviewed decades ago," Gabriel's office said, adding, "As a result of this loophole, chemical companies have added new substances to the food supply with almost no meaningful federal oversight."
Advocates of the ban said many of the products containing the harmful chemicals were being targeted toward children and also being marketed to low-income consumers and communities of color.
In a statement to KTVU, the manufacturer behind Hot Tamales, Just Born, said the company made its products in compliance with FDA guidelines, and added, "Our product development team is continually exploring opportunities to provide expanded options for our consumers, including colors derived from natural sources that can deliver the same visual impact and stability as their certified counterparts." 
The National Confectioners Association (NSA) and a coalition of food and beverage retailers, manufactures, and distributors have also expressed their opposition to the bill and challenged the assertion that the chemicals posed health risks. 
"All five of these additives have been thoroughly reviewed by the federal and state systems and many international scientific bodies and continue to be deemed safe," the coalition said in a letter to the State Assembly Committee on Health.
The NSA shared its opposition in a letter to Gabriel and Wicks saying that the bill was misguided. "The substances that would be prohibited by AB 418 have all been approved by FDA," the group said, adding that the FDA's food safety evaluation "determines an appropriate level of use that includes a built-in safety margin - a factor that allows for uncertainty about the levels of consumption that are expected to be harmless."
The confectioners association also suggested that the legislation would be detrimental to the state economy, as the candy industry represented a $7.7 billion economic output in California and created well paying jobs for tens of thousands of residents. 
AB 418 was expected to be heard in committee in the coming weeks.
This story was reported from Oakland, Calif.