Bryan Kohberger's Pennsylvania warrants: Experts break down key evidence
Police recovered knives, masks, gloves, black clothing, computers and a phone in a raid on the home of Idaho murders suspect Bryan Kohberger's parents in the Poconos last year — but the smoking gun may lie in what they find in his 2015 Hyundai Elantra, the DNA they collected and the contents of his phone, experts say.
"If any of those kids' DNA or the dog's DNA was either in his apartment or in the car, his goose is cooked," said Joseph Giacalone, a retired NYPD sergeant and professor at John Jay College of Criminal Justice. "There's no way you're going to explain that away."
Four University of Idaho students — Madison Mogen and Kaylee Goncalves, both 21, and Xana Kernodle and Ethan Chapin, both 20 — were found stabbed to death in an off-campus home in Moscow, Idaho, in the early hours of Nov. 13. It appears the students were ambushed as they slept.
A court-ordered 60-day seal on the search warrants served in connection with Kohberger's Dec. 30 arrest expired, making the documents that detail what police found in his parents' home and his car public Thursday morning. Separate warrants, served on his apartment and office in Washington state, show that police recovered human and animal hair samples, among other items.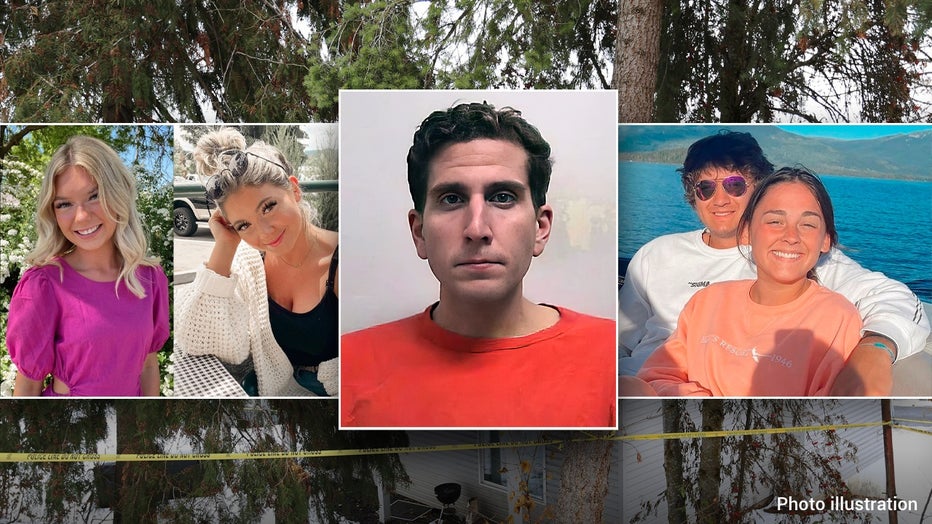 However, between Kohberger's departure from Washington State University and his arrival back home in Albrightsville, Pennsylvania, for winter break, police in Indiana stopped him twice under the same unusual pretext: tailgating on the interstate.
IDAHO MURDERS UPDATE: MORE BRYAN KOHBERGER DOCUMENTS RELEASED IN PENNSYLVANIA; KNIFE, PHONE, MASKS SEIZED
Those stops could have flagged the suspected killer that police were following his footsteps, according to Pat Diaz, a longtime Miami homicide detective who is now a private investigator, and Paul Mauro, a retired NYPD inspector who is now a lawyer.
"I think he was trying to throw them off course," Diaz told Fox News Digital on Thursday. "What's going to get him is if this girl's picture is in his phone."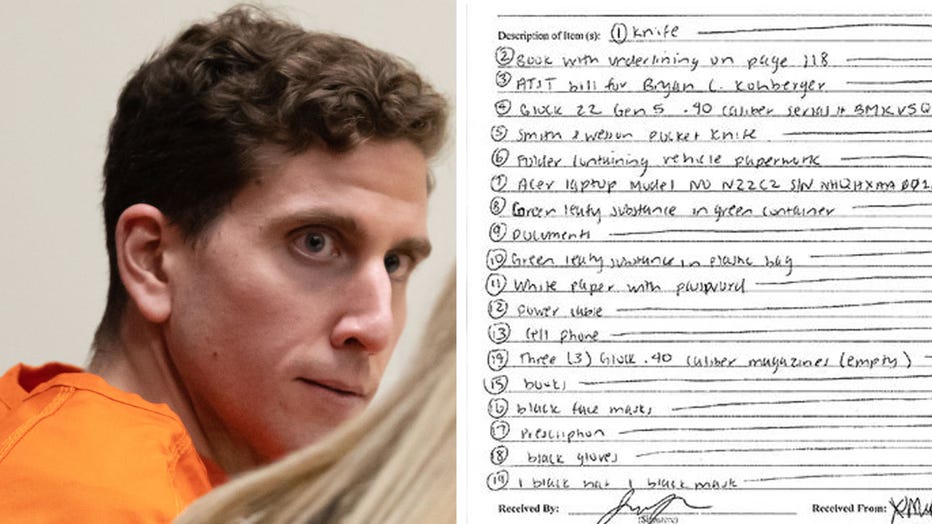 The first item seized from Bryan Kohberger's parents' home listed is a knife. All four University of Idaho victims had been stabbed to death around 4 a.m. on Nov. 13, 2022, according to police. Another item that stands out — a "book with underlining
The warrant allows police to use a number of what Mauro described as "jail-breaking" techniques for police to access private data in the phone, including holding it up to his face if it is locked by facial recognition or force a finger swipe to unlock it with a fingerprint.
If investigators could get through the device's security, they may obtain access to a trove of useful information, including what apps he used, what websites he visited and location data.
"He's 28 — he's living out of his phone like everyone else," Mauro said.
IDAHO MURDERS: BRYAN KOHBERGER'S PENNSYLVANIA WARRANT UNSEALED
Another key element, he added, is the number of DNA swabs police took at the scene.
"What that tells me is that in light of everything else that we know, the swabs must have matched 100% to the touch DNA that was on the sheath," he said. "Otherwise, if it had matched anything else, you might have seen him released."
As Fox News Digital has reported, police recovered a Ka-Bar knife sheath near Mogen's body. According to the probable cause affidavit filed in Latah County, Idaho, it contained a DNA sample that was a familial match to DNA collected from a trash can outside the Kohberger family's house weeks later.
LISTEN: THE FOX TRUE CRIME PODCAST WITH EMILY COMPAGNO
"By negative inference we can say that the sample that they took in [Moscow, Idaho] almost certainly does match the swabs from the inside of the cheek that they took from the Pennsylvania scene," Mauro said.
Also of note, although it could be coincidence, is the order in which the items are listed, Giacalone said. The first piece of evidence on the list is a knife. Unlike other knives inventoried in the document, there is no description — so its significance is not fully clear. 
But it comes before a gun confiscated that the writer did not mention until No. 4 on the list. And ahead of a curious entry about a book with underlined text on page 118.
"I want to know what the book is and what was underlined," Edwina Elcox, a high-profile criminal defense attorney based in Boise, Idaho, told Fox News Digital. She said none of the other items seized struck her as particularly surprising.
Police also took Kohberger's 2015 white Hyundai Elantra, identified in court documents as "Suspect Vehicle 1."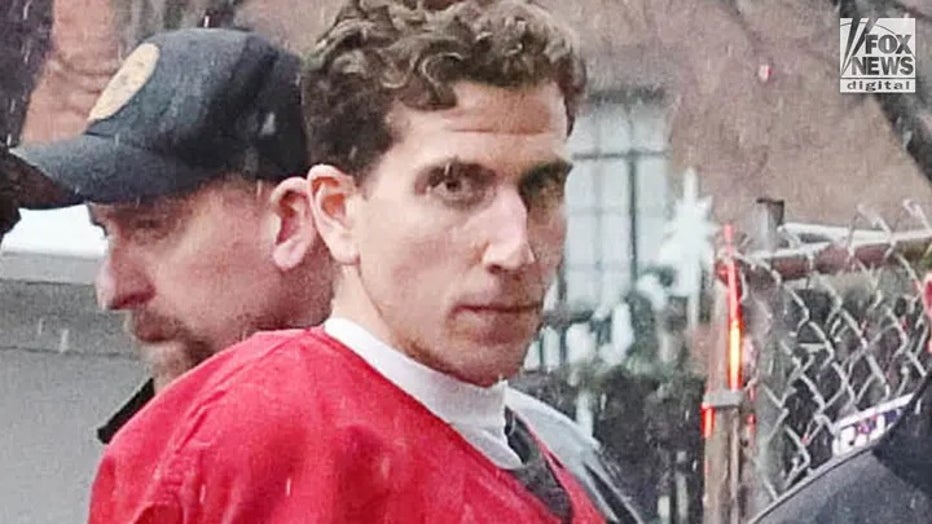 Bryan Christopher Kohberger is seen for the first time since his arrest Friday outside the Monroe County Courthouse in Stroudsburg, Pennsylvania. He is accused of the Moscow, Idaho, quadruple homicide. (Fox News Digital)
The warrants note that police tore it apart, removing the pedals, fabric, seat belt and other components for closer scrutiny. And after observing an apparent attempt of Kohberger to clean out the vehicle, they even seized a car vacuum.
However, even the cleaned-out vehicle could have a lot of valuable evidence, Giacalone said.
"You can recover evidence," he said. "Even bleach, probably the only thing that might be able to get rid of blood and all that stuff… has a distinct odor that lasts for a while, and it leaves a molecule compound behind. Plus bleach changes the color of the fabric."
Also telling are what authorities did not recover, Giacalone noted.
They seized numerous pairs of shoes, but none of them were Vans sneakers, which are believed to have left a footprint police found at the King Road crime scene in Moscow.
Fox News' Haley Chi-Sing contributed to this report.