Bryan Kohberger's family 'shocked,' believes police nabbed wrong man in Idaho murders: report
MONROE COUNTY, Penn. - Idaho murder suspect Bryan Kohberger's family is "shocked" and doesn't believe he slaughtered four college students, according to a report.
"They don't believe it to be Bryan. They can't believe this," Monroe County Chief Public Defender Jason LaBar told NBC News. "They're obviously shocked. This is certainly completely out of character, the allegations, and really they're just trying to be supportive with the understanding that these four families have suffered loss."
The attorney added that the Washington State University Ph.D. student-turned-accused mass murderer told him he believes he will be found not guilty.
"He believes he's going to be exonerated. That's what he believes," said LaBar, who has visited Kohberger four times since his arrest. "Those were his words. He's been very easy to talk to. Actually, he's in a calm demeanor."
RELATED: Idaho murders suspect pulled over twice on cross-country race home with dad, lawyer claims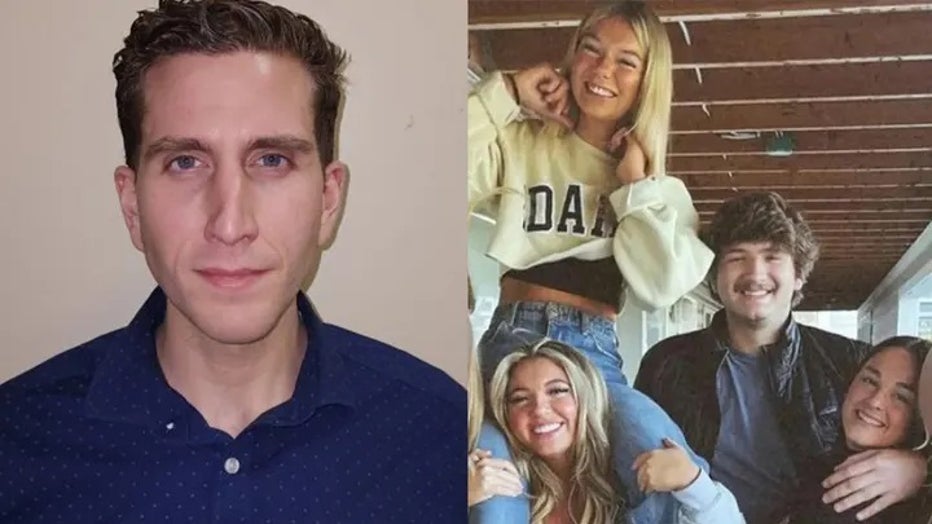 Bryan Christopher Kohberger was arrested the morning of Dec. 30, 2022, in connection to the murders of four University of Idaho students, a source told Fox News Digital. (Washington State University/Instagram)
The FBI, along with local police, arrested Kohberger at his parents' home in Albrightsville, Pennsylvania, nearly seven weeks after Kaylee Goncalves, Madison Mogen, Ethan Chapin and Xana Kernodle were stabbed to death Nov. 13 in a rental home near campus. 
Kohberger is slated to appear in Monroe County Court for an extradition hearing Tuesday afternoon. His parents and two sisters are expected to be in court to support him, LaBar noted.
RELATED: 'Look at the pattern': Former FBI special agent details how officials identified suspect in Idaho slayings
LaBar said his client, who was studying at WSU's Department of Criminal Justice and Criminology, will agree to return to Moscow, Idaho, where he's charged with four counts of first-degree murder and one count of felony burglary.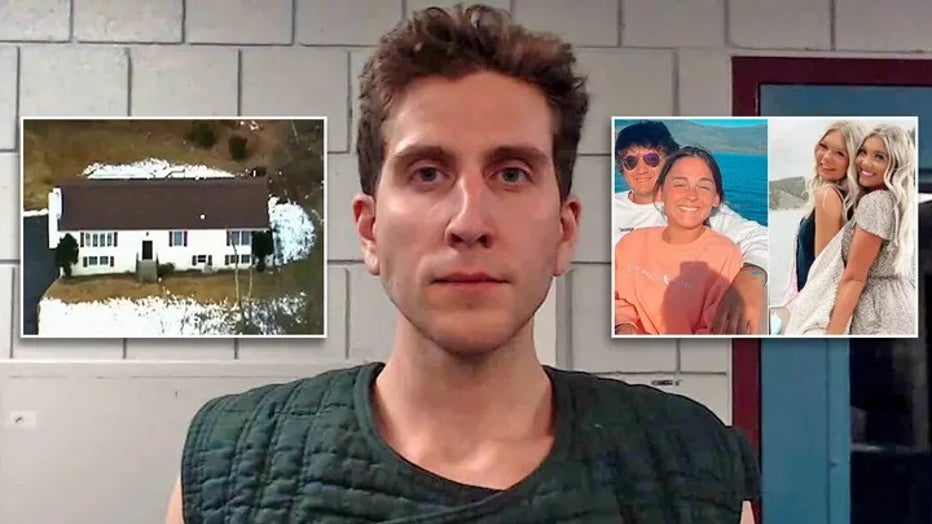 Bryan Kohberger's booking photo with insets of his alleged victims. (Monroe County Prison/Instagram)
The public defender, who will not represent Kohberger once he returns to Idaho, described his client as "calm and polite despite knowing the death penalty is on the table" in an interview with ABC News.
RELATED: Idaho murder suspect Bryan Kohberger's family issues statement after his arrest: 'Presumption of innocence'
He quoted his client as saying to him, "This will be a long process." The Monroe County Correctional Facility, which has kept Kohberger in a suicide vest, has been accommodating of his vegan diet, LaBar said. 
The accused killer asked to speak with his parents, but the request was declined, the attorney added.
Kohberger was taken into custody at about 1:30 a.m. Friday after authorities matched DNA from the crime scene to a sample submitted by one of his immediate family members to a genealogy testing website, a law enforcement source told Fox News.
RELATED: Students: Idaho murders suspect continued to serve as teacher's assistant after alleged crime
Detectives caught the Golden State Killer Joseph James DeAngelo Jr. using similar DNA forensics.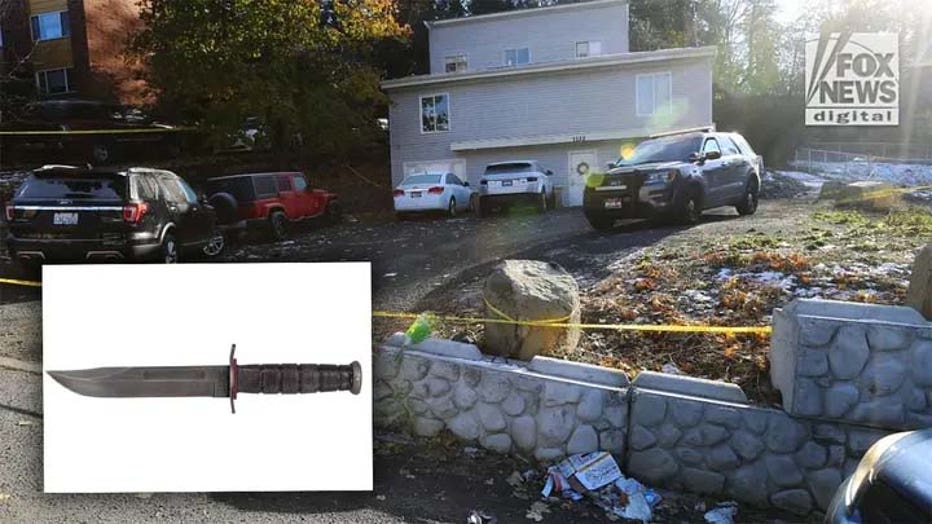 Police suspect a KaBar knife may have been used in slayings of four University Idaho students, inset. Caution tape surrounds the house near campus where the students were slaughtered. (Credit: Ka-Bar / Derek Shook for Fox News Digital)
Kaylee Goncalves' father said it was a huge relief to learn that a suspect had been caught.
"It felt like a cloud was lifted off of us," Steve Goncalves told ABC. "It's like seeing sunlight after you've been stuck in a house for a month."
RELATED: Moscow murders: Police chief believes suspect Bryan Kohberger acted alone
Goncalves' attorney, Shanon Gray, said all the victims' families are searching for a possible connection between Kohberger and the slain students – and will turn that information over to police.
Goncalves added he'd never heard of Kohberger before his arrest.
The grieving father told ABC that the family will be regular fixtures at Kohberger's court appearances.
We'll probably take different schedules depending on who is available," he added. "There will be a Goncalves representative in that courtroom almost every single day."
RELATED: Idaho murder suspect Kohberger wearing suicide-prevention vest, police used crime scene DNA: sources
A motive for Kohberger's alleged crimes has not been disclosed by police. The fixed-blade knife he allegedly used in the attack has also not been recovered, officials said.