Survivors return to say 'thank you' to Brookdale Hospital's trauma team
BROOKLYN - When 31-year-old Jayqaine Winston nearly lost his leg in a motorcycle accident last September, it was the trauma team at Brookdale Hospital that saved his leg.
Winston joined other trauma survivors at a special ceremony Friday where they were reunited with the hospital doctors and nurses that saved their lives. The event was part of National Trauma Awareness month.
"My tibia, everything was disconnected from my knee. I literally had a floating knee they said," Winston said.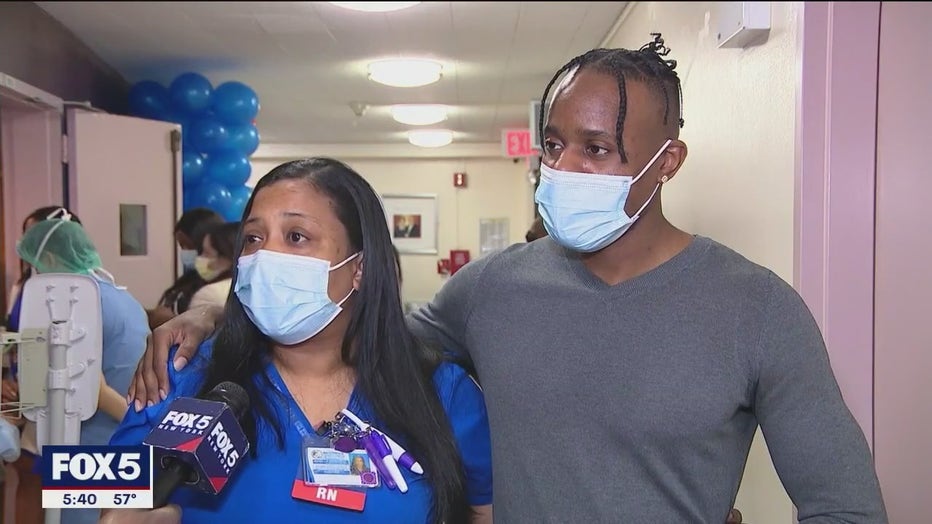 Brookdale Hospital is a Level 2 trauma center in Brooklyn. It is surrounded by the Brownsville, East New York, and Carnarsie neighborhoods, neighborhoods with some of the highest incidents of trauma in New York City.
Brookdale Hospital's ER treated nearly 2,000 trauma cases just last year. 
"Those patients can range from a variety of critical injuries that include gunshot injuries or stab wounds or even bad car accidents," Dr. Ramy Abdel-Naby MD, Brookdale's chief of trauma and surgery departments, told FOX 5 New York. "So it really has to do a lot with where the injury is in their body and then how sick they are when they come in."
Jamar Romain was shot 14 times last summer. The 33-year-old attended the ceremony to simply say thank you.  
"When I truly think about the trauma team, I truly believe that each and every one of you guys are angels working for God," Romain said.
The ceremony also paid tribute to Dr. Patricia O'Neill, Brookdale Hospital's long-time head of trauma and surgery, who was tragically killed in a car accident in February, along with her husband Peter.
Part of O'Neill's legacy was making sure patients trusted the trauma team, which is just part of the reason Jayqauin couldn't wait to see his primary nurse Ischelle Edwards just one more time.
Edwards says the relationship is "Just a lot of care, a lot of love, a lot of support, a lot of encouragement, a whole lot of encouragement."