Bills reward hero who saved 24 lives during blizzard with Super Bowl tickets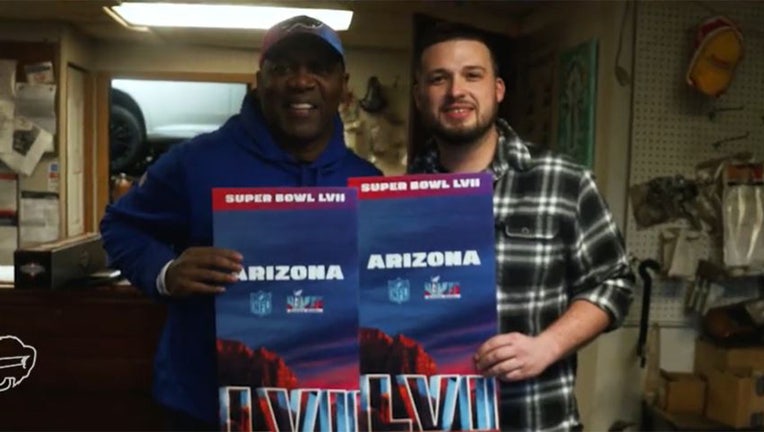 article
NEW YORK - The man who is credited with saving 24 people's lives after breaking into a Buffalo-area school on December 23 to find shelter from a deadly winter storm is being thanked for his heroic actions with tickets to Super Bowl LVII. 
Jay Withey, a 27-year-old mechanic from Kenmore, New York was identified by the Cheektowaga Police Department as the hero who had broken a window at the Pine Hill School in order to bring people inside as a winter storm raged outside.
RELATED: Hero who saved 24 lives in blizzard by breaking into school leaves apology note: 'I had to do it'
As a reward for his heroism, the Buffalo Bills got together with Highmark Blue Cross Blue Shield and Hall of Famer and Bills legend Thurman Thomas to surprise Withy with a pair of tickets to the Super Bowl in Arizona this year. 
Withey later explained that his truck got stuck on the road during the storm, and he could not find shelter in town. 
"I walked to the houses to see if I could find shelter, any house that had lights on. I had $500 that I was offering, to sleep on their floor," Withey said. Unfortunately, no one allowed him to stay in their home.
RELATED: How donating blood could win you a trip to Super Bowl LVII
He spent most of the night sleeping in his vehicle with two strangers, running the engine to keep warm. By Christmas Eve morning, the truck was running out of fuel, and they had to find better shelter.
The school was nearby where Withey got stuck. 
"I knew the power would be on, there would be heat in there and I was guaranteeing there would be food in there," Withey said.
After Withey broke into the school, he went back outside and braved the elements to gather others who were stranded in the storm. In total, he helped 24 other people into Pine Hill School, where they found shelter and food and were able to use the restroom. 
"I can't believe the reach-out I got," Withey said after receiving the tickets. "I got thank you letters from Australia. I can't believe how far it got. It was wild."