Billions exposed to harmful smoke pollution over past 2 decades, study says
Scientists out of Australia found that over the past two decades, over two billion people were exposed to some form of smoke pollution that could be potentially harmful to their health. 
A study conducted by researchers at Monash University said in the last decade, the number of people who are exposed to smoke pollution increased 6.8% across the globe. 
"Exposure to fire-sourced air pollution has many adverse health impacts, including increased mortality and morbidity and a global worsening of cardiorespiratory conditions and mental health," researchers said in a university news release about the study.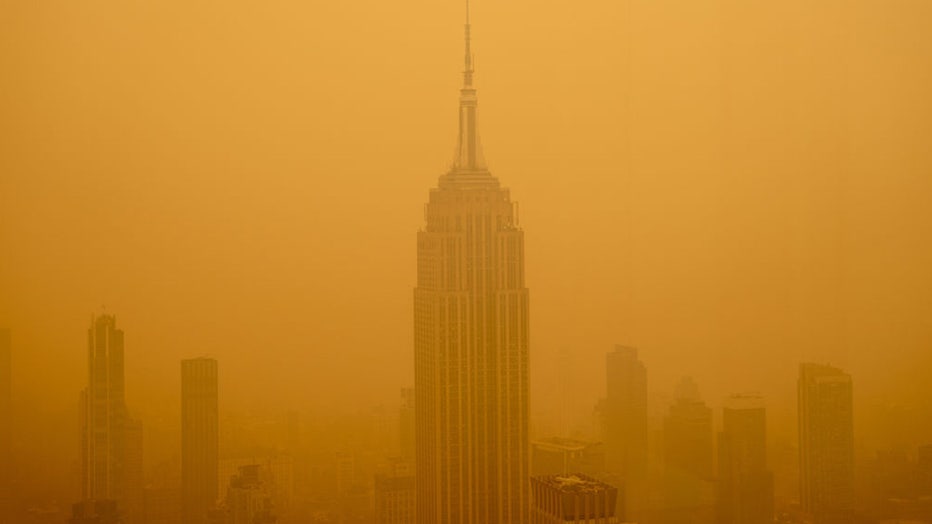 FILE - Smoky haze from wildfires in Canada diminishes the visibility of the Empire State Building on June 7, 2023 in New York City. (David Dee Delgado/Getty Images)
It was estimated that 2.18 billion people were exposed to at least one day of substantial air pollution caused by "landscape fire." 
According to the study, published in the journal Nature on Sept. 20, landscape fires refer to any fires that burn in natural and cultural landscapes such as forests, shrubs, grass, pastures, agricultural lands and peri-urban areas. This also includes controlled burns and wildfires. 
RELATED: Hawaii governor announces West Maui reopening date for travelers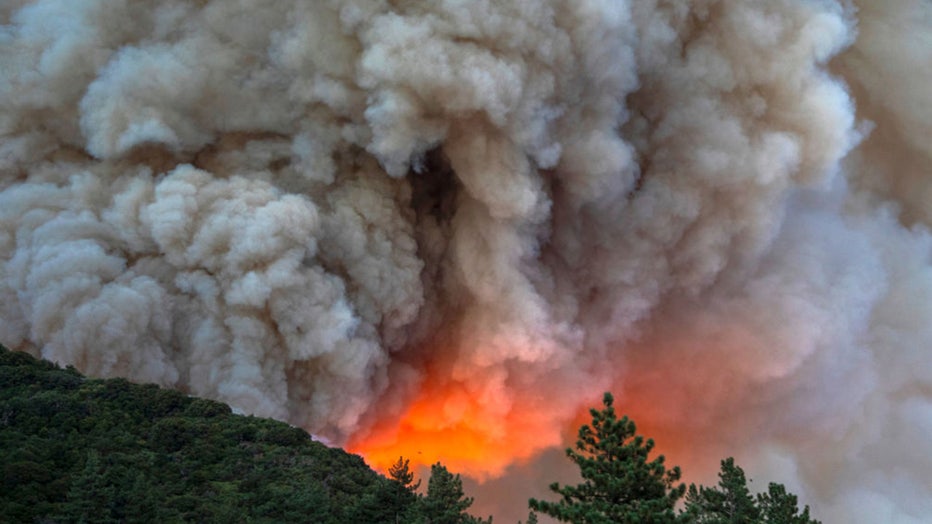 FILE - Flames and heavy smoke approach on a western front of the Apple Fire, consuming brush and forest at a high rate of speed during an excessive heat warning on August 1, 2020 in Cherry Valley, California.  (David McNew/Getty Images)
On average, each of those 2.18 billion people had 9.9 days of exposure per year, which is an increase of 2.1% in the last decade alone. 
Researchers also noted that exposure levels in low-income countries were about four-fold than that of higher-income countries. 
"The exposure to air pollution caused by landscape fire smoke traveling hundreds and sometimes even thousands of kilometers can affect much larger populations, and cause much larger public health risks," said the study's lead author, Professor Yuming Guo. 
"Mapping and tracking the population exposure to landscape fire-sourced air pollution are essential for monitoring and managing its health impacts, implementing targeted prevention and interventions, and strengthening arguments for mitigation of climate change," he added. 
Based on peer-reviewed studies, the Health Effects Institute estimated that smoke's chief pollutant caused four million deaths worldwide and nearly 48,000 deaths in the U.S. in 2019.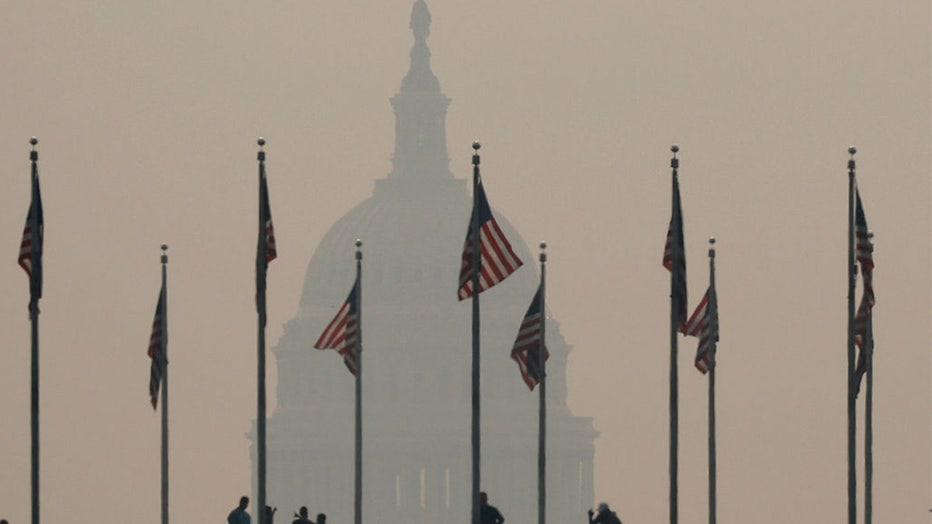 FILE - Tourists walk around the base of the Washington Monument as wildfire smoke casts a haze of the U.S. Capitol on the National Mall on June 07, 2023 in Washington, DC.  (Chip Somodevilla/Getty Images)
As Earth's climate continues to change from heat-trapping gasses spewed into the air, fewer people are out of reach from the billowing and deadly fingers of wildfire smoke, scientists say. Wildfires already consumed three times more of the United States and Canada each year than in the 1980s, and studies predict fire and smoke to worsen. 
Several scientists told the Associated Press that the problem of smoke and wildfires will progressively worsen until the world significantly reduces greenhouse gas emissions, which has not happened despite years of international negotiations and lofty goals. 
"A year like this could happen with or without climate change, but warming temperatures just made it a lot more probable," said A. Park Williams, a UCLA bioclimatologist who studies fire and water. "We're seeing, especially across the West, big increases in smoke exposure and reduction in air quality that are attributable to increase in fire activity."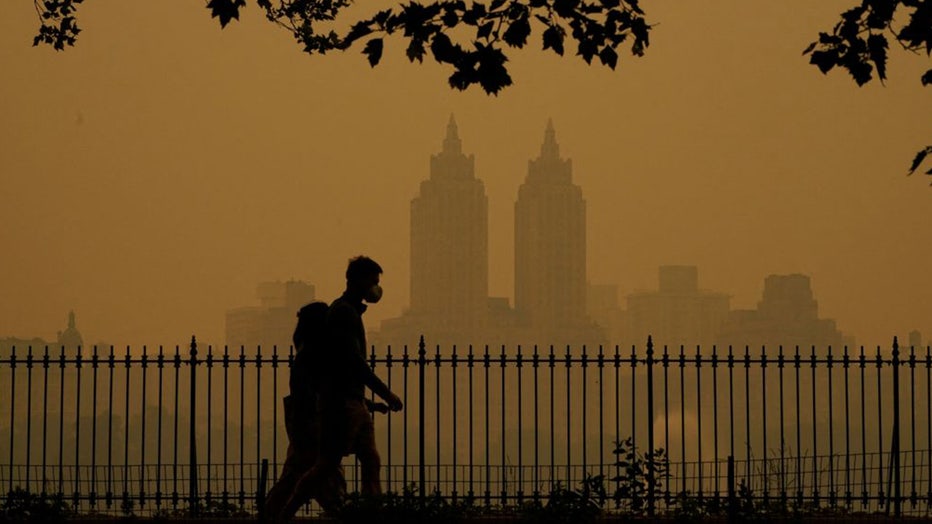 FILE - People walk in Central Park as smoke from wildfires in Canada cause hazy conditions in New York City on June 7, 2023.  (TIMOTHY A. CLARY/AFP via Getty Images)
Numerous studies have linked climate change to increases in North American fires because global warming is increasing extreme weather, especially drought and mostly in the West. 
The warmer the Arctic gets and the more snow and ice melt there — the Arctic is warming three times faster than the rest of Earth — the differences in the summer between Arctic and mid-latitudes get smaller. That allows the jet stream of air high above the ground to meander and get stuck, prolonging bouts of bad weather, University of Pennsylvania climate scientist Michael Mann and Woodwell Climate Research Center senior scientist Jennifer Francis said. 
Other scientists say they are waiting for more evidence on the impact of bouts of stuck weather. 
The Associated Press contributed to this report. This story was reported out of Los Angeles.