Biden tells UAW workers they saved auto industry in historic speech on picket line
DETROIT (FOX 2) - UAW President Shawn Fain last Friday called on U.S. President Joe Biden to join the autoworkers on the picket line. It only took a few hours for the President to answer the call – and agree to join picketers on the sidewalks of Michigan, potentially making history.
President Biden landed in Michigan early Tuesday afternoon to join the UAW members on strike against Detroit's Big Three. He agreed to visit last Friday after Fain said GM and Stellantis workers at 38 plants in 20 states were joining the strike, which started on Friday, Sept. 14.
"Tuesday, I'll go to Michigan to join the picket line and stand in solidarity with the men and women of UAW as they fight for a fair share of the value they helped create. It's time for a win-win agreement that keeps American auto manufacturing thriving with well-paid UAW jobs," Biden said in a post on X (formerly Twitter), confirming the move.
What did the President tell the UAW?
President Biden told UAW strikers on Tuesday that it was time for Ford, GM, and Stellantis to repay the union members for what they did to save the auto industry in the past.
"The fact of the matter is that you guys, the UAW, saved the auto industry back in 2008 and before. You made a lot of sacrifices and gave up a lot - the companies were in trouble. But now they're doing incredibly well and guess what? You should be doing incredibly well too," he said. "You deserve the significant raise you need and the benefits. It's about time for them to step up for us."
Biden tells UAW workers: 'Stick with it, you deserve a significant raise'
UAW President Shawn Fain echoed the sentiments of the president, that the site they were standing on was where the arsenal of democracy was born 80 years ago. Today, "it's a different kind of arsenal democracy and a different war we're fighting. Today, the enemy isn't some foreign country miles away, it's right here in our own area.
The White House had been quiet about Biden's specific plans to join the union until Tuesday morning when they released the President's travel plans. 
Striking UAW members have mixed reaction on visits from Biden, Trump
Air Force One landed around 12:15 with the President stepping off the plane 10 minutes later, where he was greeted by Fain, Representatives Debbie Dingell, Rashida Tlaib, and Shri Thanedar, and Lt. Gov. Garlin Gilchrist. 
The specific location where he joined picketers was not released due to security reasons. The President and Fain met with workers on strike at GM's Willow Run Redistribution in Belleville.
He shook hands with Fain first before moving down the line to meet with the Michigan Democrats. After a few minutes of hellos, Fain and Biden entered the Presidential limousine while Dingell, Tlaib, Thanedar, and Gilchrist walked away.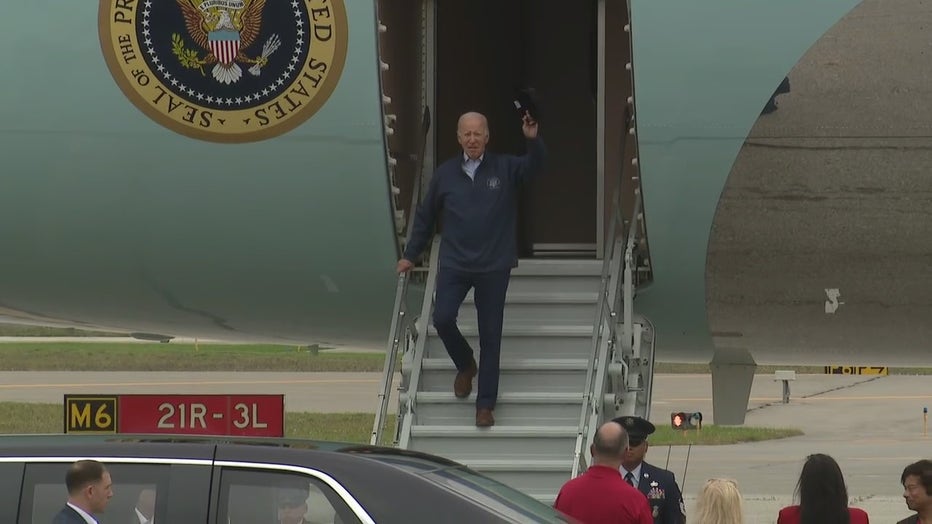 Biden is the first President to walk a picket line with a union
Experts in presidential and U.S. labor history say they cannot recall an instance when a sitting president has joined an ongoing strike, even during the tenures of the more ardent pro-union presidents such as Franklin Delano Roosevelt and Harry Truman. Theodore Roosevelt invited labor leaders alongside mine operators to the White House amid a historic coal strike in 1902, a decision that was seen at the time as a rare embrace of unions as Roosevelt tried to resolve the dispute.
"This is absolutely unprecedented. No president has ever walked a picket line before," said Erik Loomis, a professor at the University of Rhode Island and an expert on U.S. labor history. Presidents historically "avoided direct participation in strikes. They saw themselves more as mediators. They did not see it as their place to directly intervene in a strike or in labor action."
Biden's trip to join a picket line in the suburbs of Detroit is the most significant demonstration of his pro-union bona fides, a record that includes vocal support for unionization efforts at Amazon.com facilities and executive actions that promoted worker organizing. He also earned a joint endorsement of the major unions earlier this year and has avoided southern California for high-dollar fundraisers amid the writers' and actors' strikes in Hollywood.
During the ongoing UAW strike, Biden has argued that the auto companies have not yet gone far enough to satisfy the union, although White House officials have repeatedly declined to say whether the president endorses specific UAW demands such as a 40% hike in wages and full-time pay for a 32-hour work week.
Where negotiations stand
The UAW has made its greatest strides with Ford. The UAW has said its progress with the automaker spared it from further walk-outs last week after Fain gave the Detroit three a deadline for serious progress.
So far, Ford has offered a 20% wage increase, an end to tiered workers, the conversion of temporary workers after 90 days, and cost-of-living-adjustments that will protect against inflation based on a formula set in 2008. It's also offered five weeks of vacation for some workers and two weeks of parental leave.
They've also proposed a right to strike if any plants owned by Ford are threatened with closing.
MORE: Here's where negotiations stand
GM and Stellantis haven't seen as much progress, also offering 20% wage increases but without the previous COLA formulas and end to tiered employees.
More coverage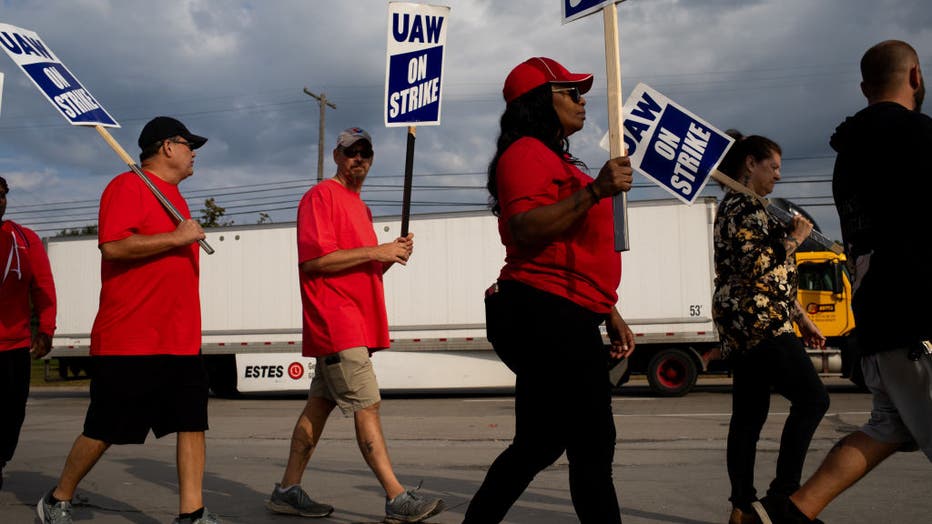 United Auto Workers (UAW) members and supporters on a picket line outside the Ford Motor Co. Michigan Assembly plant in Wayne, Michigan, US, on Wednesday, Sept. 20, 2023. The United Auto Workers said more of its members will go on strike at General M
Information from the Associated Press was used in this report.