Biden to UAW: 'Stick with it, you deserve a significant raise'
BELLEVILLE, Mich. (FOX 2) - President Joe Biden told autoworker union members they should stick with their strike until they've gotten back what they lost. 
"Fact of the matter is you guys, UAW, you saved the automobile industry back in 2008. Made a lot of sacrifices, gave up a lot, and the companies were in trouble. Now they're doing incredibly well and guess what, you should be doing incredibly well too."
Biden, wielding a megaphone and standing on wooden pallets next to the UAW president, told members outside the General Motors redistribution center in Belleville Tuesday they deserved a "significant raise."
It was an historic moment for both the union and the presidency as both have never been so close. But on Day 13 of a strike against GM, Ford, and Stellantis, the president was alongside workers on the picket line.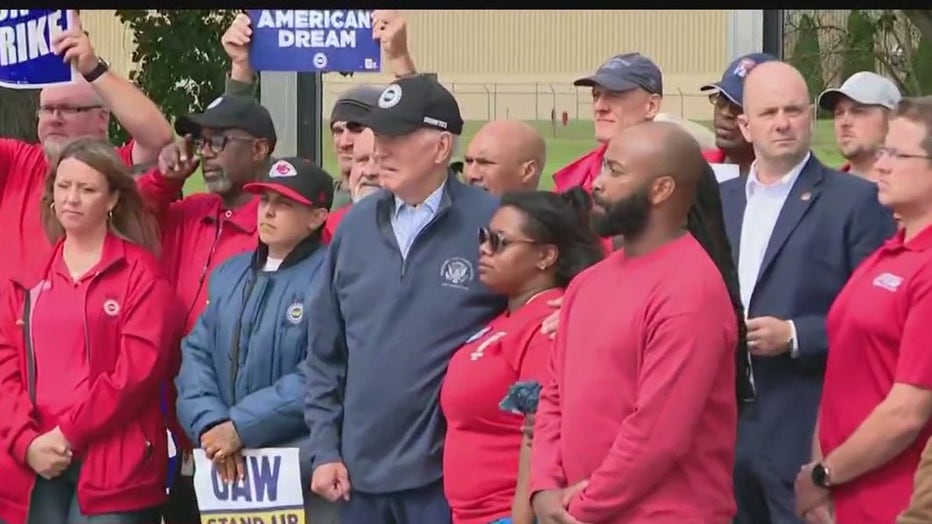 Biden stands alongside UAW members outside General Motors plant in Belleville.
UAW President Shawn Fain echoed the sentiments of the president, before paying homage to the plants' significance during World War II.
It was where the arsenal of democracy was built 80 years ago, Fain said. Today, "it's a different kind of arsenal democracy and a different war we're fighting. Today, the enemy isn't some foreign country miles away, it's right here in our own area.
MORE: Biden joins UAW picket line: 'The UAW saved the auto industry'
"It's corporate greed," he said to applause. 
"And the weapon we produce to fight that enemy is the true liberators, the working class people, all of you working your butts off on those lines to deliver great product for our companies," he said. "That's how we're going to defeat these people, by standing together."
Fain first met with Biden at Detroit Metro Airport before joining him in the president's limousine that took the two to Ecorse Road in Belleville. Members of Local 174 which represents the workers at the Willow Run Redistribution Center had been marching when Biden arrived.
"The CEOs think the future belongs to them," Fain said, "today belongs to the autoworkers and the working class."
Fain's speech mimicked similar announcements he's made, railing against both the companies his workers are striking against and larger ideas like income inequality and social justice.
Biden inserted a final quip about how he likes to say "Wall Street didn't build this country, the middle class did. And the unions built the middle class."
More coverage