Joe Biden's reelection bid faces opposition from some Democrats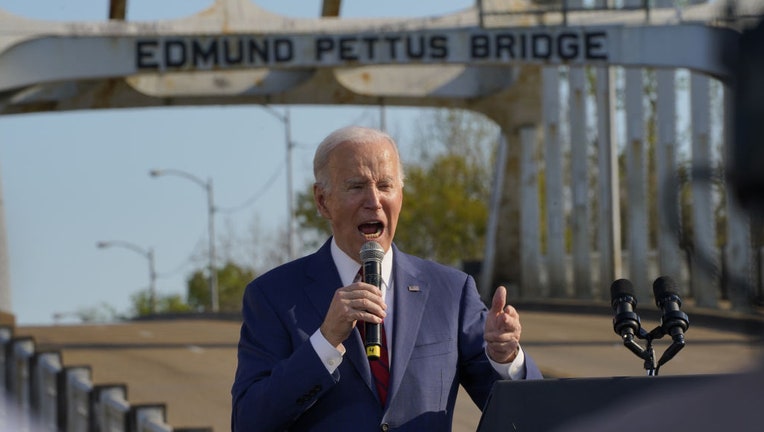 article
LACONIA, N.H. - Steve Shurtleff was at Joe Biden's side in 2019 when he filed papers in the New Hampshire State House to run for president.
He repeatedly trekked across the state with Biden to court primary voters. And when Biden ultimately won the presidency, it was Shurtleff, then the Democratic state House speaker, who proudly sealed the envelope that carried New Hampshire's four electoral votes — including his own name — to the U.S. Senate.
But on the eve of a new election season, Shurtleff, like a majority of Democrats across the country, feels that one term is enough.
"In my heart of hearts, no," Shurtleff said when asked if he wants Biden to run again. "I think a lot of people just don't want to say it."
Democrats across New Hampshire are upset with the Democratic president for trying to end the state's status as home to the first-in-the-nation presidential primary. 
RELATED: By the numbers: A look at President Biden's first 2 years in office
But their concerns about Biden run much deeper, in line with a majority of Democratic voters nationwide, who question the 80-year-old president's plans to soon launch his reelection campaign.
Just 37% of Democrats nationwide want the president to seek a second term, according to a poll released last month by The Associated Press-NORC Center for Public Affairs Research. That was down from 52% in the weeks before last year's midterm elections.
Many worry about Biden's age. Others, like Shurtleff, are upset about the administration's messy withdrawal from Afghanistan. And the party's progressive wing has never been enthusiastic about Biden, who is perceived as a moderate, despite his lengthy list of achievements.
RELATED: Biden signs gay marriage bill at White House ceremony
The White House cast Biden's perceived weakness within his own party as an exaggerated narrative that he has repeatedly proven wrong.
"We're aware pundits' attitude toward President Biden is unchanged from before he earned the nomination faster than anyone since 2004, won the most votes in American history, built the strongest legislative record in generations and led the best midterm outcome for a new Democratic president in 60 years," Biden spokesman Andrew Bates said. "Based on comparing the accuracy of our predictions versus theirs, we are happy for this dynamic to continue."
Still, there's a risk of a disconnect between rank-and-file Democrats and the party's establishment. While voters are signaling unease about the prospect of another Biden campaign, Democratic governors, senators and congressional representatives are virtually unanimous in supporting Biden's reelection.
RELATED: Biden makes unannounced visit to Ukraine: 'One year later, Kyiv stands'
One exception may be New Hampshire, a small swing state whose electoral votes could be critical in a tight general election. The state has challenged Biden before.
Voters here served Biden an embarrassing fifth-place finish in the 2020 Democratic primary. New Hampshire polls were still open when he decamped to South Carolina, where his presidential ambitions were revived by a decisive win. That state is now Biden's pick to lead the 2024 presidential primary calendar.
Interviews with angry New Hampshire Democrats across state government and local Democratic committees suggest there is some appetite for a serious primary challenger in 2024. But top-tier prospects don't seem to be interested.
So far, only Democratic activist and author Marianne Williamson has entered the 2024 primary field. Robert F. Kennedy Jr., the son of the late New York senator and known for railing against vaccines, met with New Hampshire voters on Friday. He's also leaning toward a bid.
RELATED: DOJ reviewing potentially classified documents found at Biden center
But the likes of Vermont Sen. Bernie Sanders, Biden's fiercest primary challenger in 2020, has vowed to back the president in 2024. So has Illinois Gov. J.B. Pritzker, whose appearance at last year's New Hampshire's Democratic convention still comes up in conversation.
California Rep. Ro Khanna, a progressive favorite, has also said he would not challenge Biden, although he has been a vocal advocate for New Hampshire's place atop the primary calendar.
Meanwhile, Biden's allies privately believe the primary dispute will be long forgotten by the time voters cast ballots in November 2024, especially with former President Donald Trump or one of his Republican acolytes on the ballot.
Biden supporters also note that some of the nation's most popular two-term presidents confronted opposition from within their own parties ahead of their reelection.
"We had a lot of work to do, but the fundamentals were there," said Stephanie Cutter, who helped managed Obama's 2012 reelection.
North Carolina Gov. Roy Cooper, a Democrat, attributed Biden's political challenges to Democratic leaders who haven't done enough to promote his accomplishments.
"The real disconnect right now is communication," Cooper said in an interview. "President Biden has accomplished in two years what many presidents would only hope to do in eight. His success has meant real wins for working families. People are going to begin to see real improvement in their lives. It's our job to make sure that they know it was President Biden who got it done."
"Democrats came together once before in 2020 to ask him to do a job, and he accomplished it — he beat President Trump," Cooper added. "And now he's gonna do it again."
Despite such optimism, Democrats across New Hampshire believe it will be difficult for Biden to match his 2020 victory of 7 percentage points in the state in 2024. Former Gov. John Lynch, a Democrat, declined to say whether he wanted Biden to seek reelection when asked directly.
Biden's push to change the primary calendar, Lynch said, has created such anti-Biden furor that it puts New Hampshire's four electoral votes at risk in the 2024 general election. He was quick to note that four electoral votes would have tipped the 2000 presidential election in Al Gore's favor.
"It could cost Democrats the presidency," Lynch said. "Republicans won't let voters forget. They'll hammer the Democrats on this."