Biden administration aims for narrower student loan relief plan
WASHINGTON - The Biden administration is moving toward a narrower student loan relief plan that would target specific groups of borrowers — those with soaring interest, for example — rather than a sweeping plan like the one the Supreme Court rejected in June.
An Education Department document obtained by The Associated Press details a draft of new federal rules paving the way for a second attempt at student loan relief. The proposal targets groups that are seen as especially vulnerable, focusing on those who owe so much, or make so little income, that they otherwise may never repay their loans.
Though full details are likely months away, the department says it wants to provide relief to — borrowers whose balances exceed what they originally owed; those who have loans that entered repayment 25 or more years ago; those who used loans to attend career-training programs that led to "unreasonable" debt loads or insufficient earnings; those who are eligible for other loan forgiveness programs but did not apply.
A fifth group is also being discussed — "those who are experiencing financial hardship that the current student loan system does not currently adequately address."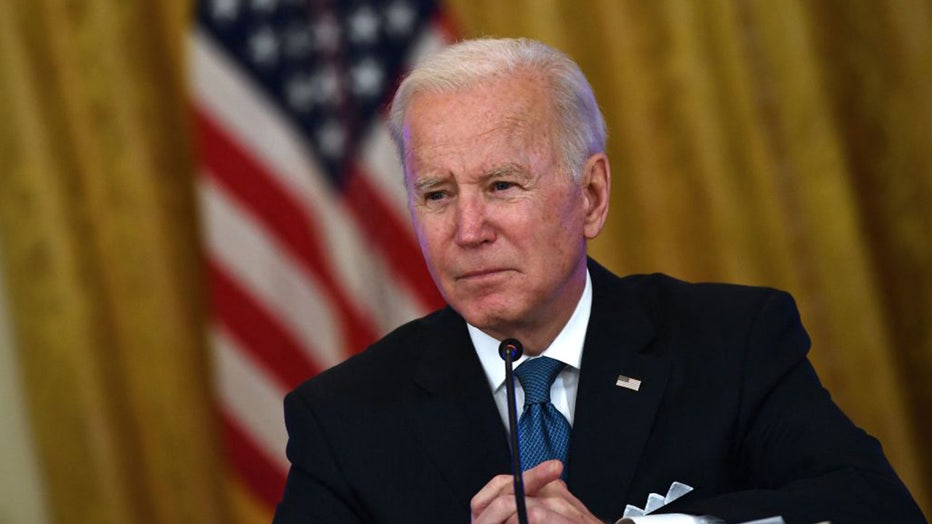 FILE - US President Joe Biden speaks as he meets with members of his administration on efforts to lower prices for working families at the East room of the White House, in Washington, DC on Jan, 24, 2022. (BRENDAN SMIALOWSKI/AFP via Getty Images)
President Joe Biden's initial plan was broader. It would have canceled up to $20,000 in federal student loans for those with annual incomes below $125,000 or couples below $250,000. But after that was rejected by the court's conservative majority, he called on the Education Department to try again using a different legal basis.
The new proposal aims to tackle issues that are seen as some of the biggest culprits behind skyrocketing debt.
It would help counter interest that snowballs beyond borrowers' original balances. It would offer relief to borrowers who attended for-profit college programs with poor outcomes. It would also help older borrowers who took out loans decades ago and may otherwise never repay their debt.
The department will continue to refine the proposal as it goes through a federal rulemaking process, according to the document. The public will be able to provide written feedback next year.
RELATED: Here are the states with the most student loan debt
Even a more limited plan for relief is sure to draw fierce opposition from Republicans, who see cancellation as an unfair burden on taxpayers.
The latest attempt rests on the Higher Education Act of 1965, a wide-reaching law that gives the education secretary power to "compromise, waive or release" certain debts. But the law is unclear on how the secretary can wield that authority, creating a legal gray area that has been the subject of debate since Biden took office.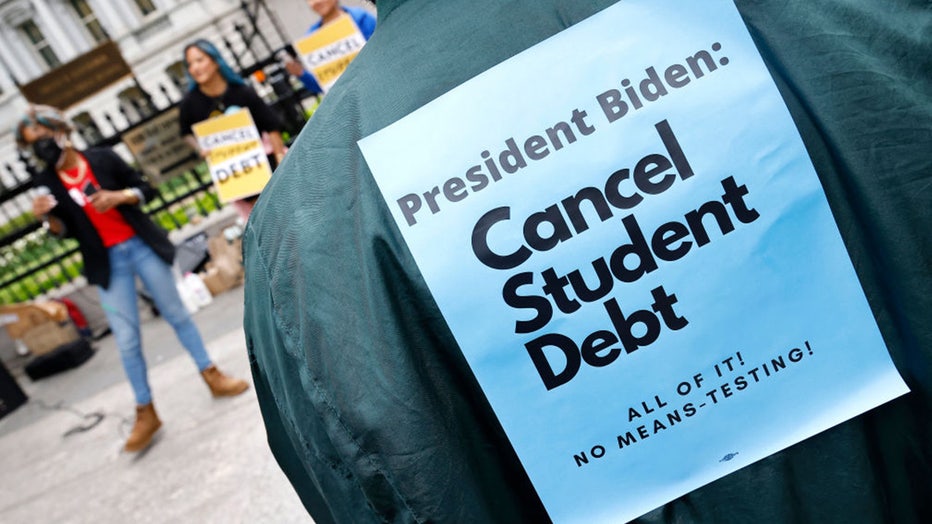 FILE - Student loan borrowers gather near The White House to tell President Biden to cancel student debt on May 12, 2020 in Washington, DC.  (Paul Morigi/Getty Images for We, The 45 Million)
The proposal aims to settle the dispute by creating new federal rules detailing cases that merit cancellation. Before the rules can be enacted, they must be weighed by a committee of government outsiders in a process known as negotiated rulemaking. The new draft will be taken up when the committee meets next week.
The committee is made up of negotiators who represent a range of viewpoints on student loans. It includes students and officials from a range of colleges, along with loan servicers, state officials and advocates including the NAACP.
Meetings began earlier this month and are scheduled to continue into December.
At the end of the process, negotiators will vote on a proposed rule. If they reach consensus, the department will move forward with it. If they don't, the agency will propose its own plan, which can be finalized after a public comment period.
Biden called for a plan to help "as many borrowers as possible," but his administration seems to be moving away from the type of mass cancellation that he promised in August 2022.
That plan was estimated to cost $400 billion. It's unclear how much the second proposal will cost.
___
The Associated Press education team receives support from the Carnegie Corporation of New York. The AP is solely responsible for all content.