Bayshore parking garage collapse, chief 'confident' of no injuries
GLENDALE, Wis. - A Bayshore parking garage partially collapsed Thursday, Feb. 23.
Based on a review of the town center's security video, officials were "very confident" nobody was hurt or trapped in the pile of rubble and snow, North Shore Fire/Rescue Chief Robert Whitaker said.
Whitaker said officials talked with owners of the two vehicles that were crushed, confirming nobody was in the vehicles at the time of the collapse – meaning only pedestrians could have been injured or trapped. Based on the video, he was "99%" sure no one was walking through, and no potential victims were reported missing.
Cassandra Ploeger's Hyundai Santa Fe was one of those crushed cars.
"It was just covered -- the whole thing," said Ploeger. "It's just smushed. I liked that car. I had it for four or five years. It had stickers on it. I had it all decked out, but it's OK. I'll get more stickers."
Ploeger wasn't in her car when it happened. She was working across the street at The Pet Apothecary.
"Just shocked because I don't even know what to do in that situation," said Ploeger. "At least nobody was hit. That is all that matters. It was definitely scary seeing the building actually collapsed."
SIGN UP TODAY: Get daily headlines, breaking news emails from FOX6 News
Whitaker said the dispatch call came in around 12:15 p.m. It happened at the Silver Spring Parking Garage, which is set back from Port Washington and extends east toward the town center's interior roads. The ramp from the third level fell to the ground level in what Whitaker described as a pancake-style collapse.
"I just heard something in the background. We didn't know if it was like, construction workers outside just doing what they doing, but we hear a loud 'boom, boom' – me and this other co-worker, and I felt the walls shake," said one witness. "I felt like I was in danger for my life, like, the earthquakes was crazy. I felt it like, it was intensified."
Parking garage collapse at Bayshore 
"I was coming down. Maybe five minutes before I left, I heard a big 'boom,' and I was like – I didn't think nothing of it. I thought it was an earthquake," another witness said. "Next thing you know, I come down to get out the parking structure, I'm like, 'Oh, I don't think I'm getting out of here today.'"
The Milwaukee Fire Department Heavy Urban Rescue Team (HURT) provided support to North Shore Fire/Rescue.
What's next?
While two cars were crushed, others were stuck on the third level of the structure – possibly for months, Whitaker said – because the only path to them was blocked by the collapse. Fifty-six cars were still in the garage as of Thursday night.
A large amount of snow was piled on top of the collapsed portions of the structure. Whitaker said that the weight of the snow -- possibly as much as 20 pounds per square foot – was "likely" a factor in the collapse.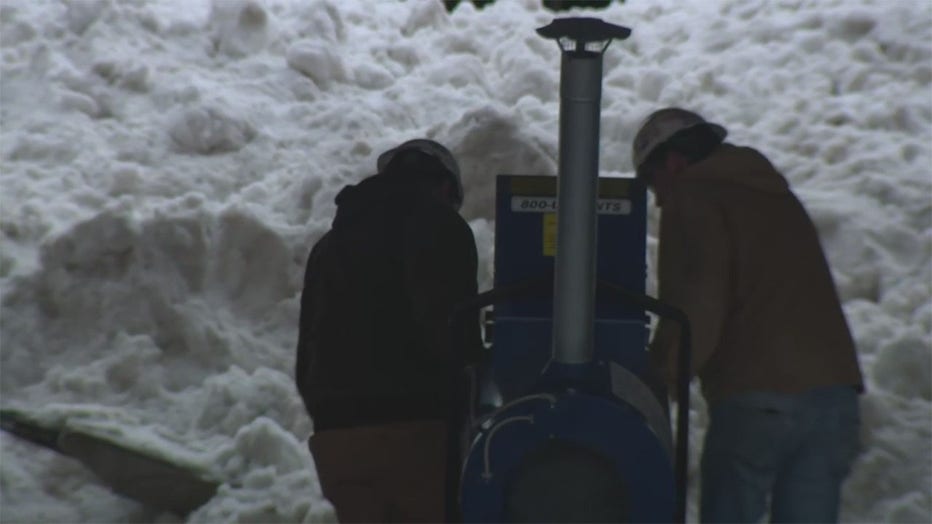 Crews work to melt snow after parking garage collapse at Bayshore 
GRAEF, a structural engineering firm, lists Bayshore as one of its projects. In a statement to FOX6, the firm said:
"GRAEF was made aware of the of partial collapse of the Silver Spring Parking Garage at Bayshore Mall. GRAEF was called to assist the owner in the evaluation. The assessment is ongoing, and we do not have additional information to share at this time. We are thankful that no one was injured."
FREE DOWNLOAD: Get breaking news alerts in the FOX6 News app for iOS or Android
As crews started working to remove snow, Whitaker said they stopped because the garage rubble started to shift. Support beams were brought in, and crews used heaters to melt snow – taking caution that things could continue to shift.
Bayshore security put up a gate and planned to have patrols on scene all night.
Anyone with questions, including vehicle owners, was asked to contact Bayshore security.