Medics and patients, including babies, stranded as battles rage around Gaza hospitals
DEIR AL-BALAH, Gaza Strip - Battles between Israel and Hamas around hospitals forced thousands of Palestinians to flee from some of the last perceived safe places in northern Gaza, stranding critically wounded patients, newborns and their caregivers with dwindling supplies and no electricity, health officials said Monday.
With Israeli forces fighting in the center of Gaza City, the territory's main city, both sides have seized on the plight of hospitals as a symbol of the larger war, now in its sixth week. The fighting was triggered by Hamas' Oct. 7 surprise attack into Israel, whose response has led to thousands of deaths — and much destruction — across Gaza.
Israel accuses Hamas of using hospitals as cover for its fighters. On Monday, the military released footage of a children's hospital that its forces moved into over the weekend, showing weapons it said it found inside, as well as rooms in the basement where it believes the militants were holding some of the around 240 hostages they abducted during the initial attack.
"Hamas uses hospitals as an instrument of war," said Rear Adm. Daniel Hagari, the army's chief spokesperson, standing in a room of the Rantisi Children's Hospital decorated with a colorful children's drawing of a tree. Explosive vests, grenades and RPGs were displayed on the floor.
RELATED: Israel-Hamas war closes in on Gaza City as thousands flee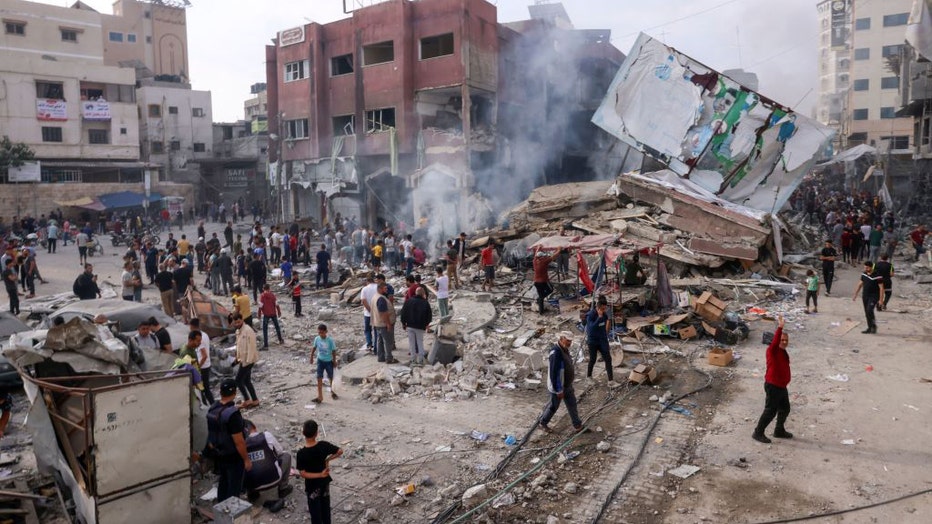 Palestinians inspect the rubble of a collapsed building in the heavily bombarded city center of Khan Yunis in the southern Gaza Strip following overnight Israeli shelling, on October 10, 2023. (Photo by SAID KHATIB/AFP via Getty Images)
Meanwhile, gunfire and explosions raged Monday around Gaza City's main hospital, Shifa, which has been encircled by Israeli troops for days. Tens of thousands of people have fled the hospital in the past few days and headed to the southern Gaza Strip, including large numbers of displaced people who had taken shelter there, as well as patients who could move.
For Palestinians, Shifa evokes the suffering of civilians. For weeks, staff members running low on supplies have performed surgery there on war-wounded patients, including children, without anesthesia. After the weekend's mass exodus, about 650 patients and 500 staff remain in the hospital, which can no longer function, along with around 2,500 displaced Palestinians sheltering inside with little food or water.
After power for Shifa's incubators went out days ago, the Health Ministry in Hamas-ruled Gaza on Monday released a photo it says shows about a dozen premature babies wrapped in blankets together on a bed to keep them at a proper temperature. Otherwise, "they immediately die," said the Health Ministry's director general, Medhat Abbas, who added that four of the babies had been delivered by cesarean section after their mothers died.
The Israeli military says Hamas has set up its main command center in and beneath the Shifa compound, though it has provided little evidence. Both Hamas and Shifa Hospital staff deny the Israeli allegations.
RELATED: Israel expands Gaza ground operation as war enters 'next stage'
U.S. President Joe Biden said Monday that Shifa "must be protected."
"It is my hope and expectation that there will be less intrusive action," Biden said in the Oval Office.
Early Tuesday, the Israeli military said in a statement that it had started an effort to transfer incubators from Israel to Shifa. It wasn't clear if the incubators had been delivered or how they will be powered.
International law gives hospitals special protections during war. But hospitals can lose those protections if combatants use them to hide fighters or store weapons, according to the International Committee of the Red Cross.
Still, there must be plenty of warning to allow evacuation of staff and patients, and if harm to civilians from an attack is disproportionate to the military objective, it is illegal under international law. In an editorial published Friday in Britain's The Guardian newspaper, International Criminal Court prosecutor Karim Khan said the attacker must meet a high burden of proof to show that a hospital has lost its protections.
The Red Cross was attempting Monday to evacuate some 6,000 patients, staff and displaced people from another hospital, Al-Quds, after it shut down for lack of fuel, but the Red Cross said its convoy had to turn back because of shelling and fighting. On Monday, Israel released a video showing what it said was a militant with a rocket-propelled grenade launcher entering Al-Quds Hospital. An Israeli tank was stationed nearby.
RELATED: Israel-Hamas war fuels flood of misinformation on social media: Here are the facts
At Shifa Hospital, the Health Ministry said 32 patients, including three babies, have died since its emergency generator ran out of fuel Saturday. It said 36 babies, as well as other patients, are at risk of dying because life-saving equipment cannot function.
Goudat Samy al-Madhoun, a health care worker, said he was among around 50 patients, staff and displaced people who made it out of Shifa and to the south Monday, including a woman who had been receiving kidney dialysis. He said those remaining in the hospital were mainly eating dates.
Al-Madhoun said Israeli forces fired on the group several times, wounding one man who had to be left behind. The dialysis patient's son was detained at an Israeli checkpoint on the road south, he said.
The military said it placed 300 liters (79 gallons) of fuel several blocks from Shifa, but Hamas militants prevented staff from reaching it. The Health Ministry disputed that, saying Israel refused its request that the Red Crescent bring them the fuel rather than staff venturing out for it. The fuel would have provided less than an hour of electricity, it said.
The U.S. has pushed for temporary pauses to allow wider distribution of badly needed aid. Israel has agreed only to daily windows during which civilians can flee northern Gaza along two main roads. It continues to strike what it says are militant targets across the territory, often killing women and children.
The Israeli military has urged Palestinians to flee south on foot through what it calls safe corridors. But its stated goal of separating civilians from Hamas militants has come at a heavy cost: More than two-thirds of Gaza's 2.3 million people have fled their homes.
Those who make it south face a host of other difficulties. U.N.-run shelters are overflowing, and the lack of fuel has paralyzed water treatment systems, leaving taps dry and sending sewage into the streets. Israel has barred the import of fuel for generators.
As of last Friday, more than 11,000 Palestinians, two-thirds of them women and minors, have been killed since the war began, according to the Health Ministry in Gaza, which does not differentiate between civilian and militant deaths. About 2,700 people have been reported missing.
Health officials have not updated the toll, citing the difficulty of collecting information.
At least 1,200 people have died on the Israeli side, mostly civilians killed in the initial Hamas attack. Palestinian militants are holding nearly 240 hostages seized in the raid, including children, women, men and older adults. The military says 44 soldiers have been killed in ground operations in Gaza.
About 250,000 Israelis have evacuated from communities near Gaza, where Palestinian militants still fire barrages of rockets, and along the northern border, where Israel and Lebanon's Hezbollah militant group repeatedly trade fire, including on Monday.
___
Jeffery reported from Cairo. Associated Press writers Amy Teibel in Jerusalem, Samy Magdy in Cairo and Bassem Mroue in Beirut contributed to this report.