Athena Brownfield: Man arrested in Phoenix beat missing Oklahoma girl to death, court documents say
PHOENIX - A man who was arrested in Phoenix in connection to the disappearance of a missing 4-year-old Oklahoma girl allegedly beat her to death before burying her body.
Ivon Adams, 36, was arrested on Jan. 12 near 67th Avenue and Camelback Road on a felony warrant for first-degree murder and child neglect in connection to Athena Brownfield's disappearance. Adams' wife, Alysia, was arrested in Oklahoma on two counts of child neglect.
Ivon waived extradition in Oklahoma and remains jailed in Maricopa County, pending extradition.
"I want to get there and take care of it," Adams told a judge during a hearing in Maricopa County court. "I need to get there and fight this."
Alysia is jailed in Oklahoma's Caddo County.
The couple are caregivers for Brownfield, who was reported missing from Cyril, Oklahoma on Jan. 10. A postal worker found Athena's 5-year-old sister wandering alone outside their home and alerted police. Authorities then determined that Athena was missing.
Alysia allegedly admitted that at about midnight on Christmas Day, Ivon beat Athena before burying her body "near a fence line that was next to their old residence in Rush Springs."
Athena "was not moving and her eyes were barely open," Alysia Adams said, according to the affidavit by OSBI Lt. Brenna Alvarez. Ivon Adams "then laid her on the ground and punched her at least three more times in the chest" and the child "never moved after that."
Ivon Adams left the home with Athena at about 1 a.m. Dec. 26 and later returned, saying he buried her body on land the Adams once owned close to the nearby town of Rush Springs, about 15 miles southeast of Cyril, marking the site with "a large broken branch."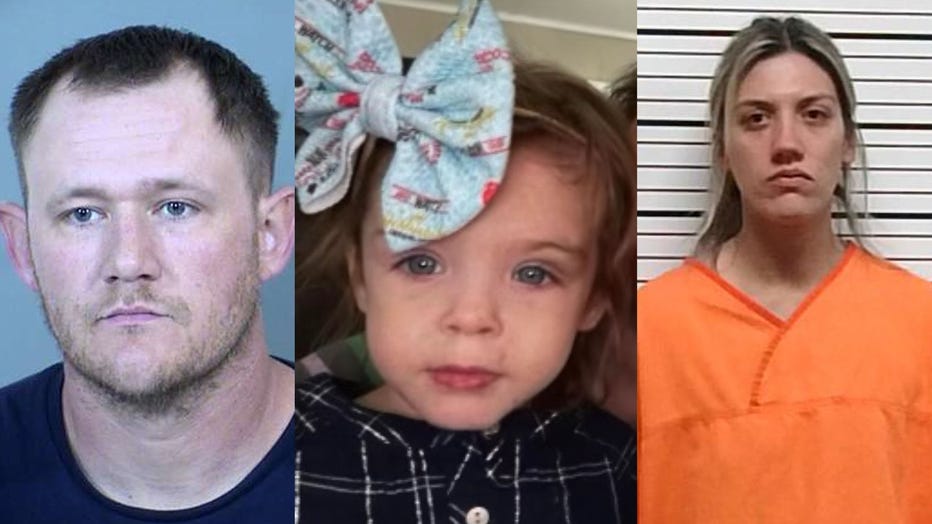 Ivon Adams, Athena Brownfield, and Alysia Adams.
Authorities have been searching that area. On Monday, authorities said they are looking for Athena's remains as the search for her transitions to a "recovery operation."
On Jan. 17, officials with the Oklahoma State Bureau of Investigation announced that the remains of a child have been recovered in a rural area outside Rush Springs, a town approximately 21 miles southeast of Cyril.
"At this time, the OSBI cannot confirm the remains are those of Athena Brownfield. The remains will be transported to the Medical Examiner's Office in Oklahoma City for positive identification.," read a portion of the brief statement.
Town residents speak out
Brandon Bryant, who said he and his wife were once neighbors of the Adams, said Tuesday that he had little interaction with the couple, but saw nothing unusual from them.
"Didn't see anything out of the normal. We talked to Alysia a few times, Ivon never," Bryant said. "We never went into their house, Alysia came over to our house a few times ... we gave her a car seat."
Bryant, whose children are 5 and 10 years old, said he still considers Cyril, with a population of about 800, a safe place.
"It's a small town, it's probably one of the few places on earth I would consider leaving my doors unlocked at night ... it's still a good place to live," Bryant said.
The OSBI has said the girls and the Adams' are related and the affidavit said that the children's biological mother had left them with the couple 1 1/2 to 2 years ago with the girls calling Alysia "mom" or "Aly" and Ivon "dad" or "Uncle Ivon."
The children's biological mother and father are cooperating with investigators, according to the OSBI.
Anyone with information about the case was asked to contact the Oklahoma State Bureau of Investigation tipline at (800) 522-8017 or email tips@osbi.ok.gov. Individuals can remain anonymous.
The Associated Press (AP) contributed to this report.
Previous reports