Arlington Lamar High School shooting leaves 1 student dead, 1 injured; suspect in custody
ARLINGTON, Texas - One student was killed and another was hurt following a shooting at Lamar High School in Arlington. The suspected shooter is now in custody.
Arlington police said it happened around 6:55 a.m. Monday at the edge of one of the parking lots.
At least one male student was shot, and another female student was hit by shrapnel that grazed her cheek. 
The male student that was shot was taken to the hospital by ambulance, the female was taken to a hospital by an adult male nearby.
The male student later died from his injuries.
The female's injuries are not life-threatening.
"We prepare for incidents like this, but it is impossible to prepare for the emotion," said Arlington ISD Superintendent Dr. Marcelo Cavazos. "We are heartbroken."
Police believe it may have been a targeted shooting, and they don't believe the shooter was attempting to shoot students inside the school.
At this time, police say the motive for the shooting is unclear.
The suspected shooter, a juvenile male, was taken into custody and will face a capital murder charge. Other charges are also pending.
Police recovered a gun, but at this time are not releasing what kind of weapon was found.
All people involved are Arlington Lamar HS students under the age of 17. Police would not give further information about the suspect or the victims.
Arlington police said the suspect did not go inside the school.
"Witnesses were able to call 9-1-1 dispatch with a good description of the shooter," said Arlington Police Chief Al Jones. "As officers were responding to the scene, they located an individual that matched that description. The officers surrounded the individual and took him into custody without incident."
School does not start until 7:35 a.m. and was not in session at the time of the shooting. Not all students had arrived on campus.
Police say it does not appear the shooter intended to target more students inside the school, but the motive at this time is unclear. 
"We recovered a weapon we believe was used in the shooting this morning," Jones said. "I just want to make this point known: the shooter never entered the school building, and he left the campus immediately after the shots were fired."
School resource officers were not scheduled to arrive at the school until 7 a.m., but officers locked down the school within minutes.
"We will continue to work in lock step with the district to make schools a safe place for the students to learn," Jones said.
At a news conference, Arlington police asked gun owners to take steps to secure their weapons in places where kids cannot get them.
Dallas ISD middle school athletic director charged with improper relationship with student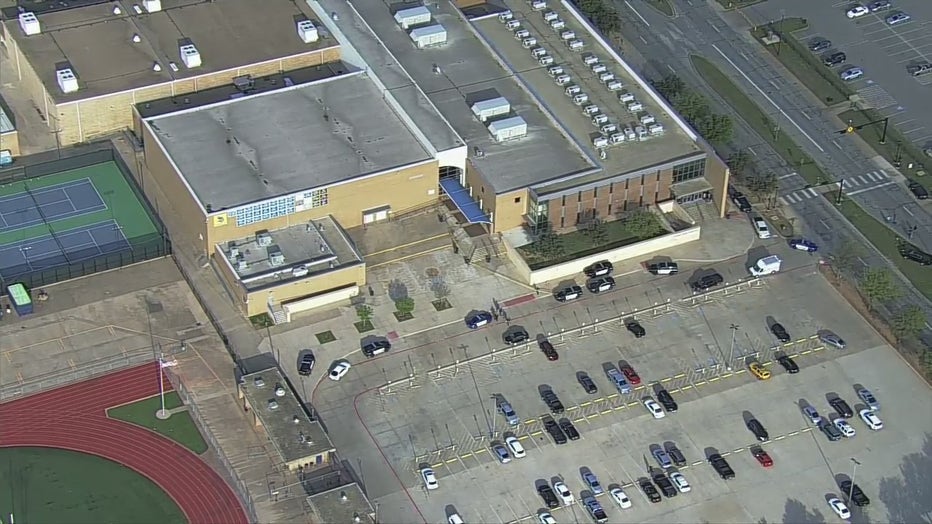 The parent of a student who witnessed the shooting told FOX 4 the shooting victim is in the 11th grade. That has not been confirmed by the district or by police. 
We do not know if the gunman and victims knew each other, and police haven't announced a motive.
When students return to campus on Wednesday, extra security protocols will be in place.
Parents who go to campus will not be allowed to pick up their children. Some concerned parents showed up anyway.
"I got a text from the school this morning saying the school was on lockdown," said Normecha Stiger, a parent of a 9th-grade student at Arlington Lamar. "I just left work so I could be here because my son is in there and when you don't know what's going on it is worrisome."
Arlington Lamar students were taken to the district's athletic center and were reunited with parents at 11 a.m.
A long line of parents began forming to reunite with their children. 
Audrea Thomas was frustrated by the wait needing to get to her son.
"My son was the individual that was right next to one of the guys that got shot," she said. "My son has been crying on the phone to me. They would not let me get to him. I've been trying to get to him since 7 o'clock this morning. It is now 12:30."
Eventually, Thomas was able to get to her son.
Parents are holding children a little closer who lived a lesson not in their textbooks.
Monday was supposed to be Arlington ISD's first day back after spring break.
Arlington Lamar will not have school on Tuesday. When students return Wednesday counselors will be on campus for any students who need help.