Arizona dentist's 'horrifying' abuse of daughter with special needs seen on video, yet not reported for weeks
A disturbing video obtained of an east Valley dentist abusing his mentally incapacitated daughter is hard to watch.
The victim is a young adult with a mind of a child and her father's arrest didn't happen until weeks later. Why did it take so long to alert authorities?
'I want people to know the truth'
It all started with a tip FOX 10 Investigator Justin Lum received about a well-known dentist charged with abusing his own daughter who has special needs. We have the evidence from Gilbert Police, and we want to warn viewers, the video of this abuse is tough to watch.
"I want people to know the truth. I don't care at this point. I just want them to know the truth," Jared Pope says after being arrested.
The truth about Pope's arrest unfolds on April 26 of last year via Gilbert Police body cameras. Due to the department's policy, footage taken from inside private property is blurred.
The video is captured with the Pope family's own camera inside his daughter's bedroom on March 11, 2022 – a month and a half before Pope is arrested.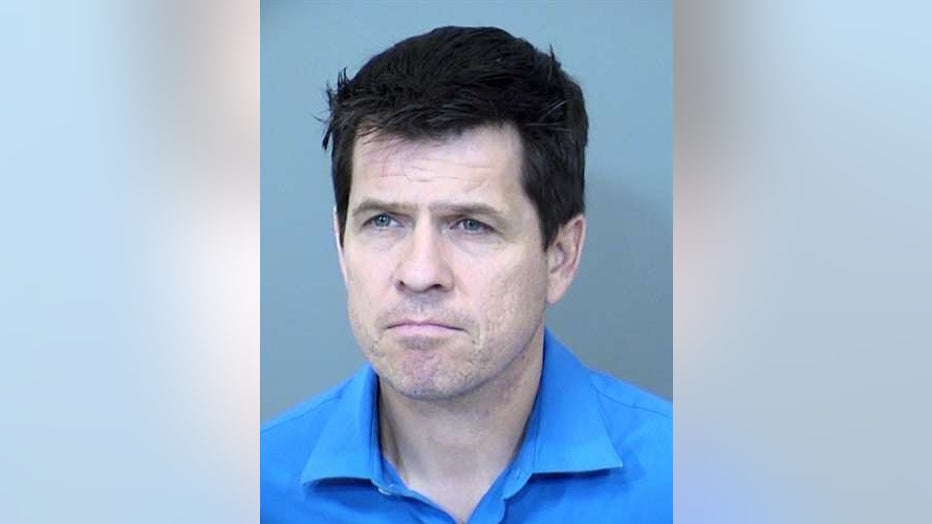 'I'm gonna slam your (expletive) head …'
Guardianship court documents say the victim is Pope's biological daughter.
He and the victim's stepmother, Lynda Pope, became her legal guardians in March 2020 once she turned 18. She functions at the level of a six to nine-year-old child and is considered mentally incapacitated by Arizona statute because of her special needs.
"I'm this close to getting really mad. I'm gonna drag you out there, rip your clothes off and put them on. You are going to run today. Go put them on. If I come back in here again I'm gonna grab your goddamn hair and I'm gonna slam your (expletive) head into the goddamn wall," Pope is heard saying in the footage.
He's enraged, and the reason? He's trying to get his daughter to exercise.
"You are not gonna live in this house. Either I'm gonna whip you every day until you run, or you're gonna run. You got it?" Pope said to his daughter.
After pulling her to the ground and hitting her, the yelling continues.
"I'm not gonna fight with you every damn day. You come home, you do therapy, and you go and run. We all have to do it. It's part of your freaking life. Get used to it," Pope says.
The victim defecates on herself, but the verbal abuse keeps going.
The consequences
"I'm well known in the community. I have nine dental offices. I'm the CEO of a big company, I mean, I'm very well respected," Pope is heard saying to officers in body camera footage.
Pope owns just over a dozen dental practices between Arizona and New Mexico. The majority are in the Phoenix area and he works mainly out of his Chandler office.
Under Arizona law, Pope had to notify the State Board of Dental Examiners about the felony charge of vulnerable adult abuse within 10 business days.
The board's statement to FOX 10 says, "While his domestic violence conduct is a concern for the dental board, and the public, it was not criminal conduct in the treatment of a patient, and therefore, the dental board concurs with the criminal court's adjudication of the matter and concluded that the criminal courts properly adjudicated the case and no further administrative court proceedings need to occur."
Pope eventually plead guilty and got three years of probation.
Adult abuse, by the numbers 
Dr. Nora Baladerian is a clinical psychologist in Los Angeles who studies the abuse of people with developmental and intellectual disabilities.
"Horrifying, terrifying. Just so sorry for her. Obviously, she's terrified," she remarked.
When asked how often is it the guardian or parent that's responsible for the abuse, she said it's frequent.
"That's pretty frequent, too. Family members, either direct family members. In other words, the parents or uncles, aunts, grandparents," Baladerian said.
According to Arizona Adult Protective Services (APS) data, there were 20,498 alleged perpetrators in 2022 –  35%, or 7,293 of them, are family members. 28%, or 5,841, are listed as "other" and 27%, or 5,522, are identified as caregivers.
"None of the clients that I've treated would have the ability to call the police, and say 'I'm being abused sexually or physically or emotionally, verbally, by my parents or grandparents,'" Baladerian said.
Since 2018, total allegations of abuse, neglect and exploitation have increased with nearly 35,000 reports to APS in 2022.
Caseloads in Arizona continue to rise as the average case amount is now nearly 60 per investigator – more than double the national best practice goal of 25 each.
Before Pope's arrest, he explains why he lost control.
"She doesn't like to exercise. She likes to overeat, so there's this struggle all the time. We have been trying to keep her active enough, so she doesn't put on extra weight. She likes to push back. I couldn't get her to comply. I asked her, asked her, and asked her. And she said, 'no, no, no. no, no,'" Pope said. "As a dad, I kind of lost my (expletive) with her. I've never done that."
Just days earlier, police say it was the victim's stepmom who sent the video recordings of the abuse to a friend, who will remain unidentified. She made the report to APS after pleading with Lynda Pope to do it herself.
"You have to do something. I feel like now I have to do something," the friend said a series of videos she texted to Lynda. "At the very least you turn in those videos to the police or to your attorney. Really you know that you should have called the police."
She adds, "It's your job, you are the guardian."
Baladerian says Lynda should have called as soon as she saw the video of the abuse.
"Immediately or within 24 hours as a responsibility generally for caregivers, as soon as they know," she said.
A Gilbert Police officer makes contact with the friend about the abuse that hadn't been reported for weeks.
When the friend was asked by police if Lynda ever said why she didn't report the abuse, she says Lynda was gathering evidence to divorce her husband.
"I mean, she told me honestly, she told me that she's gathering these videos. She went to several attorneys last year. She said she's gathering these videos to get a bigger settlement when she finally does decide to divorce him because she could then use it as leverage," the friend said to the police.
The officer then speaks to APS who had not seen the evidence yet and had just received the report.
"The victim was beat so bad she peed and defecated herself. This has happened in the past and the (alleged perpetrator) keeps the victim home from school after the abuse," the APS case agent said.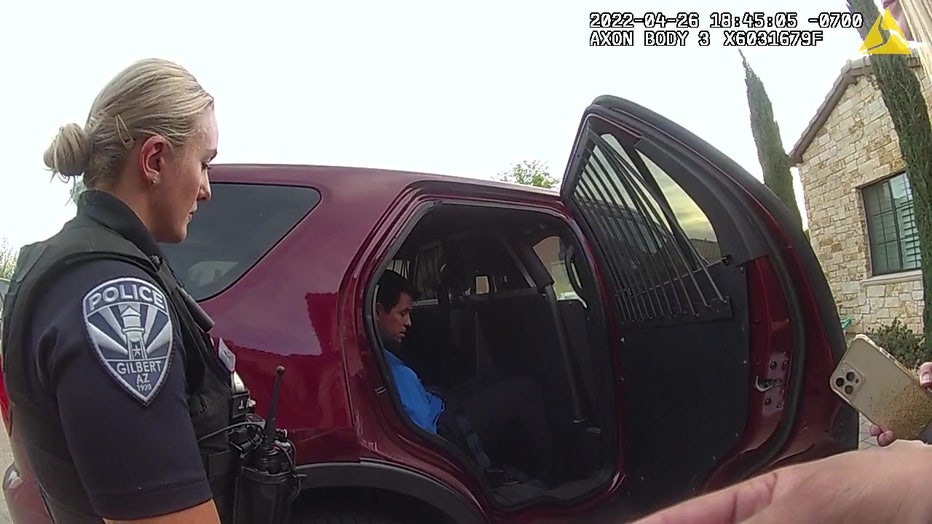 'He's a good dad …'
"She had said that dad was rough on her and that dad had hit her," Lynda said while on the phone with the police.
She says she was in Europe when the attack happened but she did watch the videos. When she returned home the next week, she saw bruises on her stepdaughter.
Lynda was asked why she decided to take photos of the bruises on her stepdaughter.
"I just saw them and I hadn't seen any ever before. He's a good dad and he loves his daughter. I had never seen anything on her before and I was just surprised," Lynda remarked after watching the video.
What's going on now?
Pope's three-year probation includes anger management classes and once probation ends, his felony conviction turns into a misdemeanor. He's allowed to have supervised interaction with his daughter but cannot be her sole caretaker for an extended period of time.
When an officer asked Pope if he feels he overreacted, he didn't exactly say yes.
"I probably grabbed her, grabbed her arms grabbed her … just hold her, threw her on the bed, threw her on the ground, just yelled at her, screamed at her," Pope said.
After initially declining to comment, Pope released this statement through his lawyer, saying in full, "I love my 20 year old special needs daughter very much. About a year ago, in a moment of parental frustration, I acted in a way I deeply regret. I have been fully compliant with all legal authorities and the dental board. Those who know me know that this isolated situation does not reflect the loving and caring relationship I have with my daughter."
Lynda Pope also provided a statement, saying in full, "Jared is a caring and devoted father to our special needs daughter. He has been her primary parent since she was a year old. Raising a special needs adult comes with unique responsibilities and challenges which we are learning to navigate. Jared and his daughter share a very special bond and this single event is not representative of the great relationship they have."
FOX 10 also reached out to APS about this case, but a spokesperson says they can't provide specific details due to client confidentiality.