Pro-Ukraine rallies held across NYC
NEW YORK - Hundreds of people protesting Russia's invasion of Ukraine and Russian President Vladimir Putin marched and protested all across New York City again on Saturday.
One of the largest rallies so far was held in Times Square, where protesters marched and drove through the streets in protest of the attack on Ukraine. 
Protesters unfurled a large Ukrainian flag and held placards demanding an end to the war.
Hundreds more gathered in Greenwich Village to voice their opposition to the conflict.
Ukraine crisis: How you can help
There are 150,000 Ukrainians living in New York City. Parts of Gravesend, Sheepshead Bay, Manhattan Beach, and Brighton Beach in Brooklyn are known to many as Little Odessa due to the large, yet tight-knit Ukrainian population.
Protesters who spoke with FOX 5 NY shared stories of trying to stay in contact with family and friends in Ukraine, who are hiding in basements to survive bombing raids by Russian forces or becoming refugees from their homeland.
Russian troops are currently nearing Ukraine's capital of Kiev as nations across the globe take new efforts — including direct sanctions on President Putin — to make Moscow stop.
Get breaking news alerts in the free FOX5NY News app!  |  Sign up for FOX 5 email newsletters
More anti-war protests took place in front of the White House in Washington, D.C. where protesters demanded a stronger response to the invasion from the Biden Administration, including more military support for Ukraine and harsher sanctions.
Further protests were held around the world, from London to Rome, and in India.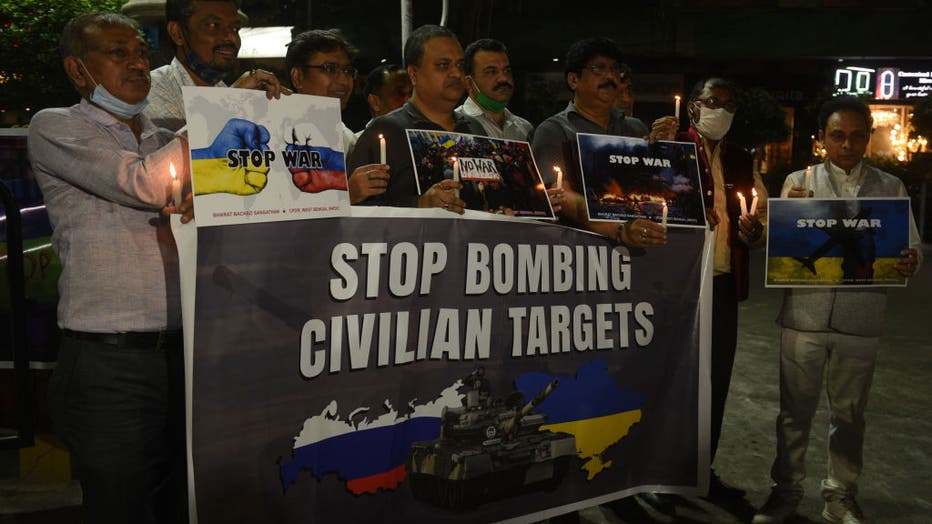 Supporters of various organizations carry a candle light protest against Ukraine invasion by Russia and demand peace and safe passage of Indians stranded in Ukraine at Park Street on February 26, 2022 in Kolkata, India. (Photo by Samir Jana/Hindustan
On Thursday, protestors unfurled the Ukrainian flag in Times Square as part of a 'Stop Putin Rally' organized by locals with close ties to Ukraine.
Demonstrators marched from Times Square across Manhattan to the Upper East Side where they and others gathered at East 67t and Lexington Avenue near the permanent mission of the Russian Federation, the headquarters of Russia's ambassador to the United Nations.
Another rally took place at the United Nations, while a third occurred at 91st Street and Madison Avenue, near the Russian Consulate.