American Dream water park reopens after helicopter display fell, injuring four people
NEW YORK - Nearly a week after a giant decorative helicopter fell and injured four people, American Dream's water park in East Rutherford is back open.
The mall has since removed the helicopter that fell last week. 
The Department of Community Affairs' Amusement Ride Safety Unit and a third party engineering firm collaborated efforts to determine how the decorative helicopter fell from the park's ceiling.
The state investigation found that the incident occurred due to a faulty wire that was holding up the statue. 
The water park has several other figurines that are suspended in the air above the park.
It is unclear if the other decorations were inspected for faulty wiring.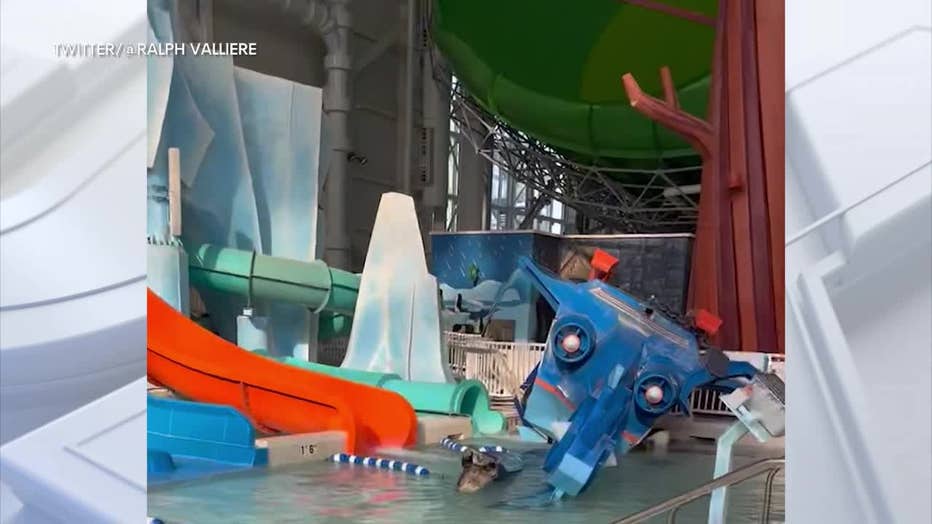 Four people were injured when the decorative helicopter suspended from the ceiling fell into the water park's swimming pool.
It happened Sunday, February 19, shortly after 3 p.m.
According to officials, one person was taken to a hospital and three others were treated at the scene. None of the injuries were life-threatening.
A decorative helicopter fell into the swimming pool at American Dream's water park, injuring four people. (Twitter/@Ralph Valliere)
The venue was evacuated.
In a statement, a mall spokesperson said, in part, "The safety of our guests is our highest priority. We will conduct a thorough investigation into this incident to ensure the park meets all safety regulations as required."
Now that the investigations have concluded the park is expected to go back to its regular schedule.