Suspect in stolen Houston FD ambulance captured after lengthy police chase
HOUSTON - A driver accused of stealing a Houston Fire Department (HFD) ambulance is in custody after a lengthy search and police chase Monday afternoon.
MORE STORIES INVOLVING POLICE CHASES
Based on preliminary information, it all started after an unidentified man stole a black Infiniti at a Kroger near 11th and Shepherd St. 
Police said the man stole the vehicle from a driver who crashed, and he was pretending to assist the crash victim before jumping into their car and driving away. 
We're told the man left behind his personal vehicle, and left his information in the car, so police were able to identify him. 
He then went to the HFD Station 17, officials said, and believe he stopped there because the right rear tire burst and the fender panel was damaged. 
A firefighter reportedly asked the man if he could help him, and then walked into the fire station before getting into Ambulance 17 and taking off.
The driver rode around for about an hour while police actively searched for him. Firefighters said because the ambulance was a reserve unit, it was difficult to locate through their GPS.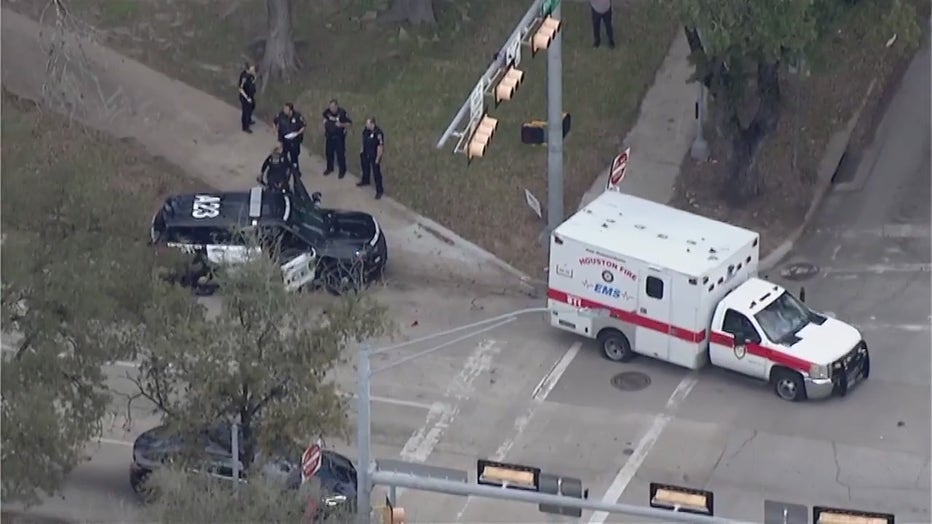 Around 3 p.m., officers were able to find the ambulance and arrested the driver after crashing into another vehicle, causing it to suffer a flat tire. 
The suspect was not identified, as of this writing, but police described him as someone "in crisis" and is expected to face felony evading charges and grand theft charges. 
Part of why he was described as someone "in crisis," according to officials during a press conference, he was heard on scanners saying unintelligible things like "that someone was trying to kill him." However, investigators could not go into more detail. 
This is a developing story. Check back for updates.