Alex Murdaugh gets two life sentences in murders of wife, son
WALTERBORO, S.C. - South Carolina attorney Alex Murdaugh was sentenced to life in prison without parole Friday, a day after he was convicted of murder in the shooting deaths of his wife and son.
Judge Clifton Newman asked Murdaugh if he had anything he wanted to say before sentencing, and the lawyer maintained his innocence.
"As I tell you again, I respect this court. But I am innocent. I would never under any circumstances hurt my wife Maggie and I would never under any circumstances hurt my son Paul Paul," Murdaugh responded.
"And it might not have been you. It might have been the monster you become," when taking large amounts of opiates, Newman said, noting Murdaugh's decadeslong addiction to painkillers.
RELATED: Murdaugh Murders Verdict: Alex Murdaugh found guilty in murder trial
Newman asked Murdaugh what he meant when he said "oh, what a tangled web we weave" while on the stand in his own defense.
"I meant when I lied, I continued to lie," Murdaugh replied.
"And the question is when will it end? You continued to lie and lie throughout your testimony," Newman said.
Prosecutor Creighton Waters said none of the victims of the crime — members of Murdaugh's family and the parents and relatives of his wife — wished to speak on behalf of the prosecution before sentencing.
"The depravity, the callousness, the selfishness of these crimes are stunning. The lack of remorse and the effortless way in which he is, including here, sitting right over there in this witness stand — your honor, a man like that, a man like this man, should never be allowed to be among free, law abiding citizens," Waters said.
Prosecutors asked for a life sentence to hold Murdaugh responsible for what they say are decades of lying, stealing and using his family's considerable clout in their tiny county to his advantage. Any sentence would have no chance of parole.
As Murdaugh stood before the judge to learn his fate, he was in the same courtroom on the circuit where his father, grandfather and great-grandfather tried cases as the elected prosecutor for more than 80 years. His grandfather's portrait hung in the back of the room until the judge ordered it taken down for the trial.
RELATED: Alex Murdaugh murder trial: What the trial says about us
Instead of the dress shirt and sport coat he wore through the six-week trial, the attorney who made millions suing big companies on behalf of people injured in wrecks arrived at court in a jail jumpsuit the day after he was convicted of two counts of murder.
The Colleton County jury deliberated for less than three hours before finding Murdaugh guilty of killing his 22-year-old son, Paul, with a shotgun and his 52-year-old wife, Maggie, with a rifle on June 7, 2021.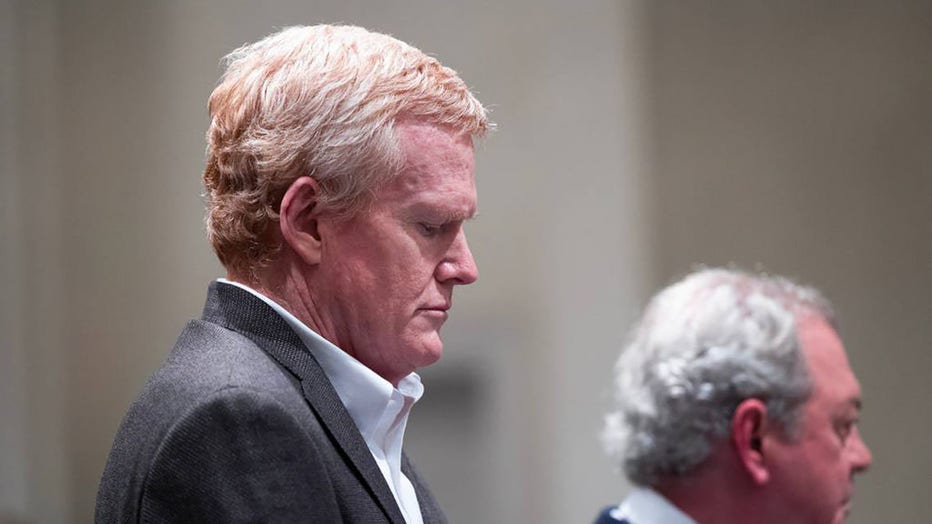 Alex Murdaugh is found guilty on all counts for the murder of his wife and son at the Colleton County Courthouse on March 2, 2023. (Joshua Boucher/The State/Tribune News Service via Getty Images)
Juror Craig Moyer told ABC News that when deliberations began, the jury immediately took a poll that came back with nine guilty votes. It didn't take long to convince the other three.
The juror agreed with prosecutors that the key piece of evidence was a video locked on his son's cellphone for a year — video shot minutes before the killings at the same kennels near where the bodies would be found.
The voices of all three Murdaughs can be heard on the video, though Alex Murdaugh had insisted for 20 months that he hadn't been at the kennels that night. When he took the stand in his own defense, the first thing he did was admit he had lied to investigators about being at the kennels, saying he was paranoid of law enforcement because he was addicted to opioids and had pills in his pocket the night of the killings.
"A good liar. But not good enough," Moyer said.
Prosecutors didn't have the weapons used to kill the Murdaughs or other direct evidence like confessions or blood spatter. But they had a mountain of circumstantial evidence, including the video putting Murdaugh at the scene of the killings five minutes before his wife and son stopped using their cellphones forever.
It's unclear who will speak at Friday's sentencing hearing. Murdaugh's surviving son, Buster, and one of his brothers testified for the defense and have been behind him every day of the trial.
Murdaugh's sister-in-law testified they were all close. Alex Murdaugh went on vacation with them in the months after the killings.
Through more than 75 witnesses and nearly 800 pieces of evidence, jurors heard about betrayed friends and clients, Murdaugh's failed attempt to stage his own death in an insurance fraud scheme, a fatal boat crash in which his son was implicated, the housekeeper who died in a fall in the Murdaugh home and the grisly scene of the killings.
The now-disbarred attorney admitted stealing millions of dollars from the family firm and clients, saying he needed the money to fund his drug habit. Before he was charged with murder, Murdaugh was in jail awaiting trial on about 100 other charges ranging from insurance fraud to tax evasion.
When he took the stand last week, Murdaugh appeared to cry as he denied again and again that he killed his wife. But juror Moyer said he saw through yet another lie.
"He never cried. All he did was blow snot," Moyer said. "No tears. I saw his eyes. I was this close to him."